An Animal Collective Roundtable: How 'Golden Girls,' Florida and the Ramones Inspired 'Painting With'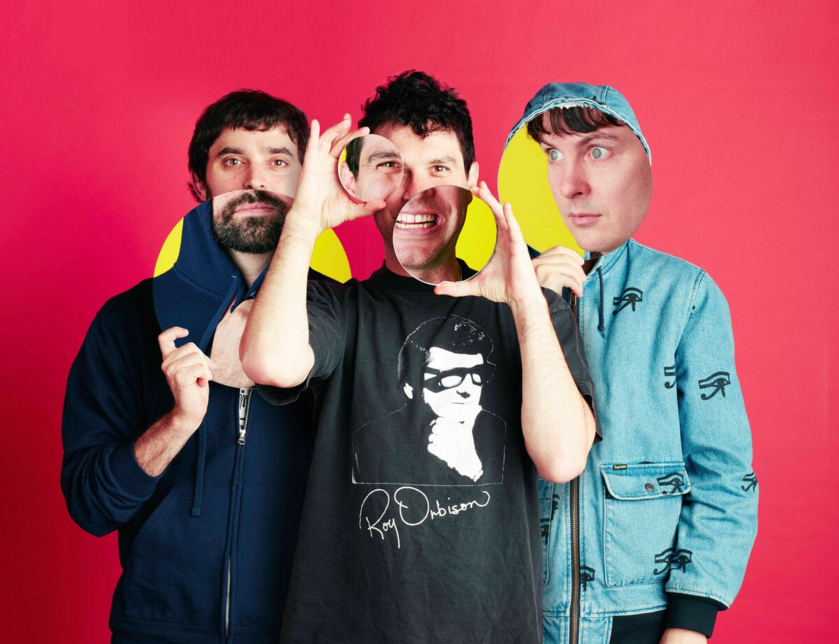 The three presently active members of Animal Collective live in Los Angeles, Washington, D.C., and Lisbon, respectively. They have four children, six solo albums and one beard between them. They cite inspirations ranging from the Ramones to popular '80s sitcom Golden Girls on their new album, Painting With. Their combined age is 108 (147 if you count on-off member Deakin).
It's an odd time to be Animal Collective. The experimental pop band has virtually nothing to do with "indie-rock," Brooklyn or any other hackneyed descriptor thrown their way in the past decade. On Painting With, the band takes the squelchy, sampler-heavy electronic pop it pioneered on 2009's Merriweather Post Pavilion and channels it into short, hook-heavy songs. Founding member Josh Dibb—better known as Deakin—sat out, as he did for the aforementioned record.
Having spent substantial time apart while working on side projects and raising children, Avey Tare (David Portner), Panda Bear (Noah Lennox) and Geologist (Brian Weitz) are unapologetically corny about how much they value the time they spent together making Painting With. We sat down with the trio in New York this past fall for a chat about recording life, Florida weirdos and the classic 1993 film Hocus Pocus.
This interview has been edited and condensed. No, "Panda Bear" isn't really his name, but the nicknames are more fun than "Noah," so we're using those.
You recorded this album over the summer in L.A. What was daily life like?
Panda Bear: We were there for about four-and-a-half weeks. Stayed at Dave's place. Dave [Portner] lives in Los Angeles. Worked everyday. I don't think we took a single day off.
Avey Tare: We would go in late on Sundays.
Panda Bear: Yeah, so we just kind of cranked it up.
Was it like the old days, when you all lived in the same city?
Panda Bear: It was like the old days in that we all lived in the same city, but it was not like the old days in any other way [laughs].
Avey Tare: Well, Brian [Weitz] was only in New York for a very short time, really, and he never lived with us. Josh [Dibb] and Noah [Lennox] and I lived together, pretty unsuccessfully, when we lived in New York. We just crowded each other. We lived with a lot of people. There were six people that lived in the house that we lived in. We had two floors of a place just on the outskirts of Brooklyn Heights.
Panda Bear: I think perhaps we hadn't learned how to live in close quarters. It might be different now.
Avey Tare: I was new to having an apartment, and moving from living with one other person in an apartment. I think it was just like an experiment. It didn't really work out. Now, the time we get to spend together when we're making a record is always so special to us, know what I mean? Because we all live in such different places. It feels like it never wears itself out.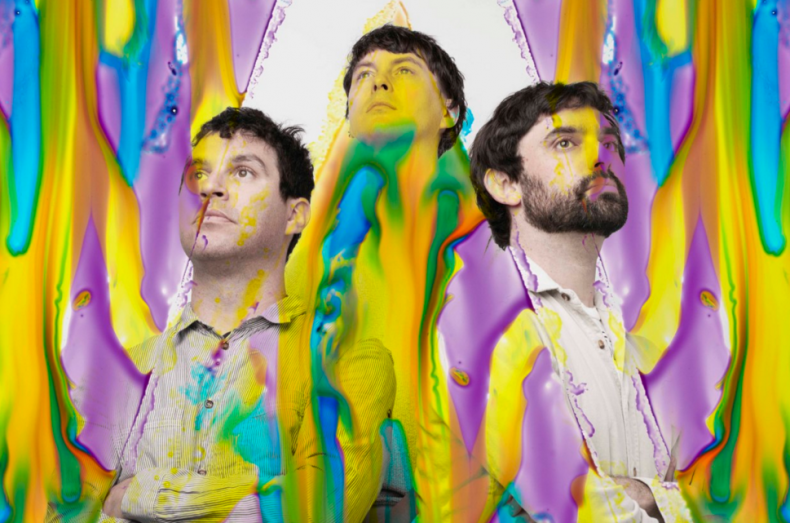 Your albums have gotten so dense and detailed. Is four-and-a-half weeks for recording short for you?
Avey Tare: It's pretty standard for tracking. We took a bit longer for [2012 album] Centipede Hz because we took a break in the middle. This one went a little bit faster than usual. We kind of go in stages with all the songs where we do one pass, try to get all the basic stuff down, then we revisit.
What was the biggest challenge?
Panda Bear: Finding the studio.
Avey Tare: "FloriDada" might have been the toughest song to get. I was the least satisfied the most.
Is the song "FloriDada" about Florida?
Avey Tare: No. Not really. It's inspired by hating on people from Florida. I was driving in L.A. and, by some chance, flipping through the radio dial and came across a morning radio show where they're just talking all the time. They had a segment called "Dumb Things People Are Doing in Florida." It kind of bothered me. I didn't grow up in Florida, I grew up going there. Every summer, I'd spend like three weeks there, on the west coast of Florida. I really like Florida a lot. Everybody kind of agrees that Florida's such a weird place. But in a way, that's part of the charm of it. So, "FloriDada" is kind of about that. Accepting a different perspective and a way of looking at things and boundaries and why we need to separate Florida from Georgia or that kind of idea.
You also sing about going to the beach on "Bagels in Kiev."
Avey Tare: Totally. That is more of just a memory. It isn't necessarily a song about going to the beach. My dad's side of my family are from Ventnor, the Margate/Atlantic City area in New Jersey. So it was always a big part of my childhood, going there. We went there a lot when I was younger.
The album is called Painting With. It feels like there's a word missing there.
Panda Bear: We thought it just sounded and looked cool. But I think we also thought the Painting With Animal Collective side of it would be pretty sweet.
Geologist: The title's Painting With. But some people might see it as Painting With Animal Collective.
Avey Tare: For us, in a way, making the music and talking about painting is a way for us to talk about the music and talk about how we're making it. I think [it's about] the experience of painting with sound.
Geologist: We settled on the word "painting" pretty quickly. And then it was just trying different iterations of that. It wasn't too hard.
There was a period when you were releasing an album almost every year. That's not really sustainable, is it?
Avey Tare: I think over the years it takes more out of us and we put more into it. Also, I feel like it comes naturally with our age and what's going on in our lives. These guys have families, two kids apiece.
Geologist: I think it was after [2005's] Feels. We just had fans—we could tour the world more. Touring became a longer thing after the record came out. Whereas in the past, we would just set up a month tour and that would be it for the record. We would play it on tour for a month and then record it and that was kind of done.
Your lineup is always changing and shifting. How did Deakin's absence affect the music on this record?
Avey Tare: Josh has always been a very strong guitar player. There's no guitar on the record. That might have something to do with it.
Do you ever feel a desire to make a back-to-basics album, without all the processors?
Avey Tare: There isn't a lot of processing on the voice on this record. I think that was a conscious decision. In some ways, this record is very heavily voice and electronics.
Panda Bear: We wanted primitive rhyhtms and singing, more or less.
Geologist: Do you mean an acoustic record, with guitars?
Sure. Some of your early music was pretty acoustic. You haven't done that in a long time.
Avey Tare: I love playing acoustic guitar, but it doesn't necessarily put me in a frame of mind for writing a song that I haven't written before.
Geologist: We've talked about this—an all-piano, back-to-basics record. It would be sweet to use all piano instead of acoustic guitars.
Tell me about the lyrics to the song "Golden Gal."
Avey Tare: I wanted to write a song that was a reinforcement for women. A support song for women—particularly women close to me that have meant something to me. I was hanging out with a friend, and we were talking about TV shows that had meaning. It somehow came up that Golden Girls had a big effect on her when she was growing up. She was like, "Seeing this show, it really inspired me when I was young. It made me want to go do things." So that's my take on it, to somehow get from a girl talking about Golden Girls and being really into it and how it affected her to...talking about what women have done for me and my outlook on women.
Is the song "Hocus Pocus" a reference to the 1993 movie?
Panda Bear: It's not, no.
Avey Tare: I told my friend that we had a song called "Hocus Pocus" on the record and she was like, "Ah, that's awesome, I love that movie!"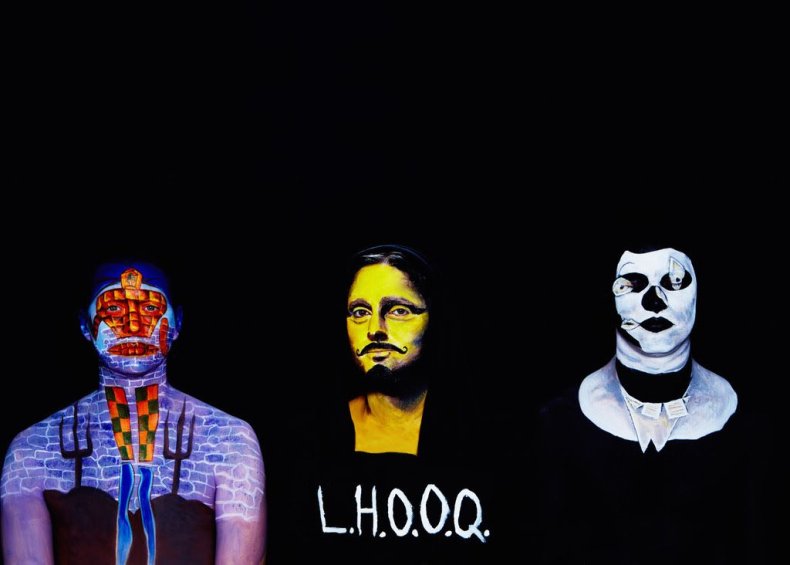 What were you listening to while writing the album?
Panda Bear: It's always a tough question for us to answer because if there is something that we get excited by—if there's an influence that's sort of obvious—we work to either avoid it completely or modify it in such a way that the original thing becomes unrecognizable.
Geologist: The Ramones was a talking point.
Panda Bear: It doesn't really sound like the Ramones.
Avey Tare: Only in the short, concise, here-we-go kind of songs.
Panda Bear: Highly energized, forceful blasts of songs is what we wanted.... Like a hardcore song. Fast and charged.
Geologist: One of our friends, he got a little defensive because he was like, "You're not tough enough to call this the Ramones. It's not like you're singing about sniffing glue, dude."
The surprise album release has become a big trend lately. Have you ever considered doing it that way instead of announcing the album long in advance?
Avey Tare: I don't think our label would ever do it. It seems like they wouldn't.
Geologist: It depends what day of the week you ask me about that....To me the record's an experience. When things are put out very quickly, sometimes I'm really psyched and sometimes I'm like, "It feels like you're not getting the full package." You do the surprise release, but you have to book your tours eight months out just to get a spot at a club now because everybody has to tour to make a living.
Avey Tare: Knowing our fans, it would be something that would be really awesome for them. And just as a fan of music, if a band I really like suddenly handed me a new record and I had no idea it was coming, I would love that.
Have any surprise releases been like that for you?
Avey Tare: Nah.
Geologist: No.
Avey Tare: I feel like I'm late to the game on the surprise releases. They come out and then I find out...
Brian: I still haven't heard the Beyoncé one.
Avey Tare: Yeah. Kendrick put out a record, I didn't really know.
Panda Bear: The D'Angelo record was kind of like that.
At the end of every year, I ask writers to tell me the worst thing they wrote that year. What's the worst thing you wrote in 2015?
Avey Tare: I've had an acoustic record I've been working on for a little while. I wouldn't say it's the worst thing I've ever done, but sometimes I just overthink stuff. It's definitely the least satisfied working on something I've ever been.... It'll be just a one-off thing. It's really just songs I'm working on. Could be five years.