Animal Control Officer Saves Ducklings From Storm Drain in Ingenious Way
When you're the size of a tennis ball, even taking a walk is potentially hazardous. On Wednesday, 11 ducklings in Hayward, California found that out the hard way.
While strolling across the Chabot College campus with their mother and one sibling, the ducklings fell through a grate and into a storm drain, where they languished until Hayward Animal Control Officer Susan Perez devised a plan to rescue them. Hint: it involved YouTube.
The ducklings' plight came to the attention of the authorities when a passerby noticed that the "mama duck was quacking loudly" and apparently notified the college's maintenance and operations department, according to a Facebook post by the Hayward Police Department.
When maintenance and operations staff removed the grate, however, the ducklings, presumably terrified by the appearance of enormous predators, only "scattered deeper into the pipes," worsening their predicament.
Finally, Perez arrived on the scene. She has experience removing a range of animals from storm drains, including "an 80-pound (very friendly) pitbull," she told Newsweek. In a moment of brilliance, she played a recording of a mother duck vocalizing "to draw [the ducklings] closer to her." It's a technique that she has used to coax feral kittens out of car engines many times over.
"The more you try to reach into an engine to pull out a kitten, the higher the risk of injury to the kitten and to the Animal Control Officer," she said. "So, one day I decided to use the app and I played "mom cat sounds calling to her kittens," and POOF! The kitten's meow changed its tone and it climbed out on its own, saw me, and ran off into the bushes nearby."
Sure enough, the ducklings emerged from the pipes one by one, where Perez was able to catch them easily. Thankfully, Perez told Newsweek, none of them appeared injured, which she chalked up to "the soft, muddy ground in the sewer drains."
Many commenters on the Hayward Police Department Facebook post praised Perez's creativity.
"Go Officer Perez!!! Not all heroes wear capes!" wrote another.
"On behalf of the ducks "Quack You very much!" said one.
"So smart to do that. Wow. I love how she thinks outside the box to problem-solve. We need more female officers like her. She works with animals, but imagine how that kind of compassion would work on human beings. A little caring and understanding goes a long way. Blessings to Susan," wrote one gracious viewer.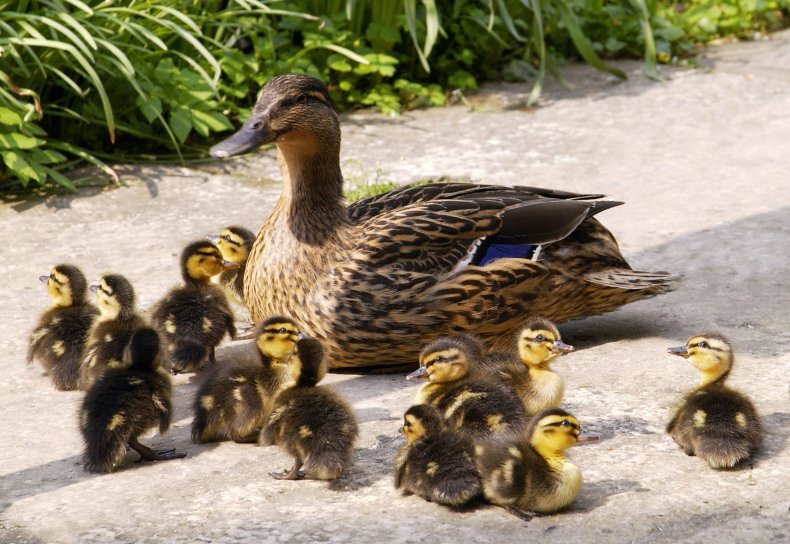 The mother duck, who Perez describes as "fiercely protective," stuck around for the majority of the rescue, but waddled off with 10 ducklings in tow before the final two emerged from the pipes. They are now receiving care at a nearby wildlife rehabilitation center, where they will be raised until they are old enough to survive in the wild.
Update: This story has been updated to include comments from Susan Perez.