Fruits in Animal Crossing games have always been critical, but they are more important than ever in New Horizons.
These growable materials can be used to make money, help players earn more materials and make their islands look better. It's also an awesome means of interacting with friends on other islands.
If you want to learn more about the various fruits in Animal Crossing: New Horizons, including how to plant them yourself, read on below.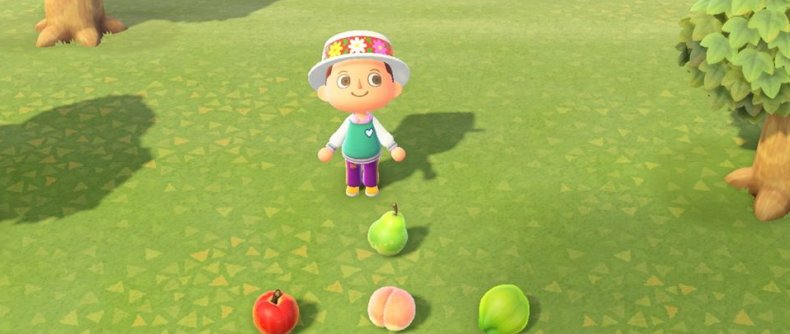 GETTING DIFFERENT FRUIT IN ANIMAL CROSSING NEW HORIZONS
When you first start New Horizons, you'll arrive on your own private island and have a native fruit chosen at random.
There are six known fruits in New Horizons, and you'll see them growing on certain trees across your island. To obtain it, press the A button next to a tree to shake the fruit down. Then press the Y button to pick it up.
If you want the other fruits, you'll need to either visit a deserted island using a Nook Miles ticket, which you can purchase at Resident Services for Nook Miles, or visit a friend's island.
You can learn more about visiting a friend's island in our Animal Crossing: New Horizons online guide.
PLANTING AND GROWING DIFFERENT FRUIT IN ANIMAL CROSSING NEW HORIZONS
With access to different fruit, players can plant it to grow trees to obtain more. The trick to growing fruit trees is to have the fruit, a shovel and open space.
After obtaining the shovel - by purchasing the DIY Recipe - you can create a hole to plant fruit. Simply press A while holding the shovel to dig a hole and then go into your bag to select a fruit. Choose "plant it" while next to the hole, and your character will put it into the ground and cover it with the shovel.
However, if you don't plant these trees properly they won't grow.
Trees won't grow if you plant them too close to each other. You'll need two spaces in between trees to ensure they grow properly. If you want to grow more than two trees in a row, you'll need four spaces between the second and third tree.
It'll take around five days for the process to finish, so you'll need to be patient while your trees grow.
Once the trees have matured and started to grow fruit, you can move them by eating a fruit. Eating one fruit will allow your character to move them, this allows players to utilize more space on their island and put them as close to each other as possible (one open space) and still grow fruit.
This is also a neat trick to grabbing a tree from the deserted island that's already matured and simply planting it from your bag on your own island.
Eating fruit will also give players the strength to break rocks.
SELLING FRUIT IN ANIMAL CROSSING NEW HORIZONS
Selling fruit can help players get the Bells they need to purchase other things in New Horizons. There are also certain Nook Miles tasks that need to be completed by selling fruit, so don't neglect the hustle.
Here's the current list of fruit sell prices. It should be noted that this was done on an island that has Pears as its native fruit. We'll update with more information as it comes.
Pears - 100 Bells
Coconut - 250 Bells
Apples - 500 Bells
Peach - 500 Bells
Cherries - ?
Oranges - ?
Animal Crossing New Horizons is available now for Nintendo Switch.
What fruit is native to your island? What is your favorite fruit in New Horizons? Let us know in the comments section.