'Animal Crossing: New Horizons' October Update Guide: Pumpkin & Halloween DIY Tips
Animal Crossing: New Horizons got its big October Update earlier this week, and fans are eager to know the facts about Pumpkins, Spooky DIY items and more. In this guide, we'll outline the essential tips you need to get your crops to flourish and home furnished in time for Jack's Halloween bash.
How to get the best Pumpkins in Animal Crossing
One of the main features of the October Update for New Horizons is the introduction of Pumpkin farming. To get started, visit Lief outside your Town Hall and purchase some Pumpkin Starts for a small amount of Bells. Starts are also sold at Nook's Cranny if you want to go there, but the price is generally higher. Regardless, Starts are sold individually or in packs of five. They occupy stacks of 10 in your backpack.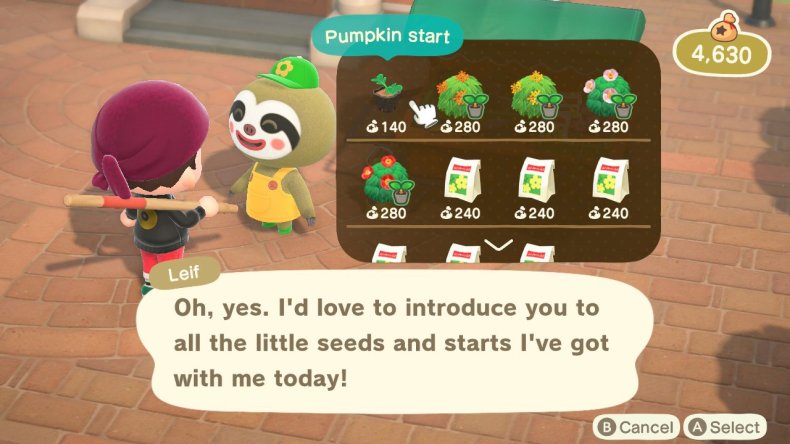 Once you've got some Pumpkin Starts in your inventory, all you have to do is stand in the spot you'd like them to be planted and place them. As far as care is concerned, Pumpkins sprout faster and yield more when watered, so make sure to do that as often as you can. After about four days, your Start will offer its first Pumpkins. After that first yield, you'll get a new one every two days.
Pumpkins come in four colors: green, orange, white and yellow. Orange is by far the most common, but you have about a 10 percent chance of getting the rest. Once a Pumpkin plant spawns its initial color, it stays that way for good.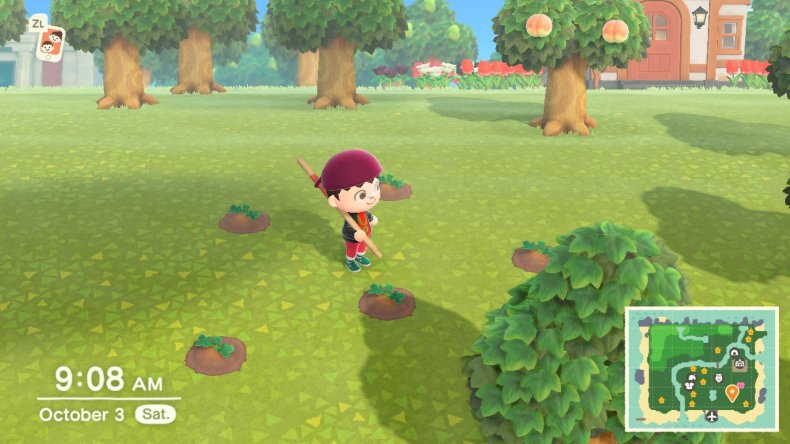 Pumpkins appear to be a permanent crop just like your fruit, and they sell for 350 Bells each. In other words, a good farm can farm Bells pretty efficiently. Just regularly water your patch, and you should be good to go.
Candy and DIY Recipes
You may have been expecting lots of new Halloween-themed crafting items with the October Update, but, the truth is, you'll have to wait until October 31 to see what the lion's share of that stuff is all about. For now, the best way to ensure you get those DIY recipes when they become available is to buy a single piece of Candy each day through the month of October from Nook's Cranny.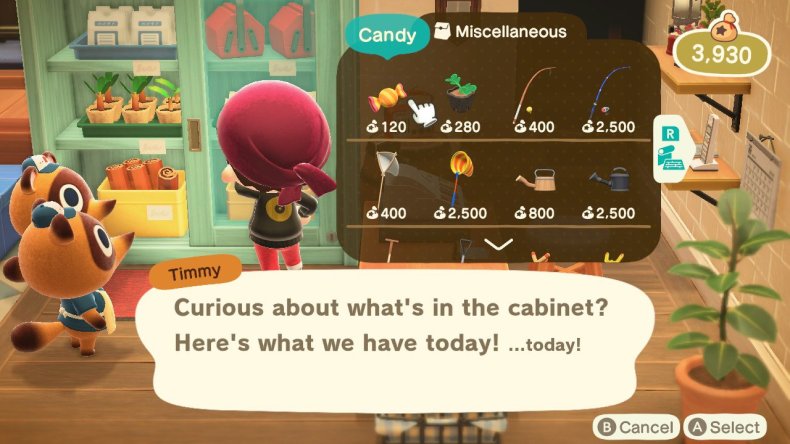 Every piece of Candy you purchase shouldn't be used, and instead should be saved up for the Halloween event. On the day, go visit all your Villagers and keep giving them your treats. The first time you encounter them they may offer you a Spooky item outright, but a subsequent encounter often yields the DIY recipe for said item. You might also get more Candy to give way as well, which helps if you happened to miss any days over the month.
It's possible to get a Spooky recipe or two early by talking to your Villagers while they're crafting in their homes as well. The items themselves are sold daily at Nook's Cranny.
Here are all the Halloween DIY items and the recipes you need to craft them. You'll notice all those Pumpkins you've been harvesting will come in handy.
Spooky Arch: 10 Hardwood, three Clay and 10 Pumpkins. [18,000 Bells]
Spooky Candy Set: One Orange Pumpkin and three Candy. [3,500 Bells]
Spooky Carriage Set: 20 Wood, 20 Softwood, 20 Hardwood, 10 Iron Nugget and 30 Orange Pumpkins.
Spooky Chair: Three Orange Pumpkin and three Softwood. [5,000 Bells]
Spooky Fence: Three Orange Pumpkin and five Iron Nugget.
Spooky Garland: One Iron Nugget, one Clay and one Orange Pumpkin.
Spooky Lantern: Four Orange Pumpkins. [5,600 Bells]
Spooky Lantern Set: Four Orange Pumpkins and four Clumps of Weeds. [5,900 Bells]
Spooky Scarecrow: Three Orange Pumpkin and four Wood. [5,200 Bells]
Spooky Standing Lamp: Five Hardwood, one Clay and three Orange Pumpkins. [5,800 Bells]
Spooky Table: 14 Orange Pumpkins and 10 Softwood. [22,000 Bells]
Spooky Table Setting: One Iron Nugget, one Clay and one Orange Pumpkin.
Spooky Tower: Seven Orange Pumpkins. [9,800 Bells]
Spooky Wand: Three Star Fragments and one Spooky Lantern.
The Spooky Carriage and Spooky Wand in particular will be available after giving Jack Lollipops during the event on October 31. You get Lollipops by giving Candy to Villagers. That's all you need to know about the October Update for Animal Crossing: New Horizons.
Animal Crossing: New Horizons is available now on Nintendo Switch.
What are your thoughts on the October Update so far? Do you have any Spooky DIY recipes yet? Tell us in the comments section!