'Animal Crossing' Inspires Teacher to Help Students Graduate in a Pandemic
Newsweek's Heroes of the Pandemic series features everyday heroes showing service, sacrifice or kindness in the time of COVID-19.
Animal Crossing: New Horizons released on the Nintendo Switch in the midst of the global coronavirus pandemic, and the life-sim seems like the perfect game for an unperfect time. During an era when social normeties like dates, graduations and basic family gatherings have become impossible, an experience based on the thrills and monotony of life on a secluded island recaptures the best parts of the real world. Newsweek recently spoke with one specific Animal Crossing fan whose popular meme is now helping students around the world recreate lost milestones.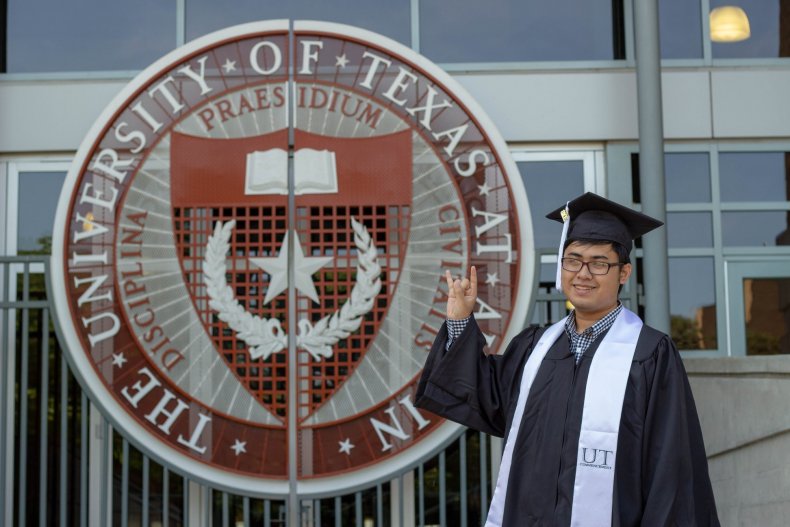 Dang Ton is a high school teacher from Texas who happens to be a big fan of New Horizons. So, while many others used the game to achieve tranquility by gathering with friends to collect bugs or go fishing, he saw an opportunity to meld his two passions together to create something unique. Knowing so many of his students may not be able to graduate via a traditional ceremony, Ton created one in the virtual tropical world of Animal Crossing.
Newsweek's "Heroes of the Pandemic" series features everyday heroes showing service, sacrifice or kindness in the time of COVID-19.
"I actually graduated college a few years ago, but I'm now a high school teacher so academia is still a big part of my life," Ton told Newsweek. "One day I was playing and noticed that the clothing store was selling graduation caps. Some students in Japan hosted a Minecraft graduation, and I thought it would be fun to do something similar, just as a silly meme. I bought eight caps, set up my plaza and asked a couple of friends if they wanted to help me with something."
That effort resulted in an 18-second clip that gained massive Twitter traction to the tune of 83,000 retweets, 231,000 likes and 800 comments. Ton was surprised by the strong reaction to something intended to be a joke, but students immediately became attached to the idea. "I had several people message me on Twitter asking if I could send over some caps so they could have their own graduations," Ton said. And he, of course, was happy to provide the supplies. Even though Ton wishes students around the world could graduate the standard way, he's thrilled that Animal Crossing can simulate an alternative.
Ton did offer some advice to those hoping to replicate his meme: beware of Nintendo's shoddy online servers. "The biggest challenge was just having an island full of eight people not crash or disconnect. Nintendo's online system isn't the best, and the process for arriving at someone's island takes a bit of time," the educator advised. So, while Animal Crossing: New Horizons facilitates the opportunity to recreate real-world social gatherings, be prepared to wait through some lengthy flight animations to do so.
Despite these minor shortcomings, Ton sees great value in Animal Crossing being a part of his life during a stressful time. "I think Animal Crossing is giving me what it's giving to a lot of people right now, which is a nice distraction from this pandemic. With people social distancing and self-isolating, AC provides some normalcy in our lives," he said.
And it would appear many others agree with Ton's sentiment. Following its release last month, Animal Crossing: New Horizons sold 1.8 million copies in Japan in its first three days and dominated UK sales charts during its debut week. Whether you're standing at the podium at a virtual graduation ceremony or fishing for a valuable catch, it's clear that just about everybody could use an island getaway right now. Animal Crossing provided the tools, and, like a good instructor should, Ton taught others clever ways to use them.
Animal Crossing: New Horizons is available now on Nintendo Switch.
Know a hero you want to nominate to be featured in our series? Drop us a line at heroes@newsweek.com.