'Animal Crossing' Nintendo Switch: Where to Get Special Edition Console
One of the hottest Nintendo products earlier this year was the special edition Animal Crossing: New Horizons Nintendo Switch, and now the console is back and ready to be sold.
Friday, Nintendo revealed what Animal Crossing: New Horizons players could expect in the fall season, including some Halloween-themed activities and DIY recipes. But that announcement also brought word that the special systems making a comeback at local retailers.
Originally released back in March, the special edition console came and went as fast as pre-orders of the Xbox Series X and PS5. Now, Nintendo is bringing the Animal Crossing-themed Switch back just in time for the holidays.
The Animal Crossing: New Horizons Edition Nintendo Switch system is being sold for $299.99 and comes with pastel green and blue Joy-Con controllers and a white Nintendo Switch dock featuring images of Tom Nook and Nooklings Timmy and Tommy.
As of Friday, only certain retailers have the console available online. We recommend checking with your local retailer to see if they'll have consoles to buy in-store, or clicking on the product pages for when the retailers eventually get more stock.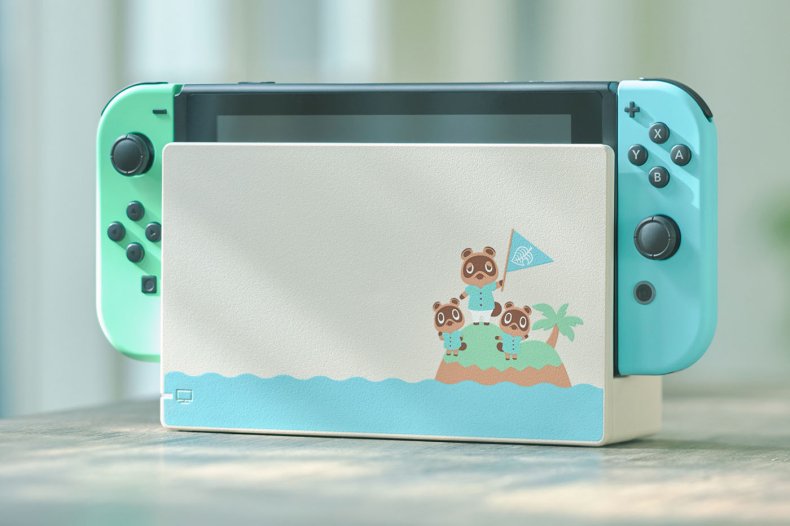 Best Buy
Best Buy is selling the Animal Crossing Nintendo Switch system for $299.99 or in 12 monthly payments of $25. The retailer is also selling a two-year warranty for $59.99, which will allow gamers to replace the console in case of accidental damage, and a one-time replacement of a controller that comes with the package.
Power surge and battery replacement are also a part of Best Buy's warranty. Head here to make a purchase.
Gamestop
Gamestop does not currently have the Animal Crossing Switch on its own, but that can change as more stock is made available. You can visit this landing page to learn if the retailer has obtained more.
However, Gamestop is selling the Animal Crossing Nintendo Switch as a bundle with a digital copy of New Horizons for $359.99. Check out the bundle here.
Target
Target does not any Animal Crossing Nintendo Switch consoles available online. We'll be sure to update this section when/if the retailer gets more stock.
Amazon
Currently, Amazon is out of stock of the Animal Crossing Nintendo Switch. Like Gamestop, this can change as more stock is made available. Be sure to check the landing page often to see if they restock.
Walmart
Walmart currently doesn't have a landing page for the Animal Crossing Nintendo Switch console. When stock is made available, we will update this section.
Animal Crossing: New Horizons is available now physically and digitally for Nintendo Switch.
Are you interested in picking up this special Nintendo Switch console? Let us know your thoughts of the New Horizons system in the comments section.