'Animal Crossing' Players Invite New York Congresswoman Alexandria Ocasio-Cortez Onto Their Islands
Alexandria Ocasio-Cortez has started playing Animal Crossing: New Horizons, and the internet wants her to visit their island.
The representative for New York's 14th congressional district announced Thursday on Twitter that she would be opening up her Twitter DMs for just a few minutes so she could get Dodo island codes.
"Hi there! Very new to this," she wrote on Twitter. "I would like to visit random people's islands and leave a doodle or note on their bulletin board."
Gamers of Nintendo's farming and lifestyle simulator quickly flooded her messages with requests for visits. Complete with an "AOC" mock campaign shirt drawn by herself, the congresswoman managed to find a few islands to visit while she had the time.
Justin Mirsky and Laura Smykla, a married couple living in New Rochelle, New York, and from her district, were the first to accept her into their village paradise and chatted through the Nintendo Switch smartphone app. "I'm so happy, I can't believe it happened," Smykla said in an interview with The Washington Post.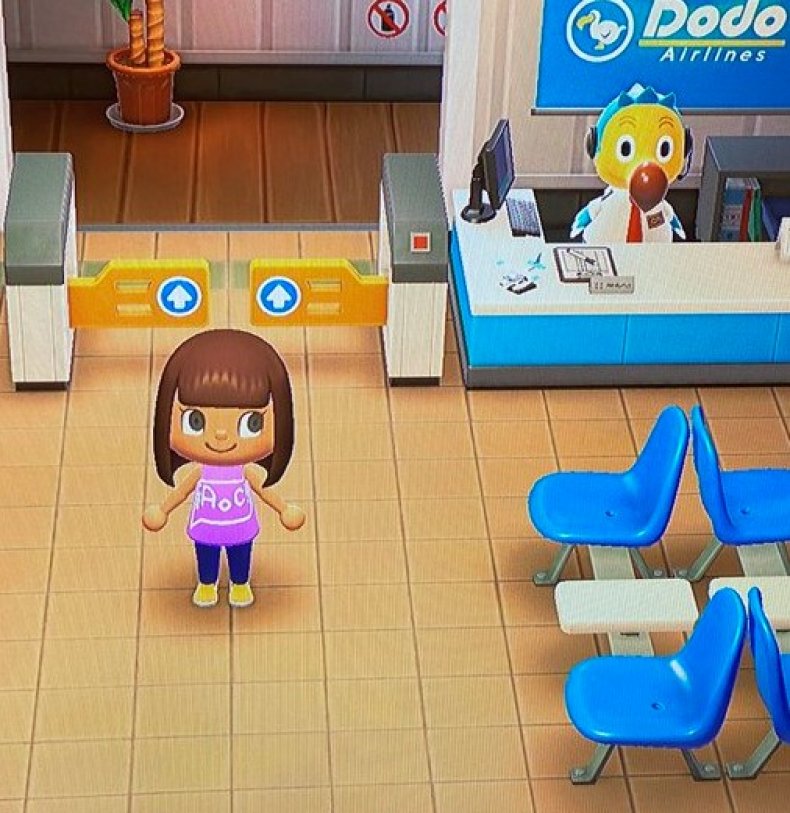 The congresswoman also wrote on Twitter: "Honestly never in my life did I think opening my DMs would grant me faith in humanity but the brief window actually resulted in a lot of these messages being very wholesome. People are asking for surprise visits to their spouse's islands!! This is the love everyone deserves."
Animal Crossing: New Horizons is one of Nintendo's most successful games on the Nintendo Switch, selling over 13.4 million copies since its release in March. The world of Tom Nook and his villager accomplices allows users the opportunity to do (almost) whatever they want on their tiny slice of a world--such as terraforming your area until it's full of roses and fish in tanks, or creating a dystopian regime where you can make your inhabitants miserable. The level of creative freedom and lack of actual end game goals makes Animal Crossing the perfect place for those looking for a quarantine escape.
Ocasio-Cortez isn't a stranger to the video game community. In January 2019, she appeared on a live stream hosted by YouTuber Harry "Hbomberguy" Brewis where he played through the entirety of Donkey Kong 64 to raise money for the British transgender charity organization Mermaids. In November of that year, she revealed that she played Riot Games' League of Legends and was very proud of her Silver ranking.
Animal Crossing is a great escape from the real world, and in these difficult times we could all use some distraction. If it happens to come from a raccoon landlord giving you a loan of Bells, then it's a plus.