People Are Having Their Birthday Parties in 'Animal Crossing: New Horizons' to Maintain Social Distancing
As people self-isolate to guard themselves and others agains the spread of the novel coronavirus COVID-19, new ways to hang out with friends are flourishing, with people turning to technological solutions to create bridges out of loneliness and into the homes of their loved ones. But while some pandemic social events are becoming practically standard, such as the video conference movie meet-up or the apartment tenants' chat, there's no reason to chain your isolation social life to repurposed business tools. Instead, why not try an island getaway in Animal Crossing: New Horizon? (Just ignore that surly raccoon.)
New Horizon has several elements that make it especially effective as a way to host virtual parties, including birthday parties. Unlike other ways of communicating, such as the video chat that showcases a boxed-in sliver of your friends' lives, hosting a party in Animal Crossing it's a little like hosting at home. You're inviting people into a space that you've customized and that reflects your personality.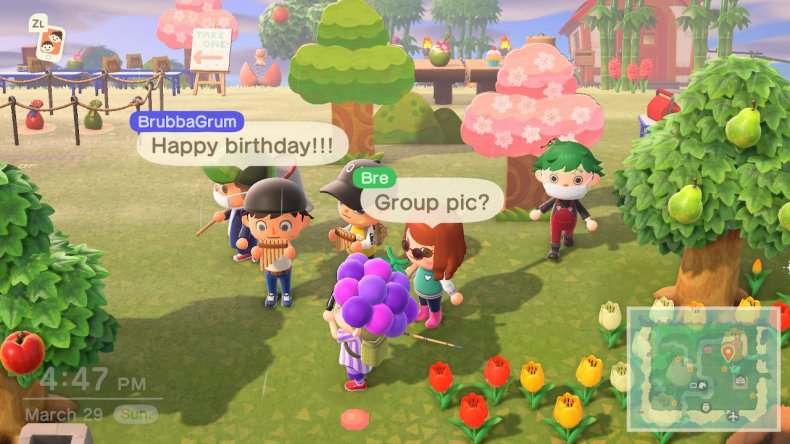 For those unfamiliar, Animal Crossing: New Horizons is the fifth game in Nintendo's ongoing social simulation series begun on the Nintendo 64 in 2001 (not including spin-offs and mobile versions like 2017's Animal Crossing: Pocket Camp). In Animal Crossing, players visit the game world in real-time—if it's night outside, it's night in the game. Players can customize their in-game avatar, gather items to decorate their home, craft tools for outdoor activities or indoor crafts and drop in on the anthropomorphic animals populating their growing community. New Horizons, released on March 20 for the Nintendo Switch, sends players to a deserted island after purchasing a travel package from sleep-eyed local business magnate (and raccoon) Tom Nook.
The latest Animal Crossing game came out a little more than a week before comics artist and illustrator Debbie Fong's 30th birthday.
"I joked with friends that I wouldn't be celebrating my birthday this year because I'd be too busy playing the game," Fong told Newsweek. But after some time with New Horizons she realized inviting her friends to visit her island would make for a great virtual birthday party. Fong and her partner spent the days leading up the party preparing their island for guests and activities.
"I used the custom design tools to make signage and markers to show arriving guests how to get from the airport dock to the main party area. We also made lots of party favors and collected fun furniture items to decorate our island with," Fong said. "I also made extra tools (vaulting poles and ladders) for friends who were earlier in their game progression to use in order to fully explore the island."
But her Animal Crossing birthday party was more than just a tropical hangout, Fong also planned a treasure hunt, by hiding goodie bags with in-game items all around the island. Her solution for keeping party guests from hoarding the loot was to divide the hidden goodie bags into three different colors, then tasking her friends with finding one of each color.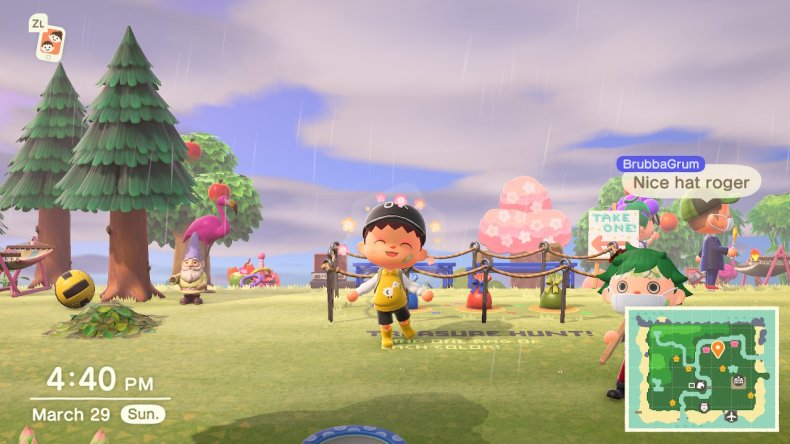 Her guests also brought in-game items from their own islands to share and gift to others.
"I love seeing all my friends portrayed as adorable little avatars, whose features and style choices reflect their personalities perfectly," Fong said. "Between the text/voice features and the many character reactions you can emote in-game, it really feels a lot like you're hanging out with your friends in real life (except you're on a beautiful and picturesque island getaway)!"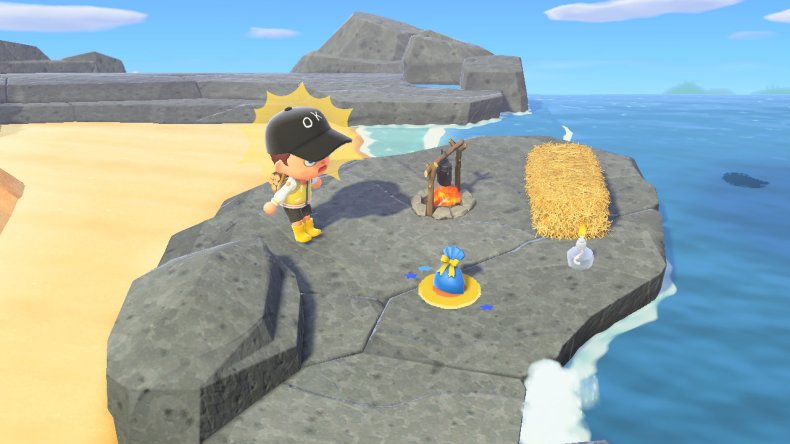 Fong isn't the only one turning to Animal Crossing's birthday parties during the ongoing pandemic isolation.
To invite island visitors, visit the Animal Crossing airport (which becomes available on Day 2). Orville, of Dodo Airlines can get you set up after you select "I want visitors" and choose online play. You can then open your island up to people who are already listed as your friends on your Nintendo Switch (with the option "All my friends!"). Or, you can send out "Dodo Code" invitations. A Dodo Code is five-characters that anyone can input to visit your island. All they need to do is take your Dodo Code to their in-game airport.
Once you have some friends over, check out an app on your Nook Phone called the Best Friends List. From there, you can upgrade Friends to Best Friends, which enables messaging for setting up future multiplayer sessions, or batch invite just your Best Friends list.
Here are some tips to throw an Animal Crossing: New Horizons birthday party of your own:
The biggest limitation on hosting your own Animal Crossing party may be the guest list, since New Horizons only allows for seven visitors, for a total of eight people playing simultaneously on an island. Fong scheduled her party for two hours, so more well-wishers could drop in as other people left.
If you're visiting someone else's island for a party, remember to pack everything you might need, including gifts—there's no way to access your island's storage from a friend's.
Be judicious with who you make a "Best Friend." Best Friends can cut down trees or take items from your game. They'll be able to do whatever they want on your island, so make sure they're trustworthy!
Don't step on their flowers!
Now get partying! Animal Crossing: New Horizons is out now for Nintendo Switch.