'Horrible': Dozens of Malnourished Dogs Rescued From Unsanitary Home
An Illinois woman was arrested on Friday, August 12, after Animal Control rescued nearly 200 dogs from her property.
Dogs in Mercer County were found with matted coats, living in their fecal matter and were described by rescuers as "very, very skinny."
Karen Plambeck, 59, was arrested on three counts of aggravated cruelty to animals, a Class 4 felony punishable by one to three years in prison, as per KWQC.
One of those counts alleges that Plambeck let a dog live in filthy conditions with mange and maggots that ultimately led to the death of the animal.
"A lot of matted coats, a lot of fecal matter, a lot of very, very skinny dogs," Amber Stephenson, a volunteer from New Beginnings Pet Rescue of the Quad Cities, told KLJB-TV. "I don't think I'll ever forget the smell. It was horrible. Absolutely horrible."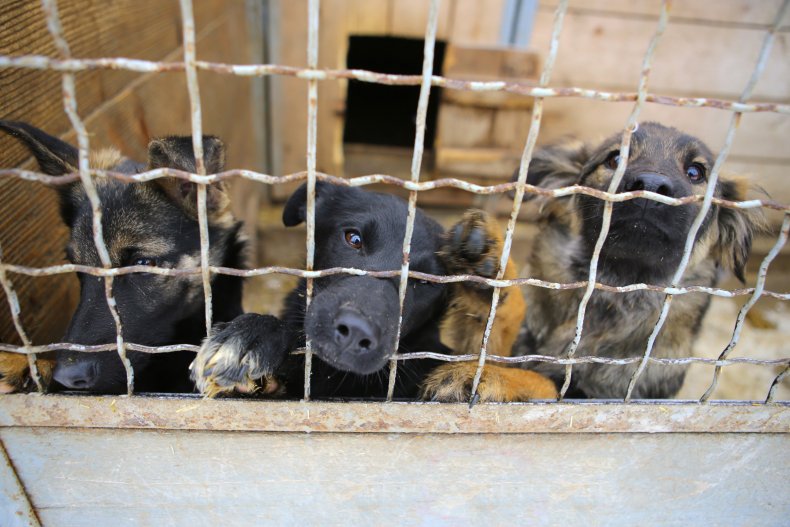 Various pet rescue organizations in the area and volunteers have continued to assist with the rescue of the animals. Although resources have been "desperately needed," the Mercer County Sheriff's Office said that it was not seeking more volunteers.
It's the second time Plambeck has been arrested for animal cruelty. In October 2019, she was charged with cruel treatment of animals and four counts of unlawful inhumane care for animals. As per court documents seen by KWQC, Plambeck allowed a halter to stay on a mare so long that it ended up embedded in the animal.
She was later charged for disorderly conduct too for allowing her dogs to bark for hours.
Neighbors voiced complaints about the constant barking from Plambeck's home to KWQC, but assured that they had no idea just how many dogs were there.
"I slept really good last night not hearing a dog bark for the first time in over 10 years," neighbor Steven Foster told KWQC. "It took all weekend, took a lot of man hours, took a lot of volunteers and rescuers and I'm glad it's over. It's been a nuisance for a long time."
Despite being a victim of the noise pollution from the mass number of dogs at the home, Foster said he didn't know how many dogs were causing it and was left shocked when he found out.
"I almost fell off my Ranger. I was floored. No idea there were that many dogs," he said. "I was just thinking 'I can't wait until the last one gets out because a lot of the dogs needed help and they are hopefully going to go to a good family and be a pet.'"
Newsweek has contacted Mercer County Animal Control and Mercer County Sheriff's Office for comment.