Animal Hoarder's Son Overwhelms Shelter With 836 Parakeets Delivered On Christmas Weekend
A southeast Michigan animal shelter became overwhelmed with parakeets when the son of an animal hoarder dropped off more than 800 birds on Christmas weekend.
The Detroit Animal Welfare Group said Sunday that they received a total of 836 parakeets over the course of several days. According to the shelter's director, the birds were delivered by a man whose father intended to breed just a few parakeets before the situation spiraled out of control.
"His son said that he just wanted to breed a few of them, and it got out of control," Kelley LeBonty, director of the Detroit Animal Welfare Group, told the Detroit Free Press. "The problem is birds breed easily. And then you just have more babies and more babies and more babies if you don't control the situation."
LeBonty said the man initially called the shelter on Thursday and said he would deliver between 60 and 80 parakeets. Instead, the man showed up with nearly 500 birds in the first wave of drop-offs.
"He had them all in seven cages," LeBonty told the Free Press, while recalling to the 497 parakeets brought to the shelter.
"A very tight fit. They were kind of on top of each other and smothering each other. ... They were very very stressed. They were barely moving," LeBonty added. "We had to get them out and into different cages."
On Sunday, the animal shelter posted on social media that an additional 339 parakeets were dropped off at the shelter, bringing the total to 836.
"We thought 497 parakeets was a lot .... Until they surrendered 339 more in boxes this afternoon. The grand total of parakeets surrendered is 836!," the shelter wrote on its Facebook page, adding that just three bird rescuers were there to process the massive delivery.
The shelter said Sunday that other animal groups, including Birds and Beaks and East Michigan Bird Rescue, have stepped in to take roughly 400 birds from the shelter.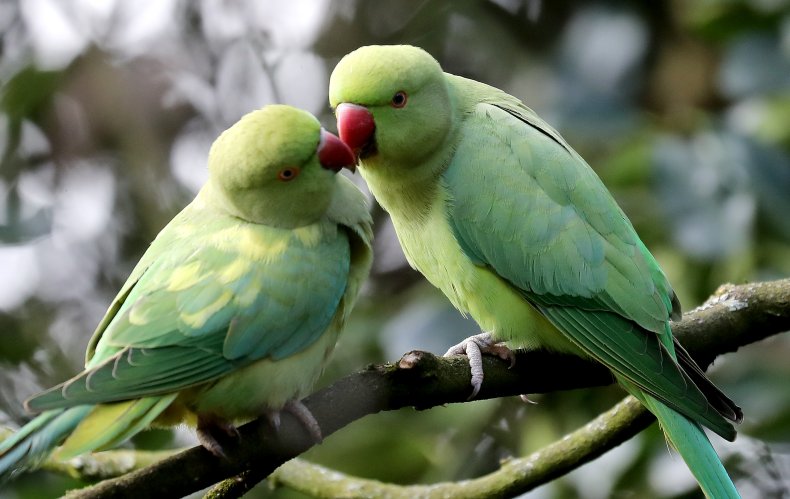 LeBonty told the Free Press that most of the parakeets appeared to be in good health, but others have foot problems and eye problems. The parakeets will now be monitored for two to four weeks and seen by a vet before they can become eligible for adoption.
"Owning a parakeet is a 6-15 year commitment and they require not only food, water and daily cage cleaning but also daily interaction, enrichment and flight time. As any pet they should be part of the family. Please know that birds are vocal and can be noisy and messy," the group wrote on its Facebook page Monday.
Law enforcement often gets involved in severe hoarding cases, but LeBonty said the shelter has not contacted authorities about the parakeets, according to the Free Press.
"They reached out to us for help, and that's a step in the right direction," she told the news outlet. "Now these birds can be in a proper home and get the care they need."