Animal Hospital Offers 'Goodbye Kisses,' says No Dog Should Go 'Without Tasting Chocolate'
Most dog owners know that feeding chocolate to their furry friend is a big no-no. Well, one animal hospital in Alabama believes that "no dog should go to heaven without tasting chocolate."
Smiths Station Animal Hospital posted a photo to their Facebook page of a jar of Hershey Kisses with the words "Goodbye Kisses" painted on the side. The photo was accompanied by a note from one of the hospital's doctors that read, "This jar is reserved for our euthanasia appointments...because no dog should go to Heaven without tasting chocolate."
"We try to provide as much comfort as possible during a terribly difficult and emotional time. My staff has always kept little snacks and candy bars tucked away specifically for those appointments," Dr. Nicole Namie, told WRBL. "Typically, these are treats that I wouldn't recommend giving to my patients, but in their final moments, I think it's important to offer them something special."
Though the post is new, this practice was something the hospital had been doing for years.
"We always give them something to make them feel good and to enjoy the last few minutes," Jennifer Williams, practice manager at Smiths Station Animal Hospital told Newsweek.
Williams said if it's not chocolate sometimes it'll be sharing a lunch that one of the staff members has brought in or even bringing in a McDonald's cheeseburger.
She said given that the hospital is in a small community, the staff and doctors become attached to the pets and when it comes time to say goodbye it's heartbreaking for everyone.
The response to the post has been overwhelming, she said, and the best part has been having people from around the world share their own stories.
"It has really turned into a really sweet post," Williams said. "There is no hate speech on it. Everyone is just showing compassion for each other."
The post has since been shared over 113,000 times on Facebook and made its way to TikTok and Reddit feeds too.
One Reddit user responded to the post on r/MakemeSuffer, "I wish I could have given my best buddy some chocolate before we had to put him down but unfortunately it was super sudden and he refused to eat anything."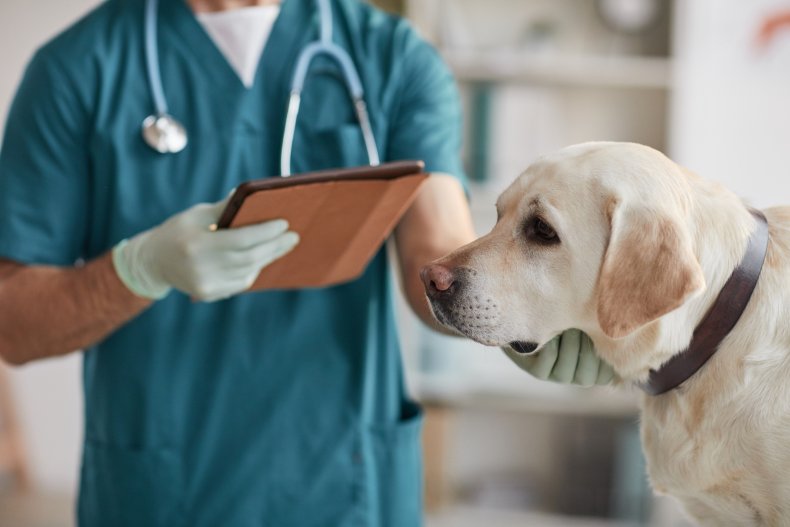 Another user said "I work at a vet clinic and I love this. All we want is for our patients to not be scared or in pain."
In normal circumstances, chocolate can be poisonous to dogs and it's important to alert a vet or the pet poison hotline if a dog gets ahold of some. Williams said that most table food, in general, should be kept away from dogs to avoid health issues.