Animal Sanctuary Seeks Volunteers to Snuggle with Farm Animals
An animal sanctuary in Kuna, Idaho is looking for volunteers to snuggle, groom, and feed rescued farm animals to show them love.
Dominifarm Animal Sanctuary is a nonprofit organization that rescues orphaned, disabled and elderly animals. The three-acre sanctuary is currently home to several pigs, cows, chickens, an emu and alpaca, and a miniature horse named Lady Gaga, among other farm animals. The sanctuary is seeking volunteers to socialize with the animals not only to help the animals but to help themselves too.
"At first, I started the sanctuary to help animals," Dominique Delobbe, president and operator of Dominifarm, told CBS2. "But over time, what has become beautiful to me is the beneficial impact of the animals on people who come to visit. The visitors get as much from the animals as the animals get from the visitors."
Dominifarm offers volunteers at the sanctuary the opportunity to groom farm animals, feed them, and provide ample belly rubs to the pigs.
The animals at Dominifarm have over three acres to roam freely and are treated more like household pets than farm animals. All the animals living at the sanctuary have unique names and personalities and can be sponsored by volunteers.
"The pigs are the closest to people for socialization," Delobbe told Newsweek. "So they need lots of attention compared to the other farm animals, they're the one that is most social."
Scientists at the National Center for Health Research wrote that animals not only improve heart health by lowering blood pressure but can reduce anxiety and be a great form of stress-free socialization. The article also stated that while people can receive social support from friends and family, those interactions often cause stress. Animals, on the other hand, are less likely to.
But when it comes to farm animals specifically, the benefits seem to offer therapeutic benefits to people suffering from mental illness. A study published in the journal Clinical Practice and Epidemiology in Mental Health showed that individuals who interacted with animals and learned new skills on a farm promoted self-confidence and general esteem.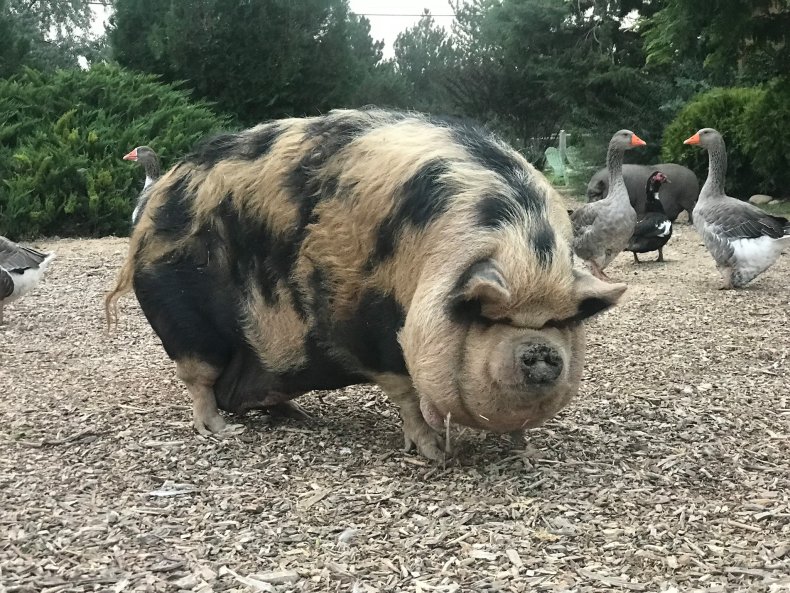 The study found that routine tasks such as feeding, milking, or caring for farm animals helped people improve coping abilities when it came to stress and anxiety. The researchers also found that general contact with the animals lowered anxiety due to pleasurable social interaction.
The sanctuary invites people to sponsor individual animals and to sign up as volunteers to enjoy farm animal snuggles. The rescue also allows individuals to adopt animals from the sanctuary, but Delobbe wants people to remember that adopting a farm animal is no easy commitment.
Delobbe said the pigs are not up for adoption, though, because they have grown too attached to their new home after being abandoned by their previous families.
"Pigs are very difficult to adopt out because they get used to their families and when their families abandon them they lose trust in people," Delobbe told Newsweek.
She said that people abandon these pigs once they get larger and less "cute" and they lose trust and get depressed because they don't understand the rejection.
"They get really depressed, they can even cry," Delobbe said. It takes the pigs time to get comfortable again and the socialization with humans helps them significantly, which is why she invites volunteers to cuddle and socialize with them.
"I want to grow the sanctuary in order to help more animals and to encourage people to make more informed decisions about whether they want to adopt them," Delobbe told CBS2. "I want people to understand that adopting farm animals is a lifelong commitment."
Updated 09/28/2021, 3:38 p.m. ET: This story has been updated with comments from Dominique Delobbe.