Animal Welfare Workers Rescue 71 Beagles From Tiny Pennsylvania Home
More than 70 beagles have been rescued from a cramped house in Pennsylvania after officials discovered a woman had been breeding them without a license.
The owner, who died last month, had left the beagles to fend for themselves. Authorities were only alerted to the dogs after neighbors complained about excess noise. Only 25 dogs were found by the first officers at the scene. By the end of the six-hour search, 71 were accounted for.
The home, just outside of Allentown, was attended by four animal-welfare workers and two trucks. According to CBS News, the Lehigh County Humane Society was called on Saturday night. Police officer Barbara Morgan described it as "beagle mania."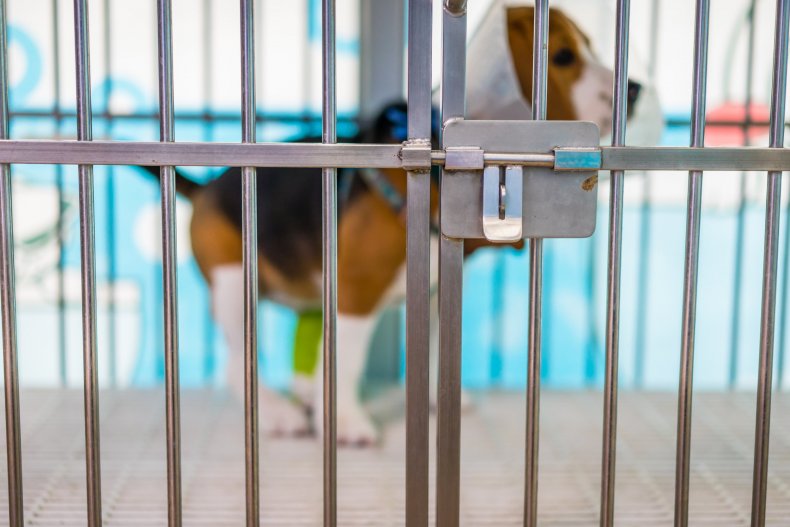 The dogs were in a poor condition, many of them underweight. All of the dogs had fleas, Morgan said. Some were even showing signs of mange and blindness.
In a now-deleted Facebook post, animal welfare workers said they were in desperate need of wet food and donations. Although the woman who looked after the dogs had died, they were not left alone. The woman's husband was still alive. He could now face animal cruelty charges. The woman was allegedly breeding, kenneling and selling the puppies, despite not having a license. Morgan chose not to identify the homeowner. "It had gotten out of hand for sure," she said, according to the Huffington Post. "He didn't even know how many dogs he had."
The dogs have now been taken to a shelter, however executive director of the county Humane Society Mary Shafer said resources were scarce. "It is really stressing for staff, but they've told me this is why they are here and they appreciate being able to help," Shafer said. The shelter is capable of caring for 200 animals at any given time.
The dogs range in age from weeks to years old, according to the Associated Press. They will be put up for adoption once they are healthy.
In August, police managed to shut down a puppy mill in western Pennsylvania that was suspected of housing at least 91 dogs. Police were tipped off when neighbors started noticing random dogs wandering around the house. According to the York Daily Record, all the puppies were the same breed—German shorthaired pointers.