Summer Heat Wave: Animals Cool Off With 'Ice Lollies' as Temperatures Push 120F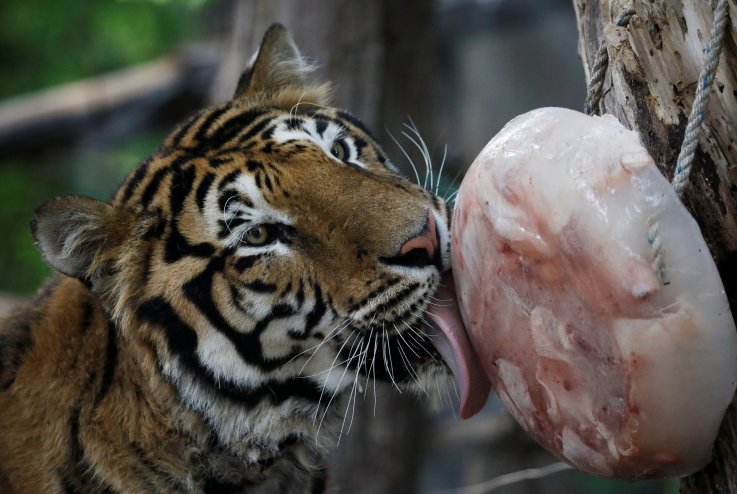 Areas of southwest United States faced strain as temperatures reached 120F (48℃) in some desert cities yesterday. In Phoenix, American Airlines cancelled flights as they couldn't take off in such high temperatures. The city experienced the hottest temperatures in two decades, and flight cancellations are expected to continue while the temperature soars
Authorities in Nevada and Arizona have issued heat warnings that run till Friday, with the heat wave expected to last till the weekend.
In western Europe, temperatures were almost as high, reaching nearly 100F (38℃) in Paris and London. The unusually hot weather meant parts of Europe were hotter than Mexico and Panama City.
U.K. forecasters predicted that the weather would break a 40-year-old record for the hottest day, and could be the hottest ever temperature for June 21.
Brits joked about the heat wave, posting on social media about the surprise temperatures. Many compared the weather to that of Mordor, the fiery volcanic land from the Lord of the Rings book and movie series. London earned the title of "sweatiest place in the U.K." due to its sweltering 154-year-old subway system and high, densely packed population.
Humans aren't the only ones overheating. Animals in zoos and on leashes across the world are feeling the heat too—and many are cooling off with icy treats, just like their human equivalents. In South Korea, London and Colombia, several different species in zoos have been pictured licking big blocks of ice. Elsewhere, zoos and parks provide frozen fruits and air-conditioner to keep the animals cool throughout the summer.