Eighty-seven pets—including 85 cats and one dog and the remains of one cat—were taken from a condemned house in Phoenixville, Pennsylvania Thursday.
According to the Brandywine Valley chapter of Society for the Prevention of Cruelty to Animals (BVSPCA), which was involved in the rescue, the animals were reportedly living in deplorable conditions.
The BVSPCA said most of the cats were suffering from fleas and ear mites, while some had untreated wounds. The blind, nine-year-old dog rescued from the house—who was later named Sunshine—was found missing a large amount of fur due to dermatitis. She also has severe dental disease that will require a full mouth extraction of her teeth, CBS Philly wrote.
"This is a very unfortunate situation of a well-meaning cat lover getting in over her head and not reaching out for help," said BVSPCA CEO Adam Lamb on the organization's website. "There's no excuse for animals to suffer in conditions like this. We need the community to know we're here to help, and we depend on neighbors, relatives and friends to report circumstances of concern before conditions get this bad."
The BVSPCA also said it will be pursuing charges against the three people living in the home, whose identities are not known to the public.
"Folks need to know we're here for them when that happens, and people in their lives need to report anything that seems unusual so we can get the animals help and link the people to help," the organization said.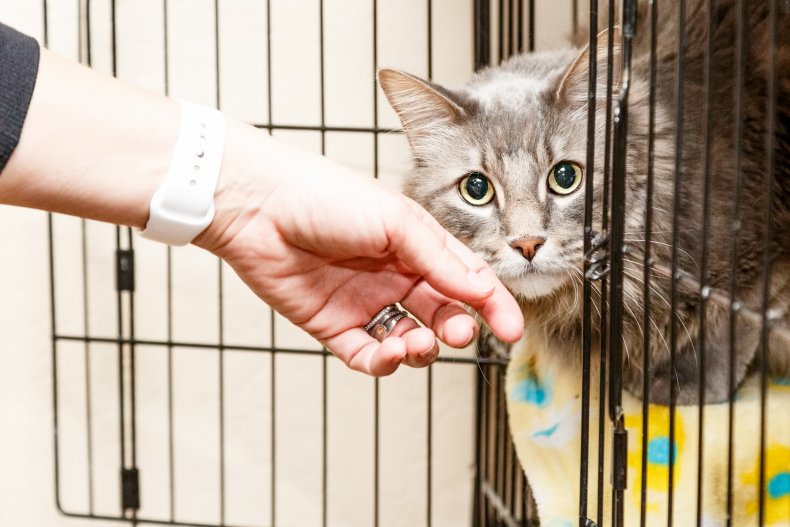 All 87 pets were victims of animal hoarding, which occurs when "an individual is housing more animals than he or she can adequately care for," according to the ASPCA, which also addresses issues of animal cruelty such as dog fighting, horse slaughter and homelessness on its website.
"Animals collected range from cats and dogs to reptiles, rodents, birds, exotics and even farm animals. Animal hoarding is covered implicitly under every state's animal cruelty statute, which typically requires caretakers to provide sufficient food, water and veterinary care," the ASPCA also cautioned.
Despite the conditions in which they were found, the BVSPCA said some of the cats were in good enough condition to be adopted, and the others will be available to go to good homes upon improvement of their health. The organization also appealed to the public for their help by giving the rescued animals a home or making a donation to help finance the care of those who survived.