Animation Shows Iceberg Almost as Big as Las Vegas Break Away from Antarctica's Pine Island Glacier
In a 15-second GIF, you can watch four-years-worth of calving events on Antarctica's Pine Island Glacier, including the most recent breakaway—an iceberg almost as big as Las Vegas. The giant berg split from the glacier over the weekend.
The animation was created by Professor Adrian Luckman, who specializes in glacier and ice sheet dynamics at Swansea University in the U.K., using images from the European Space Agency's (ESA) Sentinel-1 satellite.
The animation starts with images from June 14, 2017 and ends on February 11, 2020. It shows three calving events within that time frame.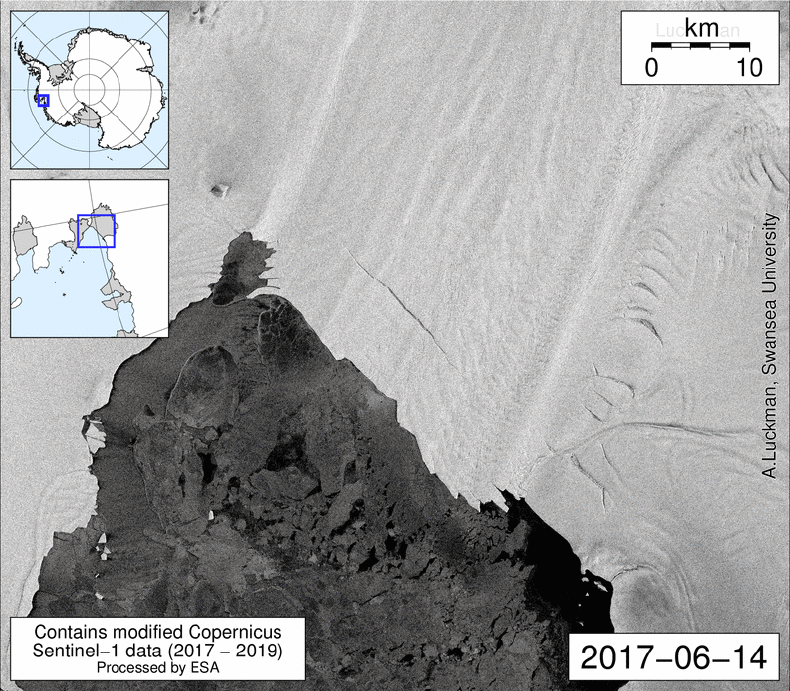 A calving event describes the process of a block of ice separating from a glacier and drifting out into the ocean. It can take place on different timescales. In some instances, it can take decades. In others, calving events can be frequent and occur in quick succession.
The most recent of the three calving events in the animation took place Tuesday, when a large chunk of the Pine Island Glacier shattered, forming a 120 square mile iceberg.
An animation from the ESA shows just how rapidly cracks were able to grow and cause the breakaway. The clip uses 57 images taken between February 2019 and February 2020 by Copernicus Sentinel-1.
According to the ESA, scientists have been anticipating the breakaway for almost a year, after satellite images revealed large cracks in the glacier were spreading and becoming bigger. The iceberg that formed was almost the size of Las Vegas.
It has since fragmented, forming multiple "piglets."
Calving events at the Pine Island Glacier appear to be increasing in frequency. Data collected by the ESA over the last three decades show events in 1992, 1995, 2001, 2007, 2013, 2015, 2017, 2018, and 2020. Within the same time frame, the speed at which the glacier is loosing ice has increased. According to the ESA, it is now shedding ice at rates of more than 32 feet per day.
Since 2012, the Pine Island Glacier has been loosing roughly 58 billion tons of ice per year.
The animation below shared by Stef Lhermitte, Assistant professor at Delft University of Technology in the Netherlands, shows how ice at the glacier has retreated since the 1970s.
"The Copernicus twin Sentinel-1 all-weather satellites have established a porthole through which the public can watch events like this unfold in remote regions around the world," Mark Drinkwater, senior scientist and cryosphere specialist at the ESA, said in a statement.
"What is unsettling is that the daily data stream reveals the dramatic pace at which climate is redefining the face of Antarctica."