Controversial French Sculpture Vandalized With Anti-Semitic Graffiti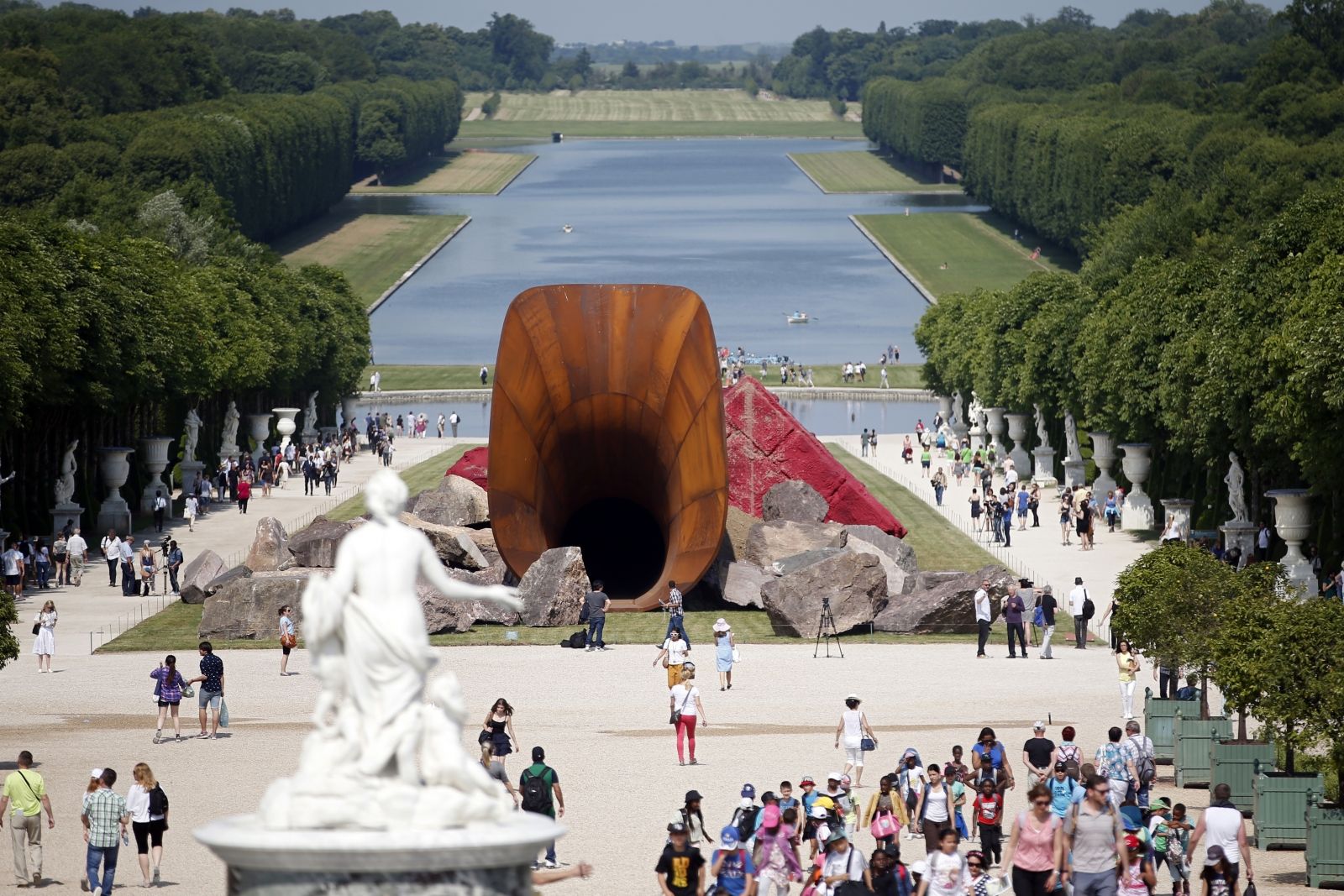 Vandals have sprayed anti-Semitic graffiti on Anish Kapoor's Dirty Corner sculpture displayed in the gardens of the Palace of Versailles, on the outskirts of Paris.
This is the second time that the controversial sculpture, nicknamed the "queen's vagina," has been vandalized this summer. In June, graffiti sprayed on the 200-ft.-long, 33-ft.-high artwork was washed off, however this time around, British-Indian artist, Anish Kapoor, has said he wishes for it to remain on the piece that will remain in the gardens until November 2015.
Phrases such as "SS blood sacrifice," "Queen sacrificed, twice insulted," "the second rape of the nation by deviant Jewish activism," and "Christ is king in Versailles," were sprayed in white paint on the sculpture and surrounding rocks, palace management said.
In an interview with French newspaper, Le Figaro, Kapoor described the vandalism as "a violent attack against the human spirit and culture."
"I had already questioned the wisdom of cleaning it after the first vandalism", he said. "This time, I am convinced that nothing should be removed from these slurs, from these words which belong to anti-Semitism that we'd rather forget. From now on, in the name of our universal principles, these abominable words will become part of my work, they will overlay it and stigmatize it."
French politicians have condemned the vandalism, according to AFP. President Francois Hollande labelled it as "hateful and anti-Semitic," while Prime Minister Manuel Valls said he felt disgusted and added that the perpetrators would be severely punished.
The French culture minister, Fleur Pellerin, called the vandalism an "attack on freedom of creation."
"This is no more or less an act which reveals a fascist vision of art," she said, after going to Versailles to inspect the damage, AFP reports.
In 2008, authorities at Versailles opened up the palace and its surrounding gardens to exhibit work by contemporary artists. Kapoor's work, which he describes as "the vagina of a queen who is taking power," has garnered much controversy.
In October 2014, vandals deflated a massive sculpture by Californian artist Paul McCarthy that was shaped like a sex toy that was being exhibited in the center of Paris.
According to the Guardian, the sculpture, nicknamed the "butt plug," provoked a right-wing backlash before being removed.