Anita Hill Slams Hasty Kavanaugh Hearing, Wants Christine Blasey Ford's Name to Be Used Instead of 'Accuser'
Christine Blasey Ford should be referred to by her name and not simply as the accuser of Supreme Court nominee Brett Kavanaugh, law professor and attorney Anita Hill said Tuesday. Hill also said the process of hastily putting together a hearing for Ford to testify about her allegations of sexual assault against Kavanaugh was "discouraging" and unlikely to result in a "meaningful inquiry."
Hill, who testified about alleged sexual harassment by Judge Clarence Thomas during his confirmation hearings in 1991, described how the Senate Judiciary Committee should conduct its scheduled hearing Monday for Kavanaugh and Ford. Specifically, she said the committee should look at improving the way her own testimony played out before lawmakers.
In a New York Times op-ed, Hill said that by coming forward Ford had earned the right for her full name to be used. She also touched on what was at stake for both Ford and Kavanaugh.
"Finally, refer to Christine Blasey Ford by her name. She was once anonymous, but no longer is," Hill wrote. "Dr. Blasey is not simply 'Judge Kavanaugh's accuser.' Dr. Blasey is a human being with a life of her own. She deserves the respect of being addressed and treated as a whole person."
Hill, a professor at Brandeis University, also stressed that the hearings should not be rushed and that Ford's accusations toward Kavanaugh should be properly vetted.
"Doing so would not only signal that sexual assault accusations are not important—hastily appraising this situation would very likely lead to facts being overlooked that are necessary for the Senate and the public to evaluate," she wrote. "That the committee plans to hold a hearing this coming Monday is discouraging. Simply put, a week's preparation is not enough time for meaningful inquiry into very serious charges."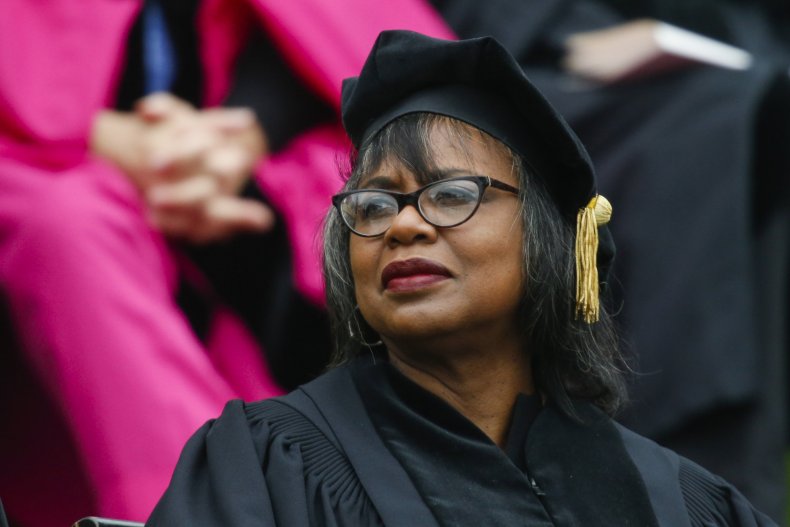 Senator Charles Grassley of Iowa, the chairman of the Judiciary Committee, on Monday called for the public hearing next week after Ford publicly spoke about her claims against Kavanaugh.
Ford, a professor at Palo Alto University, told The Washington Post that during a high school party in the early 1980s Kavanaugh had been drunk when he corralled her into a room, pinned her down and groped her over her clothes while a friend watched. She said Kavanaugh also tried to remove her one-piece bathing suit and put a hand over her mouth to muffle her screams.
Kavanaugh has denied Ford's allegations, claiming that he was never at the party and that he was willing to testify.
Originally anonymous, Ford was the author of a letter given to Representative Anna Eshoo, and later Senator Dianne Feinstein, in which she spelled out her accusations against Kavanaugh. Ford claimed she had not told anyone about the alleged incident until therapy sessions in 2012, and her therapist reportedly provided her with notes on her claims.