Anita Hill Rejects Harvey Weinstein's Excuses, Says Successful Men Harass, It's Not Just Losers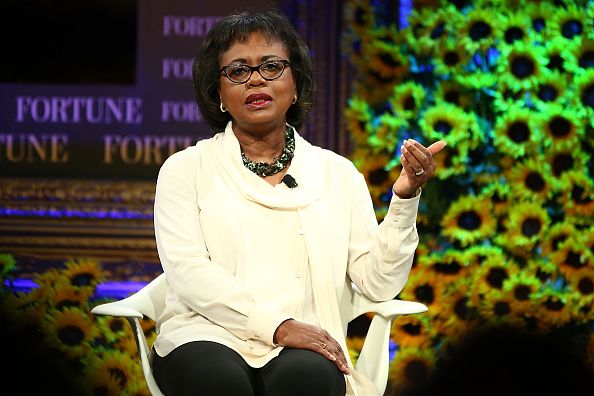 Anita Hill knows something about sexual harassment and the consequences of coming forward to tell the world a powerful, talented man did something he shouldn't have. Hill's character was attacked and testimony doubted after she spoke out as a young law professor against President George H. W. Bush's 1991 nomination of Clarence Thomas to the Supreme Court.
More than 25 years later, Hill has weighed in on the case of another powerful, talented man whose decades-long career, it turns out, includes a mountain of sexual harassment and assault allegations. Days after The New York Times published the first part of an investigation into producer Harvey Weinstein—which revealed at least eight settlements over allegations of sexual harassment and unwanted physical contact—Hill shared her thoughts in a guest column for Variety.
"Successful men do harass. They act in ways that are abusive and sometimes illegal. Too many of us are under the impression that the people who do this are losers, and that's not the case," Hill, now a professor of law, public policy and women's studies at Brandeis University, told Brent Lang for the "as-told-to" column published Tuesday. "Liberal men, high-achieving men, educated men, men who claim to support women, can be harassers," she added. "It may not be Harvey Weinstein doing these things, but it may be someone like Harvey Weinstein, who is prominent and progressive, who is abusing women."
In order to understand harassment, she explained, people need to understand that men who harass don't fit one narrow stereotype. They're not all openly hostile to women or gender equality. And they're not necessarily Republicans or Democrats. "When we put harassers in a political category, we're doing that based on a failure to look at the reality of harassment," Hill told Lang. "One of the paradoxes is that very liberal industries like entertainment, like tech, are still producing or reproducing the same types of behavior that have been going on in more traditional settings all along."
Hill is not without hope that industries and people can change. "But I think that after 30 years, you don't get a chance to change and pretend it didn't happen," she told Lang. "Harvey Weinstein's behavior continued beyond the '60s and '70s, so when he says, 'I came of age in that era,' it is no excuse."
An investigation published by The New Yorker on Tuesday, shortly after Hill's column came out, suggested there were in fact professional consequences to women who refused Weinstein. Ronan Farrow wrote:
Four actresses, including Mira Sorvino and Rosanna Arquette, told me they suspected that, after they rejected Weinstein's advances or complained about them to company representatives, Weinstein had them removed from projects or dissuaded people from hiring them. Multiple sources said that Weinstein frequently bragged about planting items in media outlets about those who spoke against him.
Whatever the industry, "there's a question of whether or not you want to take a risk with your entire career by coming forward against this very powerful man," Hill explained. "There's also a concern that this is what you're going to be measured by for your entire life. I certainly have that concern, and I live it," she added. "It's a choice that I made, but every person has to handle that question in his or her own way."