Ann Coulter: 'Country & Western' Bar Should Have Armed Patrons, Not Just Armed Guards
Conservative provocateur Ann Coulter took President Donald Trump's call for more "armed guards" one step further, suggesting instead that "armed citizens" could have prevented the Thousand Oaks, California shooting that left at least 12 people dead Wednesday night.
Coulter claimed the California state government "prevented patrons" of the Borderline Bar & Grill from defending themselves against the unidentified, handgun-toting shooter that attacked the bar during a college night dance party Wednesday. Coulter noted that a "country & western" bar of all places should have had armed patrons without what she sees as strict gun laws. Coulter noted the gunman shot a security guard at the offset of the attack, prompting her to claim several armed citizens are more useful than armed guards.
The Ventura County Sheriff's Office said the first deputies to enter the bar were also struck by bullets, with Sgt. Ron Helus dying after being shot as he entered the building.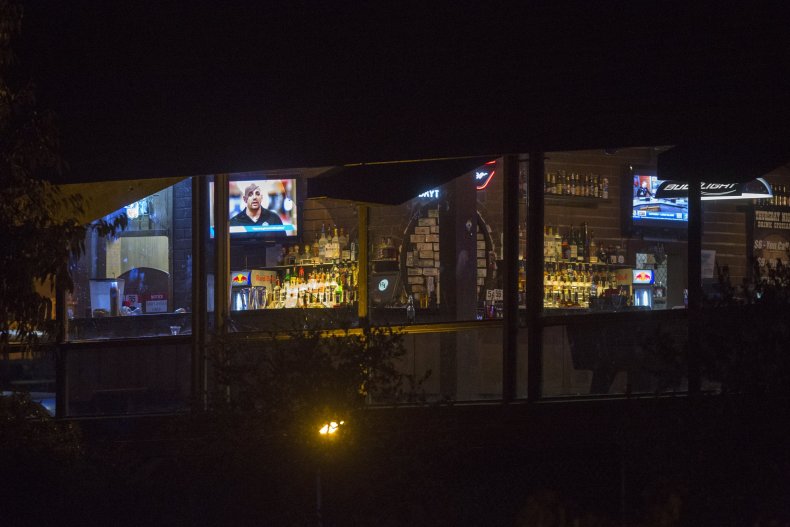 "This is why having an armed guard is no substitute for armed citizens: 'the gunman walked up to the entrance to the bar, shot a security guard,'" Coulter tweeted Thursday morning, citing a New York Times article about the Thousand Oaks shooting. "Mass shooting took place at a COUNTRY & WESTERN bar. If only the govt hadn't prevented patrons from being armed, they could have defended themselves."
Coulter's commentary takes Trump's controversial suggestion after the Pittsburgh synagogue shooting that "armed guards" could have prevented that separate deadly mass shooting of unarmed people. "If there was an armed guard inside the temple, they would have been able to stop him," Trump said of the shooting allegedly carried out by Robert Bowers, 46.
Several high-profile defenders and detractors of U.S. gun laws split opinions over the shooting of the bar's security guard. A Cal State sophomore, Erika Sigman, described the bar as "safe...It's a safe place to be. You can stay out all night at Borderline because there's major security.'"
"Just another day in America. Oh, and before the pro-gun people pull out their favorite talking point, this bar had a security guard. He was killed first," tweeted Rabbi Jill Jacobs, who previously noted it is the 304th mass shooting in America this year. But others said strict gun laws simply make it easier for lone wolf assassins to find targets. Fox News personality Geraldo Rivera agreed with Trump, saying "these joints need armed guards."
Trump issued a statement offering condolences in the wake of last night's shooting:
I have been fully briefed on the terrible shooting in California. Law Enforcement and First Responders, together with the FBI, are on scene. 13 people, at this time, have been reported dead. Likewise, the shooter is dead, along with the first police officer to enter the bar........Great bravery shown by police. California Highway Patrol was on scene within 3 minutes, with first officer to enter shot numerous times. That Sheriff's Sergeant died in the hospital. God bless all of the victims and families of the victims. Thank you to Law Enforcement.