Ann Coulter Backs Democrat to Defeat Mitch McConnell
Republican pundit Ann Coulter blasted Senate Majority Leader Mitch McConnell on Friday while suggesting that her followers should vote for his "lovely" Democratic opponent in November.
The staunchly conservative commentator took to Twitter on Friday to accuse McConnell of backing so-called "RINOs," or Republicans in Name Only, in another Senate race. Coulter offered harsh words for the majority leader, while touting the military service of his Democratic challenger Amy McGrath.
"The lovely Amy McGrath is a Marine Corps veteran. The average donation to her campaign is $36," Coulter tweeted. "Mitch McConnell is a broken-down old man owed by cheap labor lobbyists. #DefeatMcConnell"
Coulter is particularly peeved at McConnell for his supposed campaign against former Kansas Secretary of State Kris Kobach, who she called "the greatest living Republican." Kobach is seeking the Republican nomination for a Senate seat in Kansas and holds hardline anti-immigration views that are similar those of Coulter.
"Mitch McConnell, senate majority leader of the REPUBLICANS, is spending $3 million dollars in ads calling a fellow Republican a 'white supremacist' for opposing mass immigration," tweeted Coulter. "PLEASE REPUBLICANS, VOTE AGAINST MCCONNELL AND NEVER GIVE HIM ANOTHER DIME. #VoteKobach"
A later tweet from Coulter did not urge her followers vote for McGrath, but implored Kentucky voters to "stay home" on election day, insisting that "if we do not teach these betraying RINOs a lesson, we will be Charlie Brown with the football for our remaining time on earth."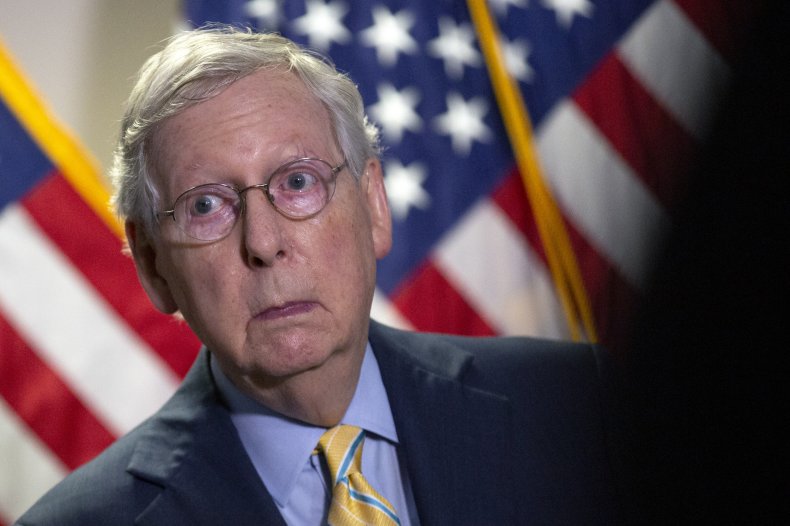 Kobach is one of several candidates competing in Kansas's August 4 GOP primary for the seat currently held by retiring Sen. Pat Roberts. Opponents believe Kobach is a liability due to his views and past record, including a failed 2018 campaign for governor, and would leave the seat vulnerable to being flipped by Democrats in November.
A Republican PAC launched a campaign ad on Tuesday that denounced Kobach for having ties to a white supremacist. Kobach had fired an aide who was discovered to regularly make racist and anti-Semitic posts to a white nationalist website, according to The Associated Press.
"The latest National Republican Senatorial Committee shows the MAGA candidate, Kris Kobach, beating the open borders candidate, Roger Marshall," Coulter tweeted. "So Mitch McConnell zoomed in with millions in dollars of ads DEFAMING Kobach as a 'white supremacist.' #DefeatMcConnell"
While Coulter has provided words of praise for "the MAGA candidate," she appears to have soured on President Donald Trump over the years, despite having authored the book In Trump We Trust: E Pluribus Awesome! in 2016.
The pundit and the president have had a rocky relationship highlighted by insults and Coulter's insistence last year that Trump "must go" because he has not been tough enough on immigration. Although she supported him during impeachment proceedings, she has also dubbed the president "an idiot," while Trump has dismissed Coulter as a "wacky nut job."
Newsweek reached out to McConnell's office for comment.