Ann Coulter Says She 'Bet' That Donald Trump Would Back Down from Closing the Border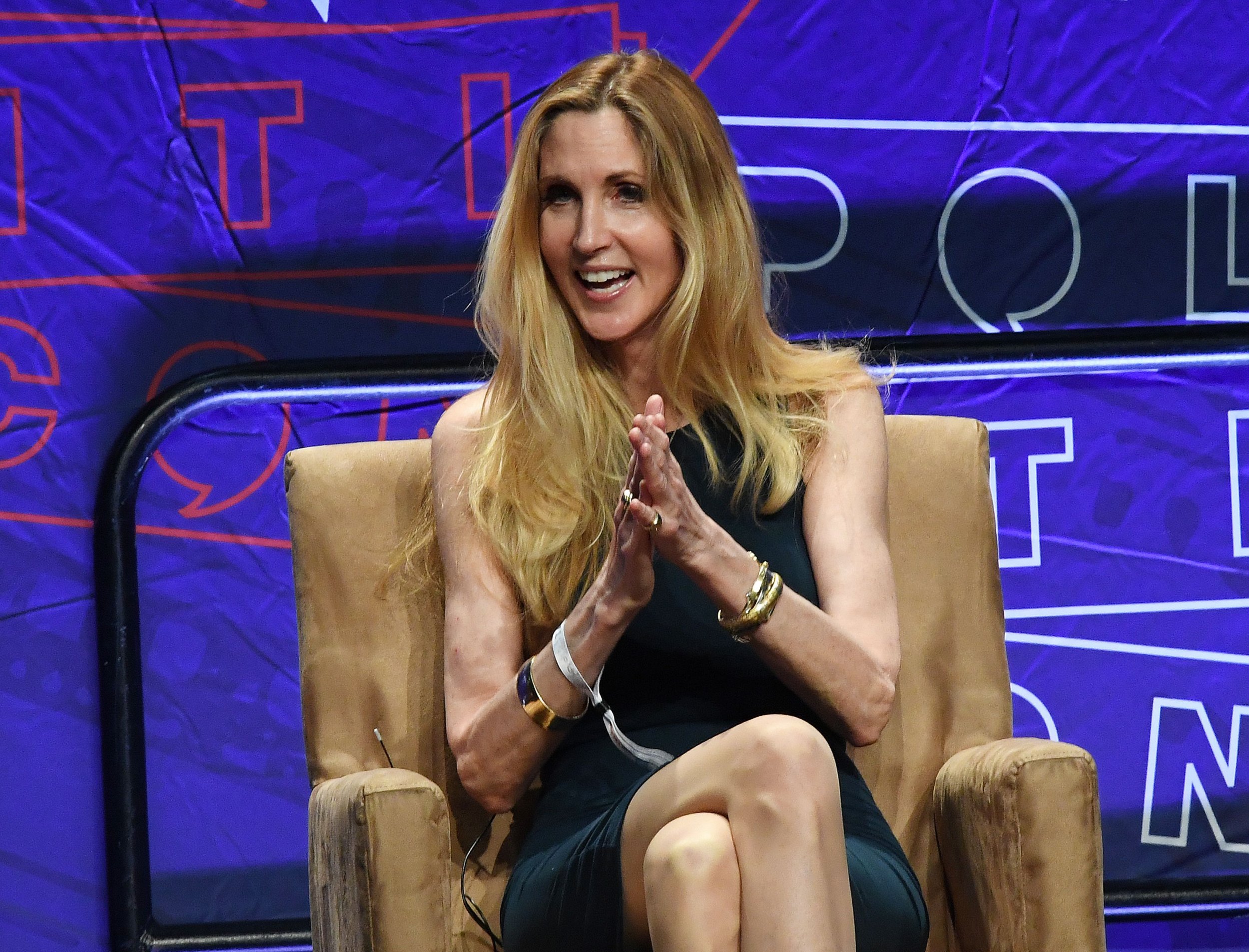 After President Donald Trump dropped his latest threat to close the southern U.S. border with Mexico on Thursday, conservative political pundit Ann Coulter mocked the president, claiming she never believed Trump would actually follow through and lock down the border.
"HEY! Who bet me that @realDonaldTrump was actually going to 'close the border'?" Coulter tweeted Thursday afternoon.
The president had threatened to close most of, if not the entire, border this week if Mexico did not immediately act to halt illegal immigration and the flow of drugs into the United States. But at the White House Thursday, Trump backed down from this declaration and claimed that he had given Mexico a 12-month grace period.
"We're going to give them a one-year warning, and if the drugs don't stop or largely stop, we're going to put tariffs on Mexico and products, particularly cars," Trump told reporters. "And if that doesn't stop the drugs, we close the border."
Just a day earlier, Trump had said he would shut the border "immediately" if Congress did not address "loopholes" in immigration law in the U.S.
Coulter had been until 2019 a passionate supporter of the president. In 2016, she lauded then-candidate Trump in a book titled In Trump We Trust. However, she turned on him after Trump ended the longest federal government shutdown ever without having made good on his pledge to secure billions of dollars in congressional funding for the border wall. Since then, Coulter has regularly portrayed the president as having betrayed his base of support.
Earlier on Thursday, she continued to mock Trump on the issue, quote tweeting a story on Chinese engineers moving a 30,000 metric ton bus terminal in 40 days and commenting, "But Americans can't put up a wall." Coulter also tweeted, "Americans left behind voted for a wall and a lot less immigration."
Before backing down on the border shutdown threat, the White House had argued that agents who currently staff the many ports of entry along the Mexico border were needed to patrol the long stretches of border between those ports.
Just last week, Trump claimed that closing the border would be profitable. However, economists and business-owners disagreed and news that he might go through with the closure heightened concerns, including among members of his own party, that doing so would cripple the economies of the United States and Mexico, which is its third biggest trading partner.
The president is scheduled to visit the border on Friday, according to the White House.
"The president wants to show the progress that we've made on the border wall. There's a section there that has been finished, and he wants to be able to see that," White House Press Secretary Sarah Sanders said. "But also, he wants to show a lot of people firsthand exactly what is taking place at the border."
Coulter has stated that Trump should face a Republican primary for the 2020 election because he has not delivered on the border wall. Last month, she tweeted, "I'd prefer collusion and a wall," than "no collusion and no wall," in reference to special counsel Robert Mueller's report finding no conspiracy between the Trump campaign and Russians in the 2016 presidential election.
Trump in March attacked Coulter on Twitter and claimed he has made progress on the border.
"Wacky Nut Job @AnnCoulter, who still hasn't figured out that, despite all odds and an entire Democrat Party of Far Left Radicals against me (not to mention certain Republicans who are sadly unwilling to fight), I am winning on the Border," Trump tweeted.