Ann Coulter Claims Newly Elected Democrats All 'Hate White Men,' Are Jews, Muslims, 'College Queers' and 'Black Church Ladies'
Ann Coulter says when Democrats take back control of the House of Representatives in January, there's only one thing that will connect the diverse group of lawmakers: hatred of white men.
"They all hate one another," Coulter said, discussing the alleged discord between members of the Democratic Party.
"I mean you, have the Muslims and the Jews and the various exotic sexual groups and the black church ladies with the college queers," Coulter said, apparently describing the new group of Democrats elected to Congress in the 2018 midterm elections. The incoming class is the most diverse in history and includes the first Muslim congresswomen and the first Native American congresswoman.
"The only thing that keeps the Democratic base together is for them to keep focusing on: 'No, white men are the ones keeping you down, you must hate white men.' It's the only thing they all have in common," Coulter added as she appeared on Fox News as a guest on The Ingraham Angle on Tuesday.
Coulter's comments were immediately slammed as racist, xenophobic and homophobic. Fellow television host Joe Scarborough of MSNBC's Morning Joe retweeted a social media post with a clip of Coulter's remarks, writing: "Vile racism openly promoted on Fox News. Again, why? They don't need this."
Coulter fired back at Scarborough, writing: "I'm so sorry. Next time, I'll try to be more like MSNBC's Mika Brzezinski… 'Mika must apologize for 'gang attack' on Pastor Mark Burns.'"
Coulter was referring to Brzezinski's 2016 interview with Burns, one of Donald Trump's more prominent supporters. The Morning Joe co-host pressed Burns on whether or not he thought Trump's comments about a Mexican judge were racist. She pressed him multiple times, but the pastor avoided answering the question directly.
Trump, then the Republican nominee for president, immediately attacked Brzezinski over the interview. In a statement to CNN, Trump said Brzezinski's segment was a "coordinated gang attack" and "one of the most appalling things I have ever seen on television."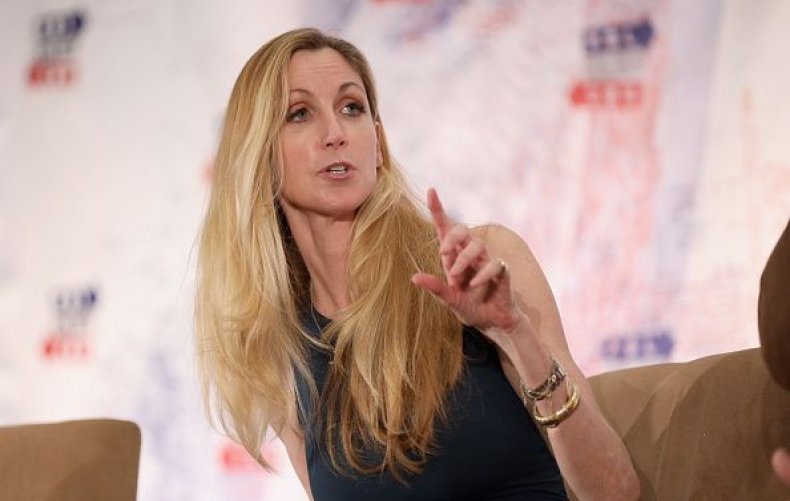 Coulter made headlines earlier this week, when she lashed out at Trump for lying about the progress of his long-promised border wall between the United States and Mexico.
"Even a Washington Post reporter knows that not 1 inch of Trump's wall has been built. Does Trump think his supporters are dumber than a WaPo reporter?" Coulter wrote on Twitter, sharing an article by the new outlet titled "President Trump says his 'beautiful wall' is being built. Nope."
The comment came after Trump's heated meeting with top Democrats Nancy Pelosi and Chuck Schumer, during which Trump made misleading statements about the wall and border security.
"A lot of the wall is built, a lot people don't know that. A lot of the wall is renovated," Trump said. The president also told Pelosi and Schumer that he would be "proud to shutdown the government" if Democrats don't agree to give him $5 billion to fund the rest of the border wall.