Ann Coulter Says Trump May Have Been 'Scamming Voters' With Wall Promise, Predicts He Won't Be Re-Elected
Far-right commentator Ann Coulter insulted President Donald Trump on Wednesday over his inability to get his long-promised wall built along the southern border of the United States.
In an interview with the conservative Daily Caller, Coulter—who has previously called out Trump about the wall—said she worried that the president might be missing his last shot to get his wall built, considering Democrats would soon control the House of Representatives.
"Either Trump never intended to build a wall and was scamming voters from the beginning or he hasn't the first idea in how to get it done and no interest in finding out," Coulter told The Daily Caller. "My prediction is his support will evaporate and Trump will very likely not finish his term and definitely not be elected to a second term."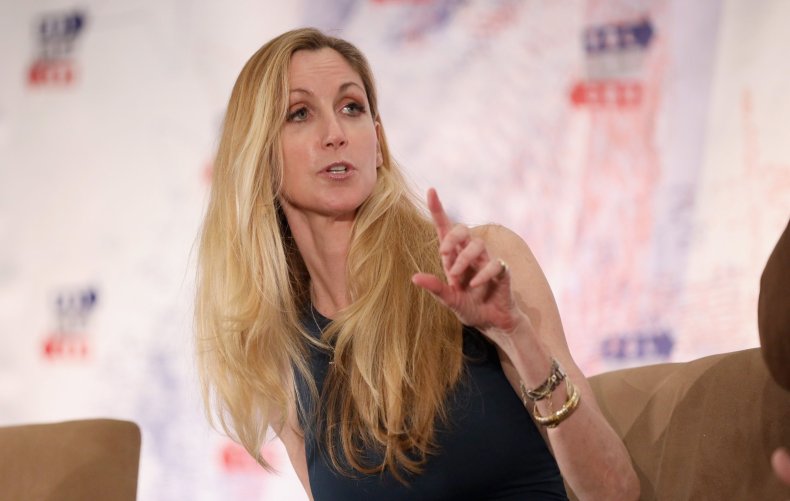 The controversial Coulter—author of the books In Trump We Trust: E Pluribus Awesome! and Resistance Is Futile!: How the Trump-Hating Left Lost Its Collective Mind—has often attacked Trump over not getting the wall done. Earlier this month, she tweeted in response to a Washington Post article about the wall: "Even a Washington Post reporter knows that not 1 inch of Trump's wall has been built. Does Trump think his supporters are dumber than a WaPo reporter?"
Trump, meanwhile, has insisted he'll get the wall built, even as Congress pushed forward legislation to fund the government despite the president threatening to shut it down over border wall funding.
"In our Country, so much money has been poured down the drain, for so many years, but when it comes to Border Security and the Military, the Democrats fight to the death. We won on the Military, which is being completely rebuilt. One way or the other, we will win on the Wall!" Trump tweeted earlier on Wednesday.
The White House had said it would look to redirect funds from elsewhere to build the wall, an idea Senate Minority Leader Chuck Schumer and House Minority Leader Nancy Pelosi shot down quickly.
"The House and Senate will not approve a wall from reprogrammed funds or anything else. It won't happen," Schumer said.