Ann Coulter Says Donald Trump Is Afraid of Border Wall Fight, Says Agreement Is His 'Yellow New Deal'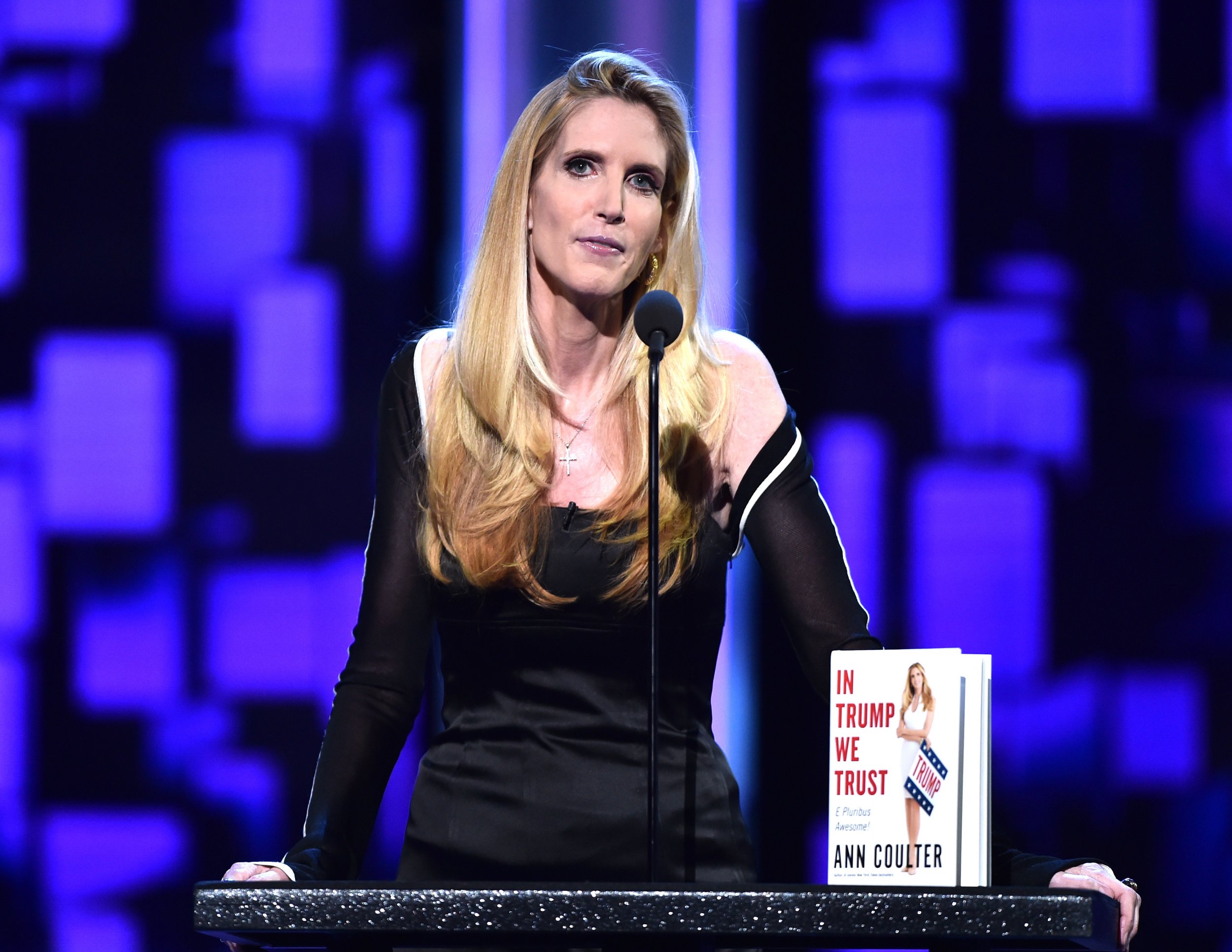 Conservative political commentator and author Ann Coulter on Tuesday afternoon slammed President Donald Trump over the possibility of him accepting less than he demanded in border wall funds. A bipartisan agreement reached by congressional leaders on Monday night was, Coulter said, Trump's "Yellow New Deal."
"Trump talks a good game on the border wall but it's increasingly clear he's afraid to fight for it," Coulter tweeted. "Call this his 'Yellow New Deal.'"
Coulter did not elaborate in her tweet on what she meant by "Yellow New Deal," but it appears to be a play on Democratic Representative Alexandria Ocasio-Cortez's proposed "Green New Deal," which attempts to tackle economic inequality and climate change.
Trump in a Cabinet meeting on Tuesday said he was unhappy with a tentative bipartisan agreement that had been reached to prevent another government shutdown. It provides $1.375 billion for 55 miles of new border fencing in the Rio Grande Valley area of Texas. Trump had demanded $5.7 billion for the wall, and in late January, when it became clear Democrats would not budge on this issue, agreed to fund and reopen the government through February 15.
"I'm not happy about it. It's not doing the trick," Trump said of the deal during the Tuesday's Cabinet meeting, but "I don't think you're going to see a shutdown."
Coulter on Tuesday morning reiterated her stance that a border wall was effective and needed in the United States.
"Dems immigration demand: No wall and fewer detention beds. They say walls don't work on the border," she tweeted, "But walls work too well on criminals."
Coulter, who was a confidant of Trump's and wrote the book In Trump We Trust, ripped into the president for caving and reopening the government without getting any border wall money.
"Good news for George Herbert Walker Bush: As of today, he is no longer the biggest wimp ever to serve as President of the United States," Coulter tweeted, referring to Trump.
Early this month, Coulter said that Trump could face a challenger for the Republican nomination in the 2020 election if he did not follow through with building the wall, which was his most prominent campaign promise.
"We put this lunatic in the White House for one reason," Coulter said on the Yahoo News podcast Skullduggery. She called him "lazy and incompetent" and said that Republican Representative Mo Brooks of Alabama would be "terrific" to challenge him.
"I think for sure there's going to be a primary challenger, and it's not gonna be [Senator] Jeff Flake," Coulter said.
Coulter added that Trump should not declare a national emergency, an option that the president on Tuesday said he was still considering.