Ann Coulter Mocks Donald Trump, Newt Gingrich Over Wall Defense: 'Kissing the Emperor's Ass'
Conservative political commentator and author Ann Coulter on Monday relentlessly mocked former Republican House Speaker Newt Gingrich and President Donald Trump, after both hit back at her criticisms of the commander-in-chief's decision Friday to temporarily end the government shutdown without funding for his border wall.
Coulter, who has heavily scrutinized Trump for thus far failing to fulfill his biggest campaign promise of building the wall, on Friday ripped Trump without naming him by tweeting: "Good news for George Herbert Walker Bush: As of today, he is no longer the biggest wimp ever to serve as President of the United States."
Trump on Sunday told The Wall Street Journal of Coulter, "I hear she's become very hostile. Maybe I didn't return her phone call or something."
On Monday, Gingrich, who served as speaker from 1995 to 1999, said on Fox News' Fox & Friends show that Trump "should not pay any attention to Ann Coulter."
"Ann Coulter's never run for office, she doesn't know anything about how you put a majority together," Gingrich, who has been an ardent supporter of the president said. "She's off here in some fantasyland where she gets to be noisy which helps her sell books."
Coulter shortly after tweeted sarcastically: "Newt Gingrich claims I'm in 'fantasyland' for criticizing the president for breaking his central campaign promise. It has now come to my attention that Trump HAS built the full border wall & it's working BEAUTIFULLY. That is why Trump is sailing to re-election!"
She then drew out a long analogy of Trump and Gingrich to the classic tale "The Emperor's New Clothes" in which people think the emperor's clothes are invisible to them because they believe they are stupid, when in fact he is naked.
"Newt's right—I'm just selling books. But at least I don't have to kiss Trump's ass to do so," Coulter tweeted.
"RIDDLE OF THE DAY: How do you break Newt Gingrich's nose?" She wrote in another tweet. "(ANSWER: Kick Donald Trump in the ass.)"
"To those who would attack Newt, please remember that just as collusion is not a crime, kissing the emperor's ass violates no federal law," Coulter then tweeted.
Coulter continued: "LITTLE-KNOWN LITERARY FACT: 'The Emperor's New Clothes' had to be edited for space. Lost was the scene where court haberdasher Newt Gingrich said, 'Sir, you look splendid!'"
At the end of the tale, a child finally says aloud that the emperor is not wearing anything at all.
Coulter wrote that people who voted for Trump have fallen into two factions, "The Tell the Truth faction and the Kiss the Emperor's Ass camp," and that "Newt and I have picked different camps."
In another tweet, Coulter wrote, "Poor Newt" and that "at least Rudy [Giuliani] got a job," referring to Trump's lawyer who is often ridiculed for changing storylines. She defended her free speech rights as a U.S. citizen.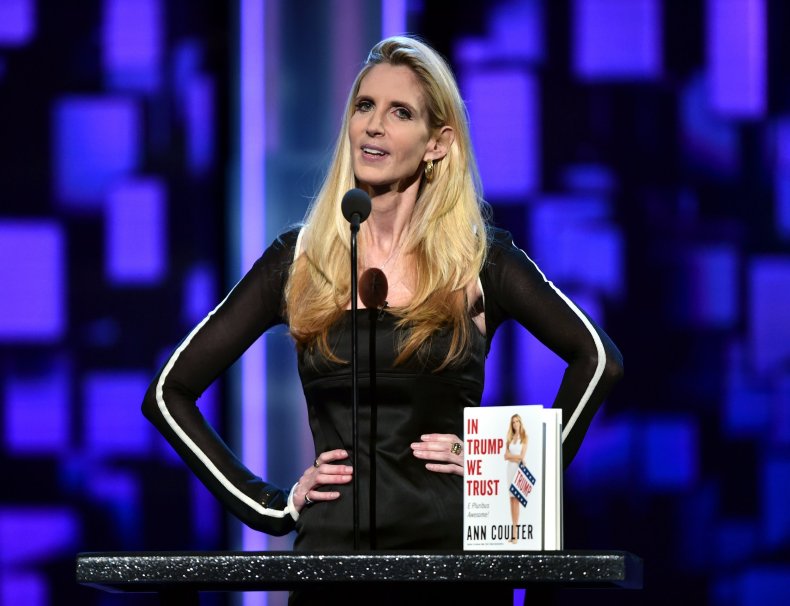 Trump signed a continuing resolution on Friday that will fund the government through to February 15. In doing so he backed down from his pledge that he would not reopen the government without funding for a wall along the southern border with Mexico.
Trump was called out for appearing to concede to Democrats by a large contingent of conservative media who typically support him, including Fox Business Network host Lou Dobbs, The Daily Caller, Breitbart News and the Drudge Report.