Ann Coulter Jokes 'We Know Trump's Telling the Truth' About Border Wall 'Because Jussie Smollett Swears He's Seen It'
Conservative author and political commentator Ann Coulter's latest tweet criticizing President Donald Trump linked his border wall claims to Empire actor Jussie Smollett, whose credibility has suffered since reports allege he paid two men who allegedly supported "Make America Great Again" to stage an attack on him.
"How do we know Trump's telling the truth about all that new border wall he's already built?" Coulter tweeted on Sunday evening. "Because Jussie Smollett swears he's seen it!"
Coulter's tweet came a day after Chicago police stated that they had "shifted the trajectory of the investigation" around Smollett's claim that two masked men punched him in the face on January 29 and said, "This is MAGA [Make America Great Again] country, n*****." The suspects were paid by Smollett to orchestrate the attack, some reports alleged.
Once a passionate supporter of Trump, Coulter had no problem mocking Smollett. She has become one of Trump's biggest conservative critics since he agreed to reopen government after the longest government shutdown in history, without any funding he demanded for the wall along the southern border with Mexico.
Coulter strongly opposed a national emergency, which Trump declared on Friday. Late Thursday, Coulter quote tweeted Conservative Review senior editor Daniel Horowitz's post that "the goal of a national emergency is to end illegal immigration and cartel smuggling" and that 100 to 200 miles of fencing "will not do."
"No, the goal of a national emergency is for Trump to scam the stupidest people in his base for 2 more years," Coulter tweeted.
In a following tweet, she elaborated: "The goal is to get Trump's stupidest voters to say 'HE'S FIGHTING!' No he's not. If he signs this bill, it's over."
Coulter, who wrote In Trump We Trust, previously suggested that Trump agreeing to a bipartisan deal providing only $1.375 for 55 miles of new border fencing was evidence that Trump was afraid of the border fight.
"Trump talks a good game on the border wall but it's increasingly clear he's afraid to fight for it. Call this his 'Yellow New Deal,'" Coulter tweeted.
Coulter has also stated that Trump should face a Republican primary for 2020 if he does not deliver on building the wall, which was his biggest campaign promise.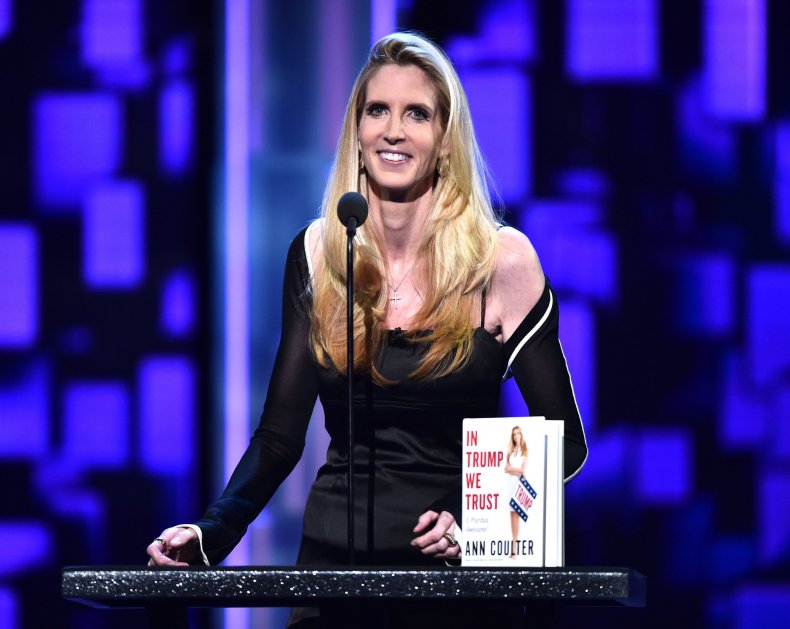 Unlike Coulter, first son Donald Trump Jr. drew not comparison between his father and Smollett in a tweet bashing the actor on Monday.
"Hey Hollywood and media types, I've noticed a lot of you deleted your #JusticeForJussie tweets…" Trump Jr. tweeted. "What's the matter, don't you want justice for him anymore??? #frauds."