Ann Coulter Takes Shots at Michelle Obama's Former Aide After Jussie Smollett Charges Dropped
In a tweetstorm of disappointment over all charges against Empire actor Jussie Smollett being dropped, conservative pundit Ann Coulter took a hit at former first lady Michelle Obama's aides in relation to an unrelated case Chicago police are investigating.
Coulter, in a series of tweets on Tuesday afternoon, attacked Cook County State's Attorney Kim Foxx, who earlier announced that Smollett was relieved of 16 counts of disorderly conduct for filing a fake police report about being a victim of an apparent hate crime that he said had a "Make America Great Again" element.
Then Coulter quote tweeted a Chicago Police Department post from the previous day about two men charged with murdering an off-duty police officer. The two men are Menelik Jackson, 24, and Jovan Battle, 32, who according to the police department's tweet were arrested for the incident that ocurred on Saturday.
"Let's just hope Kim Foxx doesn't drop all charges," Coulter commented, then brought in Obama.
"Do any former Michelle Obama aides know the perps' families?" Coulter tweeted. "They could be in for a nice surprise!"
Coulter seemed to be bashing the former first lady's aides in light of a report earlier this month that Foxx tried to persuade a Chicago police superintendent to turn Smollett's case over to the FBI, after a Smollett supporter personally reached out to Foxx. The supporter was reportedly former chief of staff to Obama and Chicago attorney Tina Tchen, according to text messages and emails Foxx provided to the Chicago Sun-Times after a public records request.
The records reportedly showed that Tchen texted Foxx three days after Smollett claimed he was jumped by two masked men and told, "This is MAGA country, n*****."
"I wanted to give you a call on behalf of Jussie Smollett and family who I know. They have concerns about the investigation," Tchen reportedly texted.
Tchen reportedly gave Foxx's phone number to a relative of Smollett and talks ensued. Foxx told Chicago Sun-Times that Smollett's relative was concerned about information in the investigation being leaked.
In her tweets, Coulter implied that race contributed to Smollett's dropped charges.
"Apparently, it's white privilege to have a fair legal system. Tina Tchen (Asian female) asked Smollett prosecutor Kim Foxx (black female) to go easy on Jussie Smollett (black male)," Coulter tweeted. "And she did."
Tchen, after serving as Obama's chief of staff for the majority of her time in the White House, took charge of the Buckley Sandler law firm office in Chicago. Tchen did not immediately respond to a request for comment from Newsweek on Tuesday.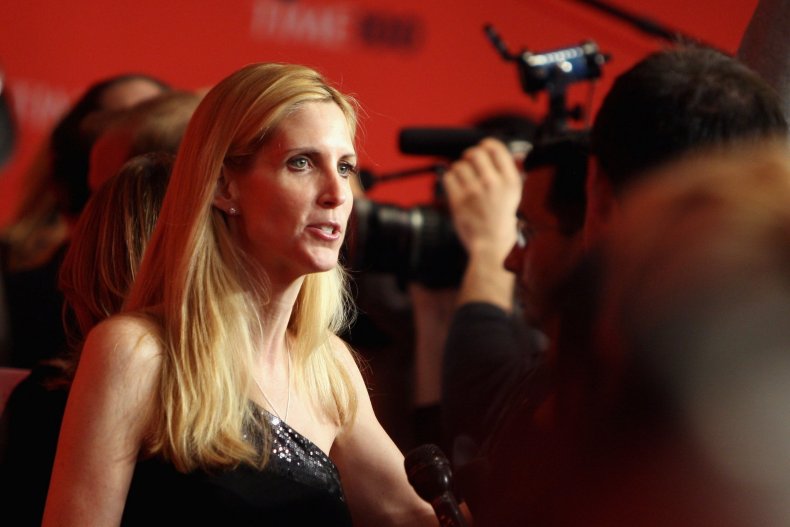 Coulter was a passionate supporter of Donald Trump until recently, having grown frustrated with the president's failed attempts to deliver on building a border wall,which was the biggest promise of his 2016 "Make America Great Again" election campaign.