Ann Coulter Mocks Republicans Voting Against Donald Trump's Emergency Declaration: 'Huge RINO Stampede'
Conservative political pundit Ann Coulter on Thursday afternoon seemed to mock Republicans who voted against President Donald Trump's attempt to use a national emergency declaration to secure funding for his border wall.
"URGENT SAFETY ALERT: Anyone in the vicinity of the U.S. Capitol take cover. Huge RINO stampede," Coulter tweeted shortly after a dozen Republican Senators joined all senate Democrats in backing a resolution that rescinded, for the moment, Trump's declaration.
"RINO," which stands for "Republican In Name Only," is a pejorative term that some GOP members use to describe fellow Republicans whose views or actions they consider not conservative enough.
Among the dozen Republican senators who voted against Trump's declaration were Mitt Romney of Utah and Lamar Alexander of Tennessee. Both said they were in support of building the border wall but did not want Trump's declaration to set a precedent for presidents to skirt Congress when their funding requests are rejected.
"Our nation's founders gave to Congress the power to approve all spending so that the president would not have too much power," Alexander said. "This check on the executive is a crucial source of our freedom."
Before the vote, Romney announced he would move to overturn Trump's declaration, in order to defend the Constitution.
"I agree that a physical barrier is urgently needed," Romney said. "I am seriously concerned that overreach by the executive branch is an invitation to further expansion and abuse by future presidents."
While Coulter mocked the Republicans who voted against Trump, it is unclear where she stands on the issue as a whole. Coulter vehemently opposed Trump declaring a national emergency in the first place, believing that he should try to get his wall by going through the Department of Homeland Security and the Department of Defense. However, she fully expected Trump would declare the national emergency.
"I think Trump is gonna do that," she said last month. "I think he's finally going to pull that pocket Constitution out of his lapel pocket and, 'Oh my gosh, I'm the president. This is great.'"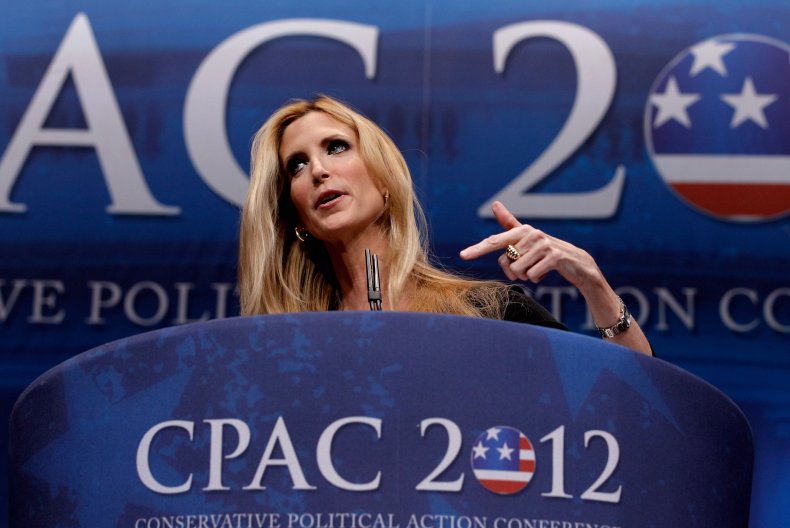 Minutes after the Senate vote on Thursday, Trump tweeted, "VETO!" indicating he intends to use his veto power to override the resolution aimed at revoking the president's emergency declaration, which seeks to take more than $6 billion in funds already allocated for other expenses and use them for the wall.
While the resolution passed easily through both the House and Senate, it is not expected to survive a presidential veto. To overturn the president's veto, the resolution would need approval by two-thirds of members in each chamber of congress. Only 13 Republican House members initially voted to approve the resolution; more than 40 additional GOP lawmakers would need to go against the White House. In the Senate, an additional seven or eight GOP senators would have to switch their votes in order to reach the two-thirds requirement.
Coulter was a passionate supporter of Trump but turned into one of his biggest conservative critics after he caved to Democrats in January and reopened government without any funding to construct the wall, his biggest campaign promise.