Ann Coulter Accuses MSNBC of Keeping Black Hosts on 'Weekend Ghetto' Shows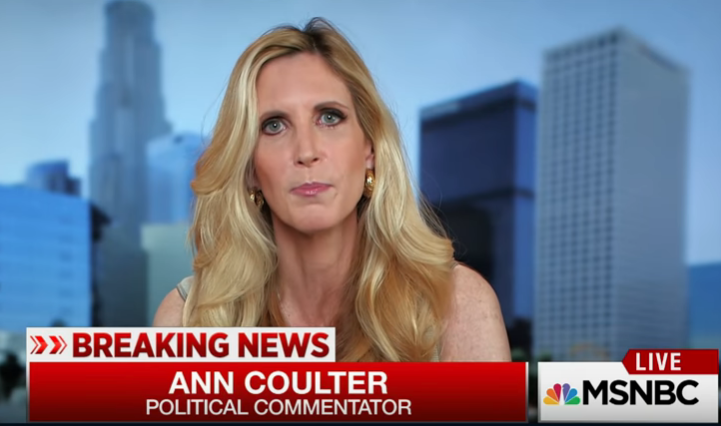 Right-wing author and provocateur Ann Coulter lashed out at MSNBC Monday, accusing the cable news network of keeping their black hosts on "weekend ghetto" shows.
Coulter, who was a paid MSNBC contributor in the 1990s and has appeared several times in the decades since, went after NBC as a whole Monday, tweeting sarcastic digs at their "intersectionality" and appearing to criticize MSNBC for having no transgender hosts. Although it's unclear why Coulter picked the fight, she accused MSNBC president Phil Griffin of discriminating against transgender people who may be seeking to host a show on the network.
"Watching MSNBC and wondering: Why does Phil Griffin think transgenders aren't good enough to host a show on his network?" Coulter asked on Twitter Monday. "MSNBC has done such a wonderful job spreading intersectionality to the rest of the world! Why no transgenders on their own network? #NBCHaters."
Coulter's swipe at the people of color working as anchors or hosts at MSNBC suggests she believes the network executives have put African-American hosts in the less watched weekend time slots. "Which reminds me: Why does MSNBC put all its black hosts on the low-rated weekend ghetto? This must change! #ParityatNBC #NBCWhiteNationalists," Coulter tweeted Monday.
Among black MSNBC hosts, Craig Melvin's show is on weekdays at 11 a.m., Joy Reid runs AM Joy from 10 a.m. until noon on weekends and Al Sharpton's PoliticsNation is on at 5 p.m. ET on weekends.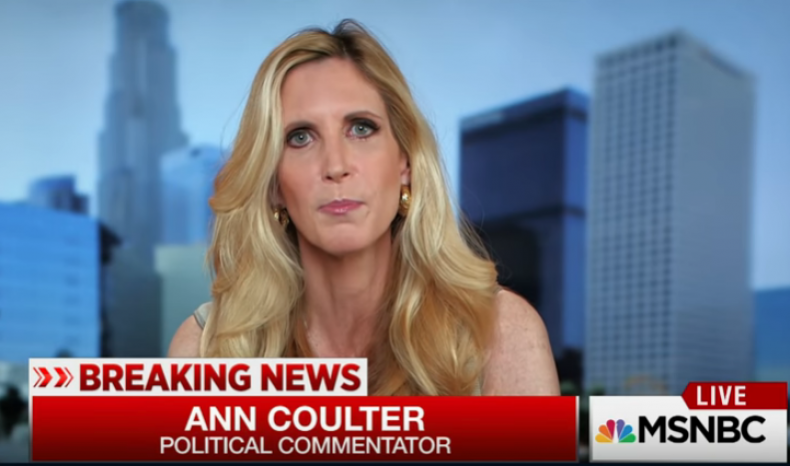 Last year, one of MSNBC's minority hosts, Joy Reid, apologized to Coulter for transphobic tweets in the past that were directed at the conservative commentator. Several comments on an old blog run by Reid were unearthed with homophobic and transphobic remarks.
"I want to apologize to the trans community and to Ann," Reid said on her show last April. "Those tweets were wrong and horrible."
Coulter, who just penned an opinion piece for The Hill entitled, "Four myths the media and politicians tell you about our border crisis," worked at MSNBC until a controversial 1997 NewsChat segment in which she reportedly quipped to a disabled Vietnam War veteran, "No wonder you guys lost."
Time Magazine and The Washington Post have described different versions of the event, with now-Fox News Media Buzz host Howard Kurtz having attributed Coulter with the on-air comment that she has since denied.