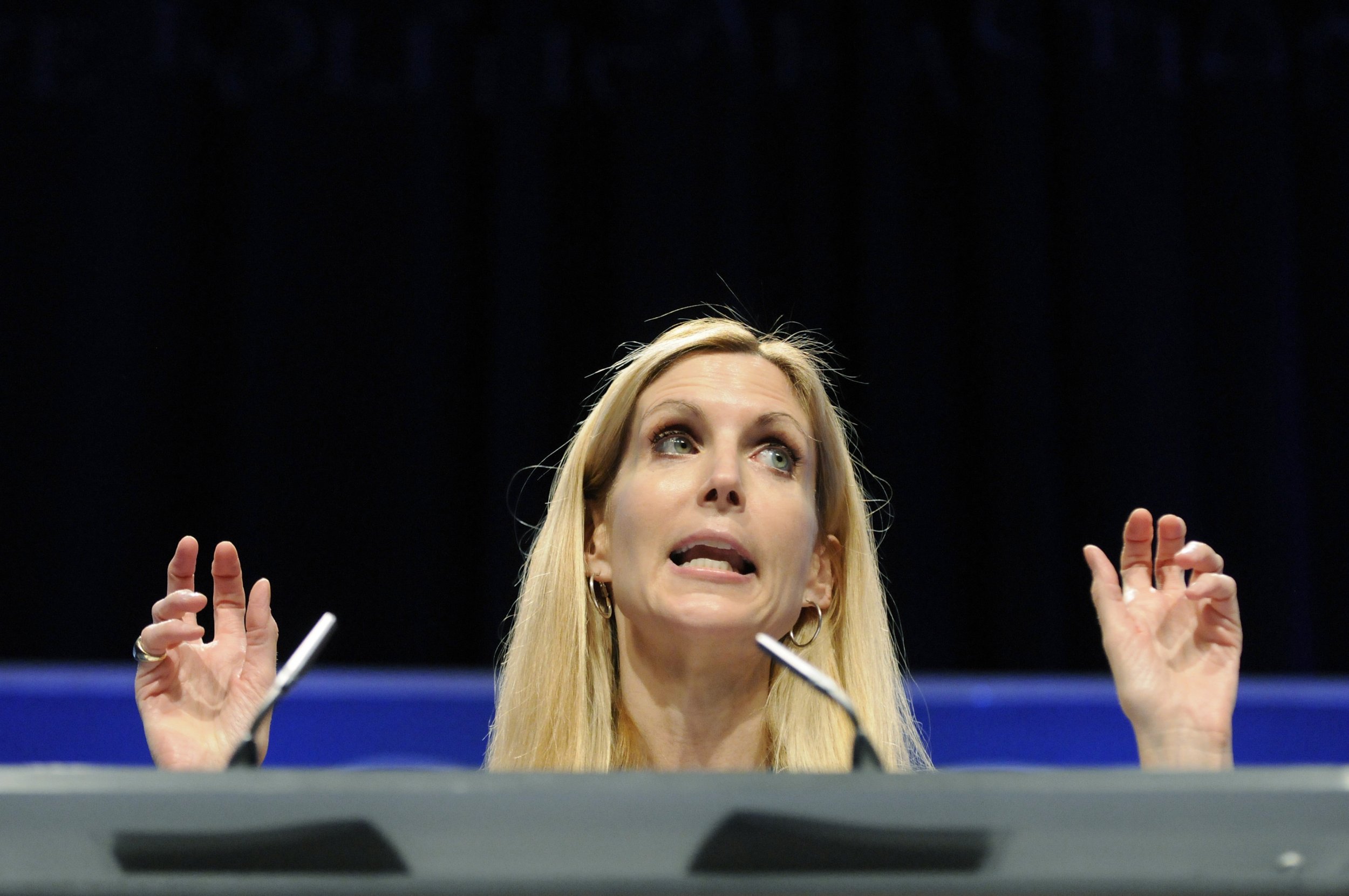 Far-right commentator and conservative firebrand Ann Coulter—one of Donald Trump's most ardent supporters during the election cycle—now seems to be considering abandoning the president. She recently spoke with conservative website the Daily Caller in a interview headlined, "Ann Coulter Is Worried The 'Trump-Haters Were Right'."
"Trump true believers are petrified," Coulter said.
But that doesn't mean she regrets backing Trump. Coulter said to the Daily Caller in the article published Sunday: "I don't apologize for supporting Trump. He said all the right things and nobody else would even say it." In her mind, he was the only chance at saving the United States and could still do it.
Coulter, an anti-immigration hard-liner, was particularly perturbed with the fact that little progress had been made on a wall along the southern border of the United States, a promise long made by Trump on the campaign trail.
"I'm not very happy with what has happened so far. I guess we have to try to push him to keep his promises," Coulter told the Daily Caller. "Where is the great negotiation? Where is the bull in the china shop we wanted? That budget the Republicans pushed through was like a practical joke... Did we win anything? And this is the great negotiator?"
After getting into a metaphor about Trump driving the wrong direction, Coulter also slammed the president for hiring his family. The president is reportedly heavily reliant on son-in-law Jared Kushner and his daughter Ivanka Trump.
"Americans don't like that, I don't like that. That's the one fascist thing he's done. Hiring his kids," Coulter said while adding she doesn't have anything against Kushner, but rather the idea of hiring relatives in general.
She also said she wasn't giving up on Trump yet and pushed for action—"we have to keep Trump's feet to the fire"—while adding traditional conservatives and establishment politicians were doing their best to obstruct the president. "I do, of course, blame Congress most of all. They are swine," she added.
Other high-profile, controversial Trump supporters have publicly doubted the president since he took office. Alt-right figurehead Richard Spencer—a white nationalist deemed "a kind of professional racist in khakis" by the Southern Poverty Law Center—was highly critical of Trump's airstrike in Syria because the president got involved in a conflict instead of attempting to work on problems within the U.S. (Coulter was critical of the airstrike, as well.)
"I have to be brutally honest. I am deeply disappointed in Donald Trump. I'm shocked and I'm angry. And I am ready to condemn Donald Trump," Spencer said in YouTube video in early April. "I certainly condemn these actions that were just taken in Syria."
Paul Joseph Watson, an editor at the conspiracy-theory-heavy site Infowars, tweeted in April he was "officially OFF the Trump train," after the strike revealed Trump was "just another deep state/Neo-Con puppet."
While Coulter might be turning against Trump now, many Americans have already grown wary of the president. A Quinnipiac University poll last week pegged the president's approval rating at just 36 percent as demographics that voted for Trump—white people in general and white men especially—have begun to ditch the former reality TV star.