Ann Coulter Says Conservatives Not Welcome at UC Berkeley Because 'It's Only Like 25 Percent White'
Conservative commentator Ann Coulter has said that fellow conservative speakers aren't welcome at liberal UC Berkeley because "it's only like 25 percent white."
Speaking in an interview with Breitbart News Tonight on Wednesday evening, the firebrand suggested immigrants had a tough time with the idea of free speech, saying that freedom and democracy "takes a long time to get used to.
"It takes a long time to get used to freedom. It takes a long time to get used to. It's not a natural state. I think it's a very nice state, I think it's wonderful we can pull it off, but to get used to democracy and a constitutional republic and freedom—I think it isn't a surprise people that think its millennials who don't believe in free speech, no millennials are kind of—that's a proxy for immigrants. Immigrants tend to be much younger," she said on the show, which was aired on SirusXM radio.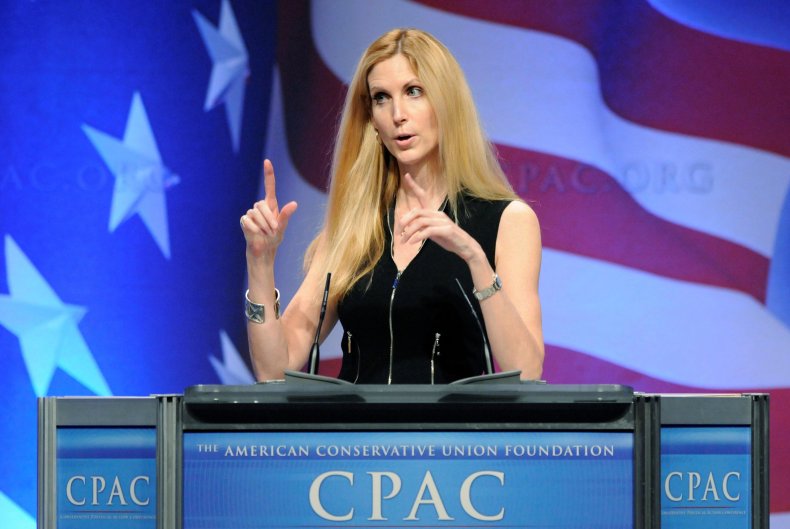 "Why can no conservative speak at Berkeley? Well, Berkeley—Google this one, too—it's only like 25 percent white," Coulter continued. " You're dealing mostly with immigrants who do not… and in poll, after poll, after poll, after poll, Asian immigrants, Hispanic immigrants, whatever the immigrants are—they will answer questions [like], 'Do you think people have a right to say something that hurts someone's feelings?' No."
Coulter has a long-running issue with UC Berkeley, having cancelled an appearance at the California college on a previous occasion over security fears and following protest from the students there. Indeed, Berkeley is well known for its ongoing tussle over free speech and debate over who should be given a platform to address students.
In April last year, Coulter's planned speech was cancelled—with both the conservative commentator and the college blaming one another for the cancellation, the BBC reported at the time.
Then Berkeley chancellor Nicholas Dirks said in a statement at the time that there was a risk associated with holding the event.
"Groups and individuals from the extreme ends of the political spectrum have made clear their readiness and intention to utilize violent tactics in support or in protest of certain speakers at UC Berkeley," Dirks said according to NPR. "We cannot wish away or pretend that these threats do not exist."