Ann Coulter Claims Trump Was Right to Call for Death Penalty After Central Park 5 Arrests, Despite Exonerations
In a factually challenged new column on her website, conservative commentator Ann Coulter claimed Donald Trump was right to call for the death penalty after the arrests of the Central Park Five teenagers over the 1989 rape of a woman, despite their convictions having been overturned years later.
In the column titled "CENTRAL PARK RAPISTS: TRUMP WAS RIGHT," Coulter sought to derail the argument that the young boys were innocent, despite having been exonerated and awarded a multimillion-dollar settlement from New York City. She quickly came to the defense of the president, writing in the first paragraph that when the city released thousands of pieces of evidence from the case earlier this month, it provoked "more weeping and gnashing of teeth over Donald Trump's full-page ads in four New York newspapers taken out soon after that attack."
The Trump full-page ads Coulter refers to had two two headlines in all capital letters, bold and underlined that read: "BRING BACK THE DEATH PENALTY. BRING BACK OUR POLICE!"
"You better believe that I hate the people who took this girl and raped her brutally," Trump said at the time. "You better believe it. And it's more than anger. It's hatred, and I want society to hate them."
Yusef Salaam, one of the Central Park Five who was 15 years old at the time and served close to seven years in prison, told MSNBC in 2016 that "by Donald Trump taking out this ad, what I think is that he was really calling to see if there was somebody from…society that would kick in our doors, drag us from our homes and hang us from trees in Central Park," he said. "That's the kind of sick justice they were looking for. He wanted us dead."
Trump purchased those ads in 1989 after 28-year-old investment banker Trisha Meili, who'd been jogging in New York's Central Park, was found raped and beaten so badly that she nearly died.
It was originally believed five teenagers between the ages of 14 and 16—Korey Wise, Kevin Richardson, Raymond Santana, Yusef Salaam and Antron McCray—were responsible for the brutal attack. They were sentenced on a slew of different charges, ranging from attempted murder and rape to assault and robbery.
But Matias Reyes, a 31-year-old convicted murderer and rapist serving a life sentence in an upstate New York prison, later came forward in 2002 to confess he was the one responsible for the attack. The DNA evidence collected at the scene, which was never tied to any of the Central Park Five, confirmed Reyes's confession. Having served between five to 13 years in prison, the teenagers had become adults by the time they were exonerated and released.
In a past C-SPAN interview, Coulter said it was "a lie" to say the five men "were proved innocent."
"I can understand the actual, literal, physical mob in the park better than I can explain the intellectual mob of the [political] left always wanting to break down people's faith in the criminal justice system," Coulter said at the time, referring to the gang violence in the park in the late 1980s that the Central Park Five were originally believedto be a part of.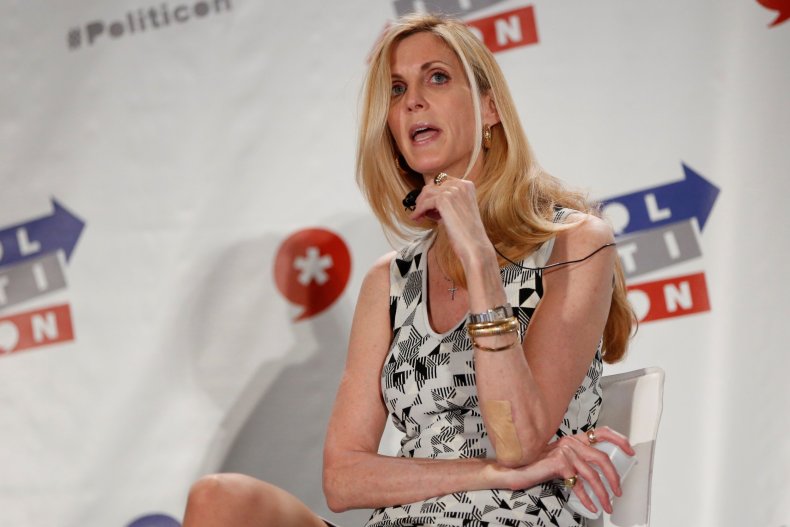 In 2014, the Central Park Five were awarded a $41 million settlement by the city of New York, which Trump called a "disgrace." He reignited the case in 2016 when the then-candidate told CNN they "admitted they were guilty.
"The police doing the original investigation say they were guilty," Trump said. "The fact that that case was settled with so much evidence against them is outrageous. And the woman, so badly injured, will never be the same."
Coulter ended her column by taking a jab at the president's critics, writing that the verdict "[awarded] the criminals $41 million. Trump's idea: Punish them. And you still can't figure out how he became president."