Aunt Lydia Would Make 'Mincemeat Out' of Sarah Huckabee Sanders, 'Handmaid's Tale' Star Ann Dowd Says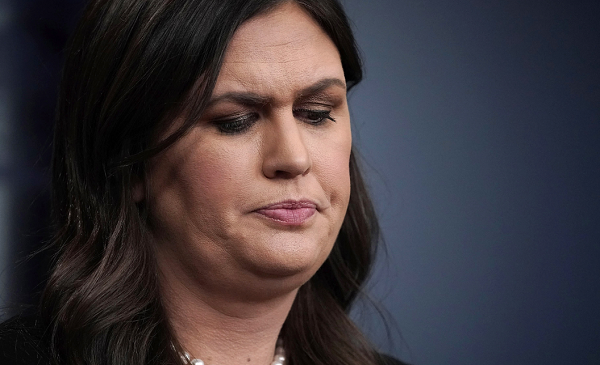 Imagine if Press Secretary Sarah Huckabee Sanders lived in a totalitarian dystopia like the one described in Margaret Atwood's 1985 novel, The Handmaid's Tale: What if she found herself receiving handmaid's training from the ruthless Aunt Lydia?
Ann Dowd, who plays Aunt Lydia, pictured what would happen if Sanders were in Gilead. She didn't think the press secretary would do well in the dystopia, let alone if she had to deal with someone as callous as the militant Red Center instructor.
Dowd appeared on the Late Show on Thursday night and told host Seth Meyers her character would "make mincemeat" out of Sanders.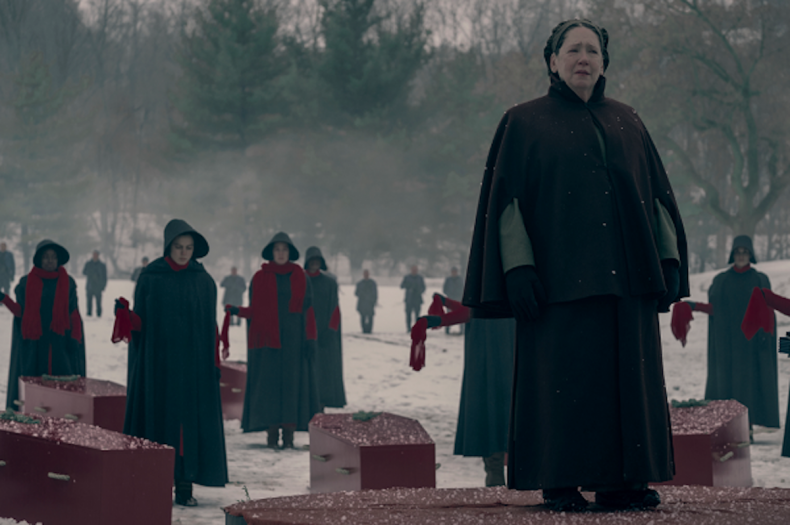 The topic of Sanders came up after Meyers asked Dowd what her reaction was to the Aunt Lydia comparison comedian Michelle Wolf made during the White House Correspondents Dinner in April. While hosting the annual event, Wolf joked she "loved" Sander's as "Aunt Lydia in The Handmaid's Tale" and suggested for Vice President Mike Pence to watch Sanders in the role if he hadn't already.
Dowd said she was initially confused by Wolf's comment because she was watching the dinner just moments after landing in Australia incredibly jetlagged. "I literally turn the television on for companionship—as one does in loneliness—and it was just before Michelle Wolf said this about Lydia [to Sanders], 'I loved you in The Handmaid's Tale,' or whatever," Dowd said. "And I said, 'Wait a second, who? What? I'm playing Lydia!' I was confused then I thought, oh this is an SNL skit. I really thought that, because no one could sit there and listen to that and stay in their seat."
Dowd said once she realized Wolf was making a crack on Sanders at the actual 2018 Correspondents Dinner, she thought, "Aunt Lydia would make mincemeat out of you missy." The actress, who won an Emmy in 2017 for her role on Season 1 of the series, said the character would have made President Trump "figure out narcissism is her least favorite sin."
"She does have some compassion for mental illness but not a lot. And so she would have taken care of business immediately," Dowd said.
As for whether or not Aunt Lydia would make for a solid staffer in the current administration's White House, Dowd said the character "would be helpful, but she wouldn't do it because she has no patience for nonsense."