Ann O'Leary Defends Neera Tanden Amid Speculation She Could Become New OMB Nominee
Neera Tanden's chances of a Senate confirmation continue to dwindle, but some Democrats, including one potential replacement for the position, are remaining steadfast in their support for President Joe Biden's nominee to head the Office of Management and Budget (OMB).
Ann O'Leary has been outspoken in backing Tanden, a fellow Hillary Clinton campaign alumna, even though there has been speculation that she could be tapped by the White House as a leading fallback option for OMB director should Tanden fail to garner enough votes.
"Neera Tanden is exceptionally well qualified and should be confirmed for this position," O'Leary, the former chief of staff for California Governor Gavin Newsom, told Politico on Wednesday. "I have worked with her for years and years, and I can't imagine a better advocate for President Biden to get his budget through Congress and help manage the policies of this administration. I am 1,000 percent behind her."
O'Leary had originally been floated as a potential alternative back in November before Biden nominated Tanden to lead the budget office. O'Leary's name is once again being considered now that it seems more and more unlikely that senators will confirm Tanden as head of the agency.
However, O'Leary has joined the Biden administration in endorsing Tanden.
"For years, I've worked side-by-side with my dear friend @neeratanden fighting for more inclusive and equitable economic policies," the longtime Democratic operative tweeted on Saturday. "Yes, she's a tough cookie, but it's because she's fighting so hard for the most vulnerable. @POTUS is going to get her confirmed and I'll be cheering!"
White House press secretary Jen Psaki has also continued to defend Tanden as the best choice for the position, telling reporters on Tuesday, "There's one candidate to lead the budget department. Her name is Neera Tanden."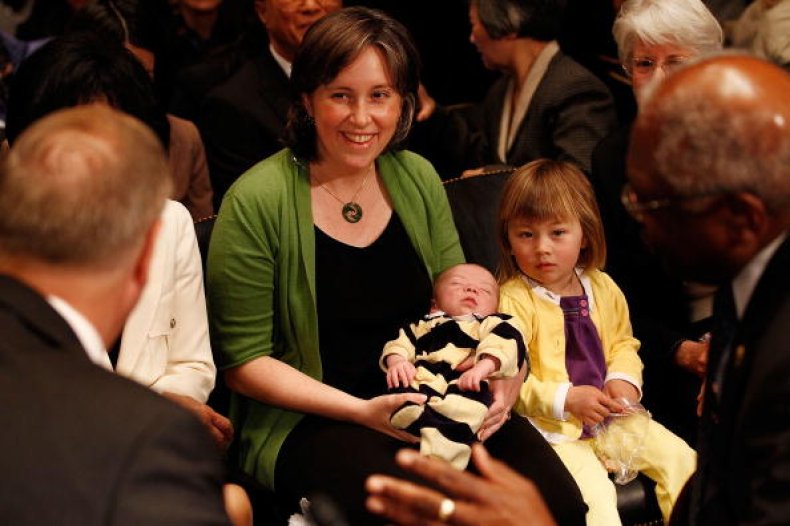 O'Leary left her post at Newsom's office in December after landing on the short list for a position in the Biden administration. She joined the governor's team in November 2018.
However, her departure coincided with one of Newsom's lowest periods of disapproval, marked by criticisms of the governor's decision to attend a dinner party amid California's coronavirus lockdown, his administration's failure to reopen schools and successfully distribute the state's vaccines, and a growing effort to recall him from office.
Some are concerned that O'Leary's connection to Newsom and his recent controversies could lead to another troubling confirmation hearing for a nominee to be OMB director.
"O'Leary would suffer in a confirmation hearing because of her tie to Newsom. Even though she left in December, I think that's still the stamp she will be carrying for a bit," University of Virginia politics professor David Leblang told Newsweek on Tuesday.
"The Republicans are out for whatever sort of help they can acquire during these confirmation hearings, so I think that might be a pretty easy one for them to just attack in terms of California's management of a series of things," Leblang said.
Longtime congressional aide Shalanda Young has also emerged as a possible replacement for Tanden. Young, who is currently nominated to be the OMB's deputy director, has earned the support of both progressives and Republican lawmakers, including Alabama Senator Richard Shelby.
On Wednesday, the Senate Homeland Security Committee postponed a vote on Tanden, saying that members were asking for more time to consider the nominee.
Newsweek reached out to Tanden's and Newsom's offices for comment but did not hear back before publication.