Julia Garner on How She Mastered Anna Delvey's 'Wild' Accent in Netflix's 'Inventing Anna'
When the teaser trailer for Inventing Anna dropped ahead of the Netflix premiere, viewers could not quite wrap their heads around how different Julia Garner sounded. It's a long way from her New York voice or super-strong Southern accent in Ozark, in fact, Garner described the accent in conversation with Newsweek as "wild" and "unreal."
Now that the series is coming to Netflix on Friday, February 11, audiences are in for a treat. For eight episodes, Garner transforms into Delvey, wigs, make-up, accent, body language and all to tell the story of the 20-something fake German heiress who managed to con some of New York's social elites, banks, hotels, and friends out of thousands of dollars. Eventually, Delvey was found guilty of multiple counts of attempted grand larceny, larceny in the second degree, and theft of services and served two years in prison.
Julia Garner spoke to Newsweek about how she prepared for the role, including mastering Delvey's unique accent.
Julia Garner on How She Mastered Anna Delvey's "Wild" Accent
Watching Inventing Anna, viewers may be seriously confused by Garner's accent, which is a mix of German, Russian, American-English, and British-English.
The real Anna Delvey, born Anna Sorokin was born in Domodedovo, a working-class town southeast of Moscow. Her father was a truck driver, and her mother owned a small convenience store before becoming a housewife.
When Anna was 16 years old, she and her family moved to Germany before then moving to London to attend Central Saint Martins.
She returned to Germany and then moved to Paris to work as an intern at Purple, a French fashion magazine. In 2013, she moved to New York and until 2017, she was able to fool her closest friends, banks, hotels, investors, lawyers, and more into believing she was a German heiress with a $60 million trust fund.
Upon her arrival in New York City, she started to learn American English by watching popular teen shows such as Gossip Girl.
As a result, Delvey has a very distinctive voice, a blend of the Eastern world and the West, all with an American twang.
Julia Garner told Newsweek all about how she mastered Delvey's voice, describing it as the "hardest accent" she has ever done and probably ever will do in her career.
Garner shared: "First of all, the accent is unreal. I mean, that's really how she talks. And it was...it's probably going to be the hardest accent I have ever done and I will ever do in my career, just because it's a different mixture of accents.
"I first had to learn German, like a German accent and perfect German, and then the next accent that I had to learn like a week later was Russian.
"Then you end up with a voice because she's a girl, that is telling people she is German and people are believing that she is German, so it's obvious that she doesn't have a Russian accent, but she doesn't have a proper German accent that it sounds like her family has been there for hundreds of years. It's like an international accent.
"And then she came to America and came to New York and is picking up the musicality of an American accent, because, if you notice, American's always put a question mark at the end of everything. Europeans don't do that."
She continued: "I can't describe one, it's not like a one-sentence answer. Basically, it was very complicated but that also made it easier for me to get to know who this person was because she is really trying to recreate herself, so much so, that she is recreating her actual accent. I mean, it's wild."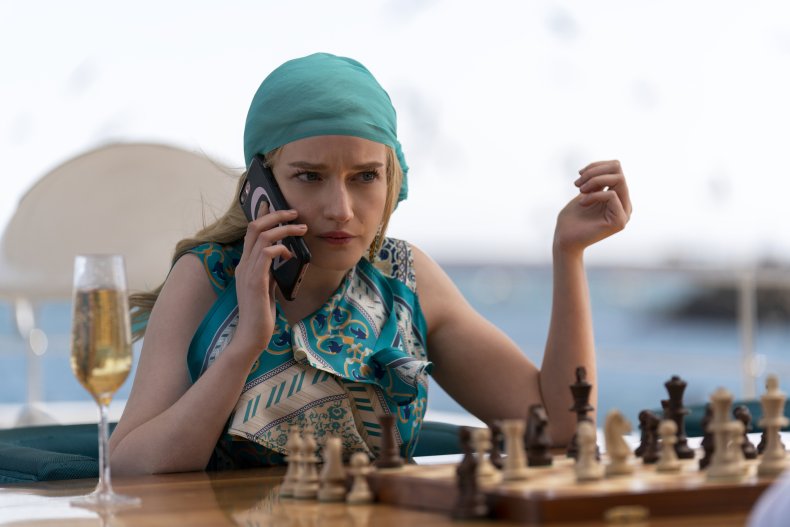 What even may be wilder for audiences to know is that to prepare for the role, Garner actually met with the real Anna Delvey in prison.
Garner told Newsweek meeting the real Anna helped with getting her mannerisms down to a T, such as the way she puts on her glasses and places her hair.
She said: "I was very fortunate that Shonda [Rhimes] was able to get interviews when I was prepping, you know, I could prep the way that she spoke, she actually speaks like that, which is wild but also, just her mannerisms, like certain things that she does. The way that she puts her glasses on the way that she does this with her hair, or sometimes she puts her glasses a little kind of low on her nose when she doesn't want people to really see what she's thinking because it kind of hides her eyes in a way, just different things, tics that she does."
As for actually meeting the convicted fraudster, Garner revealed she found Delvey "likable" and described her as "bubbly."
Garner shared: "When I met her, I knew that I wasn't going to get a lot of information because Anna was a very private person but it was more than I just wanted to get her energy and her spirit and the thing that I was the most surprised about, and at the same time it made the most sense was how bubbly and likable she was and that to me, I was taken aback because it's very intimidating meeting somebody like Anna, but then at the same time, I'm like, 'Of course, she's like that's why she was able to do what she did.'
"She was able to have all those people invest in her and believe in her and she was able to accomplish what she did, bad or good or whatever it is, she did it and it was because she was extremely intelligent and, it was just wild. It was wild how bubbly she was I wasn't I wasn't. And that's what I wanted to put in the show, too."
Inventing Anna comes to Netflix on Friday.