Is Anna Delvey's Boyfriend Chase in 'Inventing Anna' A Real Person? Yes And No...
Inventing Anna is finally here and Ozark star Julia Garner looks unrecognizable as a convicted fraudster, Anna Delvey, A.K.A Anna Sorokin. The eight-part series follows Anna's rise to the top of New York high society and her fall from grace after she was arrested in October 2017.
Anna was found guilty of multiple counts of attempted grand larceny, larceny in the second degree, and theft of services, and served almost two years in prison.
At the beginning of the series, audiences see her turbulent relationship with her boyfriend Chase play out, but was Chase a real person in Anna's life?
Newsweek has everything you need to know.
Is Anna Delvey's Boyfriend Chase in Inventing Anna A Real Person?
The Chase Sikorski audiences meet in Inventing Anna is loosely based on a real person, however, Chase and his unique Wake app are entirely fictional.
Inventing Anna is a true story but of course, some elements of the series are fictionalized for dramatic purposes. The series is based on the New York Magazine article "How Anna Delvey Tricked New York's Party People," by Jessica Pressler, which took the world by storm when it was published in May 2018.
In her article, Pressler, who serves as a producer on Inventing Anna, does briefly mention Anna Delvey's boyfriend and elements of him can be seen in the character of Chase, particularly the fact he described himself as a "futurist."
A futurist is someone who attempts to explore predictions and possibilities about the future.
Writing in her article, Pressler detailed how Anna and her anonymous "futurist" boyfriend was a regular on the TED-Talks circuit, and had even been profiled in The New Yorker.
He had been working on an unspecified app, whilst Anna worked on setting up her own art foundation for New Yorks' elite, The Anna Delvey Foundation (ADF).
According to Pressler's article, Anna and her boyfriend dated for two years. She wrote: "they'd been kind of like a team, showing up in places frequented by the itinerant wealthy, living out of fancy hotels and hosting scenery dinners where the Futurist talked up his app and Delvey spoke of the private club she wanted to open once she turned 25 and came into her trust fund."
However, Anna's boyfriend's app never materialized.
As seen in Inventing Anna he really did move to the Emirates. Unfortunately, Pressler's article does not mention whether he too was also a conman, but in the Netflix series, Anna's boyfriend Chase had convinced investors to grant money into an app that did not actually work.
Additionally, in Inventing Anna, Chase agrees to talk to the journalist Vivian (played by Anna Chlumsky) who had tracked him down to Dubai, on the guise he would remain anonymous. It remains unknown whether Anna's real boyfriend spoke with the real Jessica Pressler.
In Inventing Anna, Chase is working to develop an app called Wake, which aims to capture and crowdsource data from people's dreams. However, there is no record of a start-up with the name Wake, or anything similar.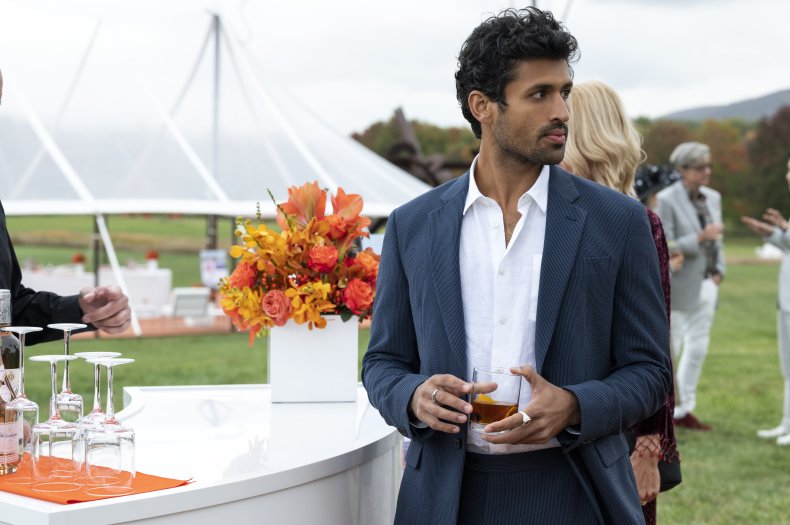 Who Plays Chase in Inventing Anna?
The character of Chase is played by British actor Saamer Usmani.
He is best known for starring opposite Renee Zellweger in What/If as Avery Watkins and Prince Errol on The CW's Katy Keene.
Inventing Anna audiences may also recognize Usami as Martin de Lambert on Reign.
His other well-known credits include The Accidental Wolf, The Good Fight, The Mauritanian, Run, and Succession.
Inventing Anna is streaming on Netflix.