Anna Netrebko: Opera Diva to Die For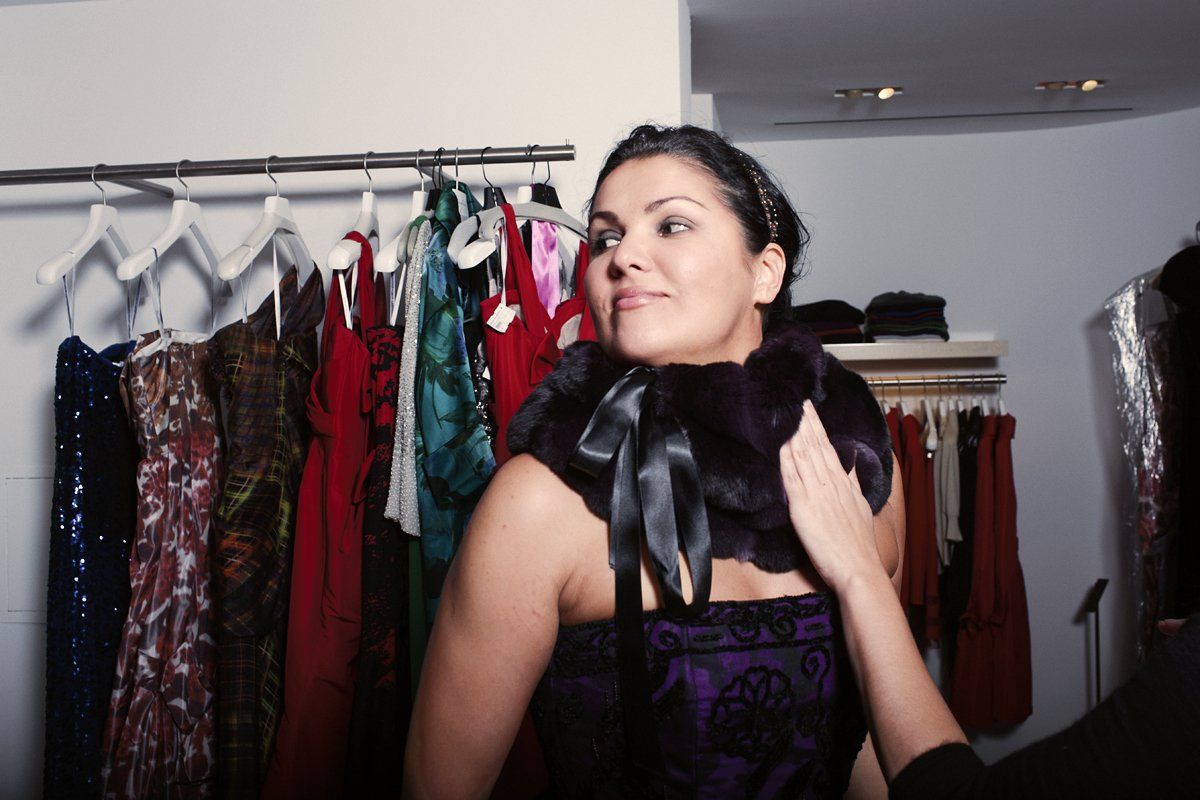 "Lots of opera singers are just boring. Bo-o-o-ring. C'mon: get a life! Be more extra—extra—"
The world's most famous soprano, Anna Netrebko, can't find the right word. This is a rarity.
Extravagant? Extroverted? Is this what most opera singers lack? They're qualities Netrebko has in abundance, part of what helps her records, in Germany and Austria at least, outsell Beyoncé, led Musical America to name her Musician of the Year in 2008, lifted her into Playboy's list of "sexiest babes in classical music," and have made her that most unique of creatures: an opera singer with pop-star status.
But maybe another word is better, one that Netrebko loves to use: razzle-dazzle. Or as she put it in her distinctly Russian English, "RRRaazzzelll-Dazzzzelll": rolling the R's, prolonging the Z's, deepening the vowels. She makes the corny term sound like a sorcerer's incantation.
Netrebko discusses the virtues of razzle-dazzle on the terrace of an Alpine castle, encircled by Sound of Music mountains and dark forests, perched above a Technicolor turquoise lake. The castle has been converted into a luxury hotel, frequented by Arab sheiks and posh German-Austrians. As I order a drink, she grabs my hand and whispers: "Be careful what you order. Last night I come to have some drinks, relax. I order schnapps. They bring this tiny thing. Tiny! I tell them, 'That's not a drink! Bring me a double!' They bring me a double. Tiny! I say, 'Bring me a triple.' Finally: a normal drink. Then they bring the bill: 150 euro! For a schnapps! It's just vodka!"
Netrebko's speech pushes against the limits of punctuation, cadences of "!!!," "?!," "???!!!!," the full range of Facebook emoticons. An elegant little Austrian girl comes to ask for an autograph. Netrebko is delighted: "F--k me," she says giggling, "I'm famous!"
In her adopted Austria and neighboring Germany, Netrebko is recognized everywhere she goes. She is known not only for her arias, but also as the sultry, dark-haired star of shampoo ads. She spent the previous day sweltering in minks during a Vienna heat wave for a fur-coat advertisement. "They pay in furs. But I did it for the photos. They promised there would be lovely photos of me all over town!"
The highly photogenic Netrebko—who, on Sept. 26, will perform the title role in Donizetti's Anna Bolena at New York's Metropolitan Opera—has destroyed the stereotype of sopranos as clunky matrons. "For a long time, people said it's better to look at me than to listen to me," she says, not unhappily. The performance that turned her into a pinup was as the courtesan Violetta in Verdi's La Traviata at the 2005 Salzburg Festival. Dressed in a plunging, high-hemmed red satin dress, she crossed and kicked her high-heeled legs, bit at her little finger, and threw lusty glances at the audience and the whole Austrian nation, watching live on national television.
Soon after, Austria made her a citizen, though she speaks no German, a key criterion for citizenship. She seems taken aback, though grateful, for the adulation the xeno-skeptic Austrians show her. "I've understood that once they love you, they're very loyal ... and Vienna's great—just an hour's flight and you can be anywhere in Europe!"
Netrebko flies a lot, between homes in Vienna, New York, and St. Petersburg, and to 60 sold-out performances a year, making her the most in-demand soprano in the world. She tries to take her 3-year-old son, Tiago, with her wherever she goes, grabbing every opportunity to see her partner, Erwin Schrott, a Uruguayan bass-baritone with Hollywood looks, famous for playing the great seducer Don Giovanni. Netrebko and Schrott are the Brangelina of opera.
Netrebko never wanted to become an opera singer: "I start to study opera because it was a little less competition than to be an actress. What I really wanted to do was sing in Moscow musicals." But for a provincial girl there was little chance to win a place at a top Moscow drama school. "It was impossible. Impossible! Without influential connections or a special understanding with the teachers and directors ..."
Special understanding? I ask.
"You know: to sleep with them!"
To the Russian ear, Netrebko is immediately provincial, her speech full of the singsong vowels and intonations of the Krasnodar region of southern Russia. It's an accent that's the butt of jokes in the Big City, and she was teased for it when she came up to study in St. Petersburg. So much about her character, tastes, and even voice are defined by Krasnodar, a cultural opposite to the snowy wastes and deep depression usually associated with Russia. It's a region of gaudy emerald and vermilion shawls, where borscht is transformed from the cabbage-y gruel of the northern climes to a sunset color cooked with a rich stock of goose and the local sweet tomatoes. "I'm from that country: I like colors. I like blings. The more, the better."
Krasnodar is Russia's wine region, and Netrebko grew up sipping sweet reds from her geologist father's small vineyard, falling out of trees, and playing out scenes and songs from the Soviet Union's favorite movie genre, Bollywood. India, a Cold War friend, provided Russians with a cinematic dose of brightness and joy. On the terrace of the Alpine castle, the most famous soprano in the world puts her hands together, wiggles her head from side to side, and sings a quick burst from a Bollywood film.
In a country famous for gorgeous women, Krasnodar is famous for having the very best. Here, Cossacks, Armenians, Jews, Adygeans, Gypsies, and Slavs have killed and copulated to produce a harvest of Sophia Loren look-alikes: Netrebko's beauty is typical. "Nobody ever looked at me in Krasnodar. I'm not in the taste of the men there at all." Southern men yearn for blonde Siberian waifs. "People were ignoring me. Here I become a real beauty."
Krasnodar is the place where Russia stands on tiptoe to touch the Mediterranean, it's Russia's inner Italy. This partly explains the adoration the Teutons have for Netrebko. Ever since Goethe's Italian Journey, German-speaking civilization has pined for Italy, that brunette land beyond the Alps. Netrebko is Germany's and Austria's ersatz Italian, one who has agreed to dwell among them. (One could hardly imagine a Pavarotti moving to Düsseldorf.)
In her native Russia, Netrebko's image is less idealized. The very qualities that would endear her to a Western public, the mixture of classical talent and reality-TV attitude, make her irritating: "From dirt to monarchy, and she doesn't know how to behave like monarchy," bites an editor at a glossy Russian magazine. "Kiss my ass," retorts Netrebko and blows a raspberry. Bitchy rumors swirl around Netrebko in Russia's tabloids, most notoriously that she was Vladimir Putin's lover. "I'd have loved to have been," she exclaims, "but when? We only met twice. Officially and briefly. But he's a very attractive man. Such a strong, male energy."
Netrebko rarely sings in Russia nowadays. The weekend I meet her she is performing in Salzburg, on the very stage that made her famous, and to her most loyal fans. The audience is full of awkward Austrian bankers and their wives, still leggy at 50, their blonde hair pulled back hard over powerful jaw lines. Netrebko wears all white to sing the role of the blind princess Iolanta. Her expensive, burgundy voice, grown deeper with age, works perfectly with Tchaikovsky's double-cream Romanticism. But this goody-two-shoes role—Iolanta is a complete innocent—sits uneasily with Netrebko's playful nature. It's not the sort of role she's drawn to: "Maybe because I'm a nice and sweet person in life I like the darker roles. The really dark one is Lady Macbeth. This soul is completely screwed. Screwed! Beautiful!"
Performing with Netrebko this evening are a whole bunch of Russian singers. After the concert they're drinking at a darkened table in the bar opposite the Opera House. Everyone's dressed in jeans, T-shirts, and flannel shirts. The bass-baritone, Evgeny Nikitin, covered with tattoos, looks like a punk drummer. The singers drink and smoke with the resolve of soldiers on short leave, and talk of upcoming concerts like tours of duty. Like Netrebko, they are products of St. Petersburg's Mariinsky Theatre and of one great master, the conductor Valery Gergiev. Nikitin studied in Netrebko's class. "She was always going to make it," he said. "Always moving forward. Never glancing back. Just onwards and onwards."
Talking with her classmates about the St. Petersburg of Netrebko's formative years, I catch a glimpse behind the razzle-dazzle. During their student days in the late '80s and early '90s, the Mariinsky, one of the world's great opera houses, was in the hands of gangs: "There were killers everywhere. One of the managers at the opera was whacked. Shot dead!" remembers Netrebko.
St. Petersburg was literally starving, food was rationed, the hunt for a straggly, black-market chicken became an epic journey that took up days. To survive, poets became hawkers, KGB colonels became taxi drivers. The baroque streets were full of collapsed drunks poisoned by moonshine.
In the midst of all this Gergiev set about saving the Mariinsky. Netrebko and Nikitin were performing several operas a day; thrust, terrified, onto the stage in their early 20s; pushed to the point where if voices could bleed, theirs bled." We were driven to tears, crushed to powder," says Netrebko. Many of Netrebko's classmates just couldn't hack it.
Ignore the flirtatiousness: Netrebko is the toughest of people. She and her classmates are the opera equivalent of the generation of Russian female tennis players who have stormed the Grand Slams. Behind her lush voice, you can hear the echo of double-fisted backhands and grunt-shrieks. And opera is the sternest of taskmasters: after her mother died in 2002, Netrebko, who was headlining a tour, couldn't return for the funeral.
"You know she cleaned toilets at the Mariinsky as a student to make ends meet?" says Nikitin, the bass. "Literally cleaned toilets. With a brush. With her hands ... the real Cinderella." Netrebko sticks her tongue out. She doesn't want to be cast in a fairy tale. "Oh, come on, not that stuff about washing the floors. Listen. I'm just a normal person. It's not like I come home and think about opera. My thoughts are about completely other things. Shoes! Dresses! Expensive ones: with a pretty silhouette, beautiful fabrics.
"I can't stand the awful toska of going around cheap shops with ugly, badly made dresses. They fill me with toska, eurghh!"
If there's one thing Netrebko can't abide, it is toska. No, not the Puccini opera, but a near-untranslatable Russian word that Vladimir Nabokov described as "a dull ache of the soul, a longing with nothing to long for, a sick pining, ennui, boredom."
As we leave, halfway across the courtyard a holler rips through the air. It is a bright, bursting holler that you might expect to hear in a bazaar. The posh Austrians stop and turn, stunned by the inappropriate sound. It is Netrebko. Has she seen someone she knows? No: she made a mistake, got someone's face wrong. She turns and skips down the hill toward the turquoise lake, humming a tune almost out of earshot.