Anna Wintour Defends Scarlett Johansson's Marchesa Gown at 2018 Met Gala
Vogue editor Anna Wintour stood by actress Scarlett Johansson's decision to wear a Marchesa gown to the 2018 Met Gala on Monday.
Marchesa is a high-end fashion brand that was established in 2004 by designers Keren Craig and Georgina Chapman, the estranged wife of movie mogul Harvey Weinstein. After allegations surfaced about Weinstein's sexual misconduct in a New York Times exposé in October 2017, Chapman's Marchesa initially suffered a hit. Johansson, however, showed support for the label at the Met Gala on Monday amid Weinstein's investigations in New York, Los Angeles and London.
"I wore Marchesa because their clothes make women feel confident and beautiful," Johansson, 33, told Variety on Tuesday. "It is my pleasure to support a brand created by two incredibly talented and important female designers."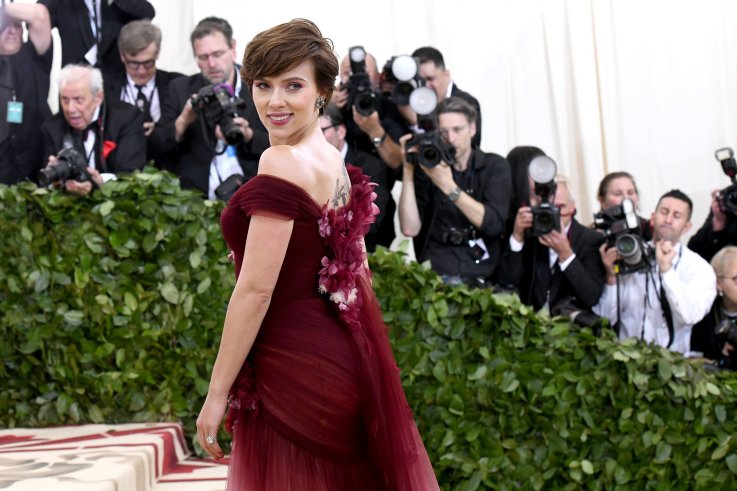 Wintour discussed the political statement behind Johansson's gown choice on late-night host Stephen Colbert's The Late Show. Colbert initially argued Johansson's outfit didn't follow the event's theme of the Catholic imaginative "Heavenly Bodies," but he recognized that the Avengers: Infinity War star "wore it as a statement that Harvey Weinstein's wife...shouldn't be punished for the sins of her husband."
"Georgina is a brilliant designer, and I don't think that she should be blamed for her husband's behavior," Wintour, 68, said. "I think it was a great gesture of support on Scarlett's part to wear a dress like that—a beautiful dress like that—on such a public occasion."
Chapman married Weinstein in 2007. In the years to follow, the former couple parented two kids. Initial reporting said Weinstein was accused of more than 80 alleged encounters of sexual misconduct, but that number has since grown to over 100 apparent accounts.
Chapman spoke on Weinstein's allegations in an interview with Vogue on Thursday. She admitted to never suspecting him of such behavior. "I had what I thought was a very happy marriage. I loved my life," Chapman, 42, told Vogue. "For one thing, he traveled constantly. And I've never been one of those people who obsesses about where someone is."
Representatives for Marchesa did not immediately return Newsweek's request for comment, but the company thanked Johansson for supporting the brand in a statement issued to Variety on Thursday. "We are truly honored that Scarlett chose to wear Marchesa for the Met Gala," a Marchesa spokesperson told Variety. "She is an amazingly talented actor who has incredible style and presence. It was wonderful to work so closely with her in creating this custom look."
Anna Wintour Defends Scarlett Johansson's Marchesa Gown at 2018 Met Gala | Culture