Harvard Humor Mag Accused of Anti-Semitism After Running Photoshopped Anne Frank Bikini Photo
The Harvard Lampoon, an undergraduate humor magazine, apologized after students criticized its decision to publish a retouched image of Holocaust victim Anne Frank in a bikini.
The image showed Frank's head on the body of a bikini-clad woman with large breasts and claimed it was what the teenager would have looked like if she hadn't perished in the Holocaust. Accompanying the image was the caption "Add this to your list of reasons the Holocaust sucked."
After the magazine was published on Saturday, students expressed their disgust on social media and circulated a petition demanding accountability from The Harvard Lampoon. The Anti-Defamation League (ADL) in New England also spoke out about the image in a post on Twitter.
The New England chapter of the ADL wrote in the post that there was "nothing funny" about the vulgar, offensive and sexualized image of Frank, which "denigrates her memory and millions of Holocaust victims." The organization added that trivializing genocide aids anti-Semites and Holocaust deniers.
Newsweek subscription offers >
Robert Trestan, the executive director of the ADL's Boston office, posted on Twitter that the image was both "shameful and harmful." He said an apology was needed because it crossed the line between humor and anti-Semitism.
Jacob Schwartz, a Harvard student, called the image "beyond acceptable" in a post on Facebook, also expressing that the photo trivializes the Holocaust, sexualizes an underage girl and makes light of her murder. As a self-identified Jewish person, he wrote, he didn't feel comfortable on campus if that image is considered acceptable.
"Although I try to judge favorably and part of me wants to chalk this up to ignorance, this is beyond me," Schwartz wrote. "The people who created this photo clearly knew enough about the Holocaust to understand on a basic level the tragedy that the Jewish people endured. And yet they decided that this was not only passable but funny."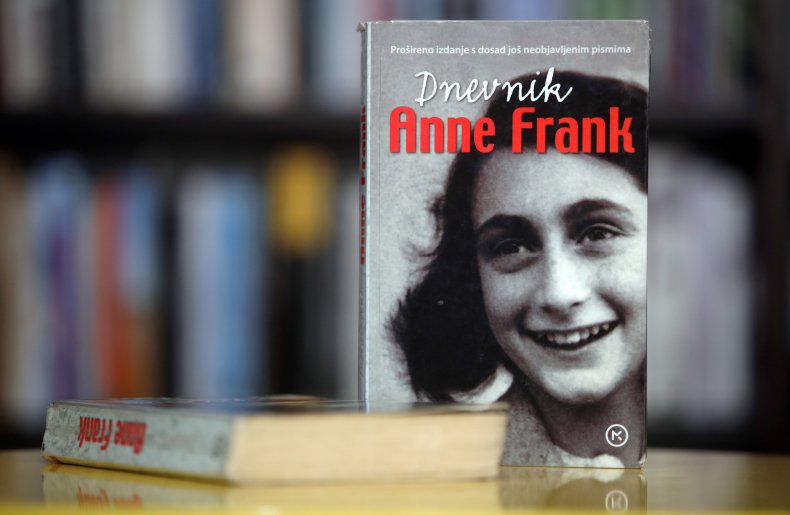 Newsweek subscription offers >
In the two days that passed since the petition was created, it gathered over 300 of its 500 signature goal. Among other demands, it called for a public apology and the release of a report explaining how the content was published and how similar content will be prevented in the future.
The Harvard Lampoon co-presidents, Nicholas Grundlingh and Jack Stovitz, and Liana Spiro, the issue editor, published a joint statement on the magazine's website. In it, they acknowledged they understood they had to take responsibility for their actions and condemned anti-Semitism.
"We as individuals and we as an organization would like to apologize for our negligence in allowing this piece to be created for and printed in our latest issue," the statement said. "We are sorry for any harm we have caused."
Moving forward, Grundlingh, Stovitz and Spiro said they will approach the magazine's content with "greater care" because their publishing process lacks "sufficient editorial oversight."
The Anne Frank Center called The Harvard Lampoon's implementation of editorial standards a "silver lining," but noted it came a week too late. The center called the image "offensive, tasteless" and "humorless."
Frank was born in Germany. As a teenager, Frank and her family spent over two years in hiding in an annex of rooms in a house in Amsterdam during World War II. When they were betrayed, the Nazis discovered the family in their hiding spot and arrested them. Frank died at the Bergen-Belsen concentration camp when she was 15 years old.
However, Frank's legacy carried on after her untimely death in the form of her diary, which chronicled her life before the family was discovered by the Nazis and was later found and published in 1947.
Harvard Humor Mag Accused of Anti-Semitism After Running Photoshopped Anne Frank Bikini Photo | U.S.