Anne Frank started writing her Diary of a Young Girl aged just 13, while hiding from the German occupation of Amsterdam during World War Two.
Anne wrote her now world-famous book while sheltering from the Nazis in a secret annex of an old warehouse for approximately two years.
The diary tragically stops suddenly in August 1944, when Anne and her family are betrayed and eventually sent to Auschwitz death camp.
The only member of her immediate family to survive was Frank's father Otto, who eventually published Anne's diary in 1947.
Dr. Christopher Mauriello, Professor of History and Director, Center for Holocaust and Genocide Studies, Salem State University, believes "the war created a chaotic and confusing context for Jews themselves."
He told Newsweek: "Anne Frank is one of millions of Jews forced into choiceless choices during Nazi occupation of the Netherlands.
"She and her family decided to leave everything they knew, their life, their friends and their community, and disappear into a wall.
"It was particularly harrowing for Jews as everyone outside the wall was making their own choices and Anne and her family were subject to those decisions and actions without any control or even knowledge.
"I have no doubt that she and her family were betrayed as the war intensified in 1944.
"We may never know if that was the outcome of a particular neighbor's decision to turn her family into the authorities, or what went into that decision.
"One thing we do know is that her exceptional story ended the same way as millions of other stories of Jewish men, women and children and other 'enemies of the Nazi state'."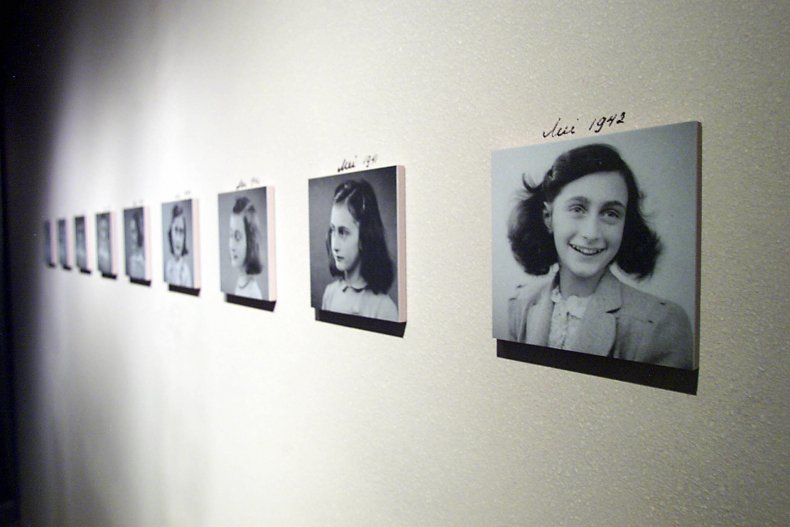 Nine Inspiring Anne Frank Quotes
Since the book was first published almost 75 years ago, millions of people have read Diary of a Young Girl.
This is because the Diary offers a candid account that is simultaneously joyous, sad, beautiful and funny, and includes several inspiring quotes.
1."It's really a wonder that I haven't dropped all my ideals, because they seem so absurd and impossible to carry out. Yet I keep them, because in spite of everything, I still believe that people are really good at heart."
2. "I've found that there is always some beauty left–in nature, sunshine, freedom, in yourself; these can all help you."
3. "I don't think of all the misery, but of the beauty that still remains."
4. "The best remedy for those who are afraid, lonely or unhappy is to go outside, somewhere where they can be quite alone with the heavens, nature and God. Because only then does one feel that all is as it should be and that God wishes to see people happy, amidst the simple beauty of nature. As long as this exists, and it certainly always will, I know that then there will always be comfort for every sorrow, whatever the circumstances may be. And I firmly believe that nature brings solace in all troubles."
5. "People can tell you to keep your mouth shut, but that doesn't stop you from having your own opinion."
6. "Whoever is happy will make others happy."
7. "In the long run, the sharpest weapon of all is a kind and gentle spirit."
8. "Where there's hope, there's life. It fills us with fresh courage and makes us strong again."
9. "A quiet conscience makes one strong!"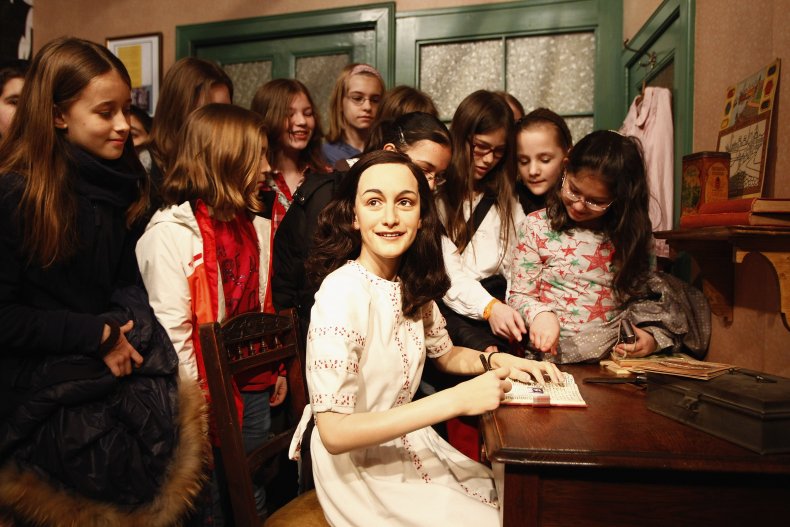 What Is Anne Frank Day?
The diary of Anne Frank, compiled while the teenager and her family were in hiding in Holland's capital city during World War Two to escape the Nazi death squads, is one of the most famous—and bestselling—books of all time.
June 12 is annually celebrated as Anne Frank Day, since this marks when the diarist was both born and, on her 13th birthday, when she received her now-legendary diary.
Frank's work chronicling the extraordinary days between June 1942 to August 1944 is regarded as the most famous personal account of the Holocaust and has since been dramatized into a play and a movie.
However, the child would tragically never live to realize her dream of becoming a writer, as she was tragically murdered in the Holocaust.
It was Frank's father who published her writing, as he survived World War Two and eventually had Anne's diary returned to him.
The day coincides with news from earlier this year that investigators believe they have uncovered the seven-decade-old mystery of who informed the Nazis where Anne Frank and her family were hiding.