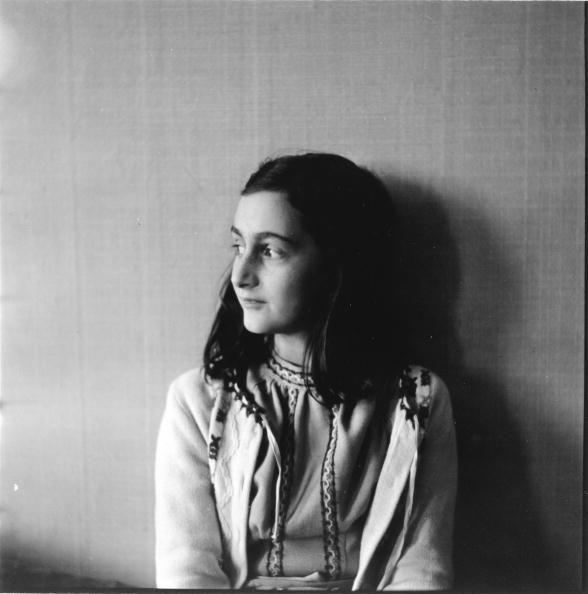 It's Anne Frank—without the Jews or the Nazis!
A Dutch production of a new take on the diary-writing young girl will open amid criticism from Jewish groups this week for erasing the Frank family's Jewish identity and failing to mention the Nazis who killed Anne and her sister in a concentration camp.
Frank, of course, is famous for The Diary of a Young Girl, the journal she kept while being hidden in an attic in Nazi-occupied Amsterdam during World War II. The diary has been made into a movie and countless stage adaptations, all of which focused on the soulful girl seeking a normal life amid Hitler's atrocities.
But the new take on Anne's story, called Behind the House, is set in modern times and refers to the Nazis-like characters as "the enemy," without calling them by name. The play also includes a fictionalized assault on Anne Frank's sister Margot by Fritz Pfeffer, a real-life character who hid with Anne Frank and her family during the Nazi occupation.
Pfeffer was never accused of assault, but the event was added to the storyline for extra action, director Ilja Pfeijffer said.
"The diary itself contains no drama," Pfeijffer told the Dutch publication Volkskrant about his reasons for adding the assault. "What actually happens in the secret annex, seen through the eyes of a 13-year-old, is a bit lean for a theater show."
Some critics argued the play fits into a growing pattern of anti-Semitism emerging in Europe.
"They want Anne Frank to lose her Jewish character and lose the context of the Second World War," Esther Voet, Editor-in-Chief of the Dutch Jewish Weekly, told Newsweek.
"Right now Jews in the Netherlands are under a lot of pressure, and there is developing anti-Semitism. So everyone wants to do something with [Anne Frank's] universal message of tolerance, but they also want to de-Jew her."
Director Pfeijffer has been criticized in the past for making controversial statements about Jews. Most recently, he wrote a column criticizing a prominent Jewish playwright and calling him a "militant Jew." He is known among poetry and literary critics for "stirring up new controversies or deliberately making enemies" in his column.
Pfeijffer once wrote a poem told through the voice of a Palestinian man whose daughter was murdered by Jews who "could do no wrong" because of the legacy of the Holocaust.
Still, some cultural critics say Pfeijffer is just using art to make strong statements and attract attention to his work.
"I think he has strong views on the Israel and Palestine issue, but I don't think he's anti-Semitic, said Huub Bellemakers, a media strategist and cultural critic in the Netherlands. "He just likes to be provocative with other writers and poets. I think he did this deliberately, because if you talk about Anne Frank you know there will be problems. If you don't want to be provocative you don't touch that subject."
Anne Frank, who lived from 1929 until 1945, became posthumously famous when her childhood diary, which documents the years in hiding from 1942 to 1944, was published under the title The Diary of a Young Girl. The Frank family was eventually discovered and sent to concentration camps. Anne died in 1945 at the age of 15, one of the 6 million Jews killed during the Nazi Holocaust.
Anti-Semitism is thought to be on the rise in the Netherlands, although the number of anti-Semitic incidents in the country declined slightly in 2016 after increasing the year before. The Dutch government began providing extra security for Jewish institutions in 2014.