Anne Frank's Secret Diary Entries on Sex and Prostitution Revealed
Two pages Anne Frank covered with brown masking paper in her now world-famous diary are secret no more, a team of Dutch researchers announced on Tuesday.
Experts from the Anne Frank House museum, the Institute for War, Holocaust and Genocide Studies and the Huygens Institute for the History of the Netherlands used digital techniques to uncover the hidden writing.
They backlit the pages, took photographs and used an image-processing software to make the text legible. The entry, dated September 28, 1942, contained "five crossed-out phrases, four 'dirty' jokes and 33 lines about sex education and prostitution," the Anne Frank House said in a statement.
While the discovery does not necessarily disclose new information about Anne and her family, it deepens the public understanding of her personality. "The covered pages do not alter our image of Anne. She regularly recorded 'dirty' jokes or dealt with sexuality in her diary," the statement read.
"Over the decades Anne has grown to become the worldwide symbol of the Holocaust, and Anne the girl has increasingly faded into the background. These—literally—uncovered texts bring the inquisitive and in many respects precocious teenager back into the foreground," it added.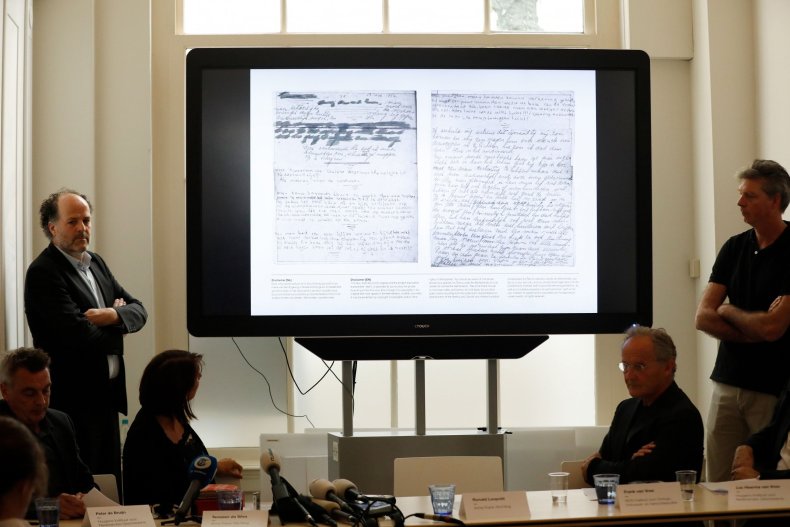 Anne was 13 years old when she and her family began hiding from the Nazi in a cramped secret annex above a warehouse along Amsterdam's Prinsengracht in July 1942. They remained there until August 1944, when an unknown informer betrayed them to Nazi authorities, who arrested them and sent to concentration camps.
Anne had confided in her diary as she would with a friend until, in March 1944, she heard the Dutch Cabinet Minister announcing over the radio the importance of diaries as historical records. She then began editing and reworking her writing, striking out some passages she deemed too personal, with the idea she could use the material as part of a novel. It remains unclear, however, when and why she decided to cover those specific pages from prying eyes.
"She was probably afraid that other people that she was in hiding with—either her father, her mother or the other family—would discover her diary and would read these fragments, so probably that's the reason why she covered them," said Ronald Leopold, director at the Anne Frank House, quoted by Reuters.
Anne would die in the Bergen-Belsen concentration camp in March 1945, about a month before it was liberated by Allied troops. Her father Otto was the only close family member who survived the Holocaust. He recovered her diary and published it, never expecting it would become an essential reading from the wartime period and the one of the most-read books in the world, translated in dozens of languages.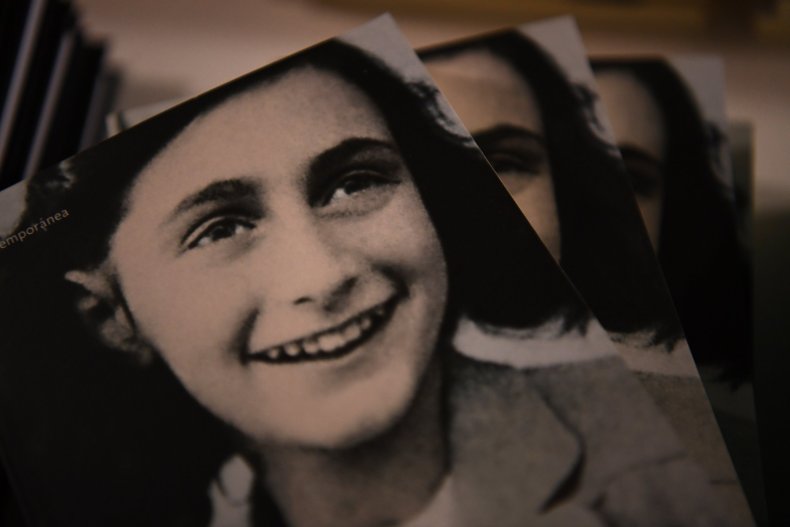 Her father is mentioned is the newly revealed pages as having visited a brothel in Paris. "All men, if they are normal, go with women, women like that accost them on the street and then they go together. In Paris they have big houses for that. Papa has been there," Anne wrote.
In another passage, she discussed menstruation as "a sign that she is ripe to have relations with a man but one doesn't do that of course before one is married."
"Do you know why the German Wehrmacht girls are in the Netherlands? As mattresses for the soldiers," read one of the jokes she related.
Another one goes: "A man had a very ugly wife and he didn't want to have relations with her. One evening he came home and then he saw his friend in bed with his wife, then the man said: 'He gets to and I have to!!!'"
The pages are a reminder of how young Anne was when she wrote her diary, said Frank van Vree, director of the Netherlands Institute for War, Holocaust and Genocide Studies. "Anyone who reads the passages that have now been discovered will be unable to suppress a smile," he told reporters at a press conference, quoted in the Associated Press. "The 'dirty' jokes are classics among growing children. They make it clear that Anne, with all her gifts, was above all also an ordinary girl."