Anne Frank's Stepsister to Meet Teens Who Made Swastika From Cups and Gave Nazi Salute
California high school students who were photographed making a Nazi salute in front of a swastika made out of red cups will meet with Eva Schloss, 89, a Holocaust survivor and stepsister to Anne Frank, on Thursday.
During a house party in Costa Mesa, the teenagers used cups to construct a swastika on a table. In one photo, which was posted on social media, the students had one arm raised in a "Heil Hitler" salute.
The Newport Beach Police Department launched an investigation into the anti-Semitic act, and the Newport-Mesa Unified School District condemned all anti-Semitic and hateful acts.
"We remain focused on educating students on all aspects of life's challenges and are committed to holding students accountable, educating them on the consequences of their choices and the impact these actions have on our schools and community at large," the school district said.
Rabbi Reuven Mintz, director of the Chabad Center for Jewish Life in Newport Beach, played a crucial role in coordinating the meeting between Schloss, who is on a West Coast speaking tour, and the students, which will take place at Newport Harbor High School. Schloss spoke at Chapman University, located about 15 minutes from Costa Mesa, on Wednesday.
"Our hope is that meeting someone who witnessed, firsthand, the atrocities committed under the same swastika and salute will help guide these students toward a life of tolerance and acceptance," Mintz said.
He called it "imperative" that young people living in the modern world "come face to face with the consequences of unchecked hatred."
Newport-Mesa Unified School District said that the district is hopeful that the meeting, in conjunction with other actions to follow, will help students understand the "painful, horrific history" and "guide them toward a more compassionate, understanding, respectful and caring life."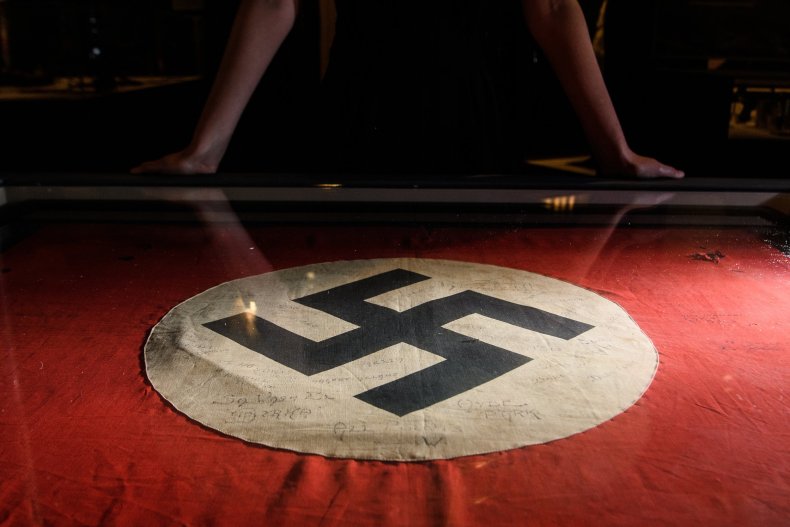 After the photos went viral on social media, some of the teenagers involved wrote letters of apology, which were submitted to the Los Angeles Times. The author of one letter called their actions "disgusting, appalling, [and] irresponsible," and another said they made a "poor decision."
It seems unimaginable that people could be uninformed about the Holocaust, but a poll conducted in April by the Conference on Jewish Material Claims Against Germany found 22 percent of millennials either hadn't heard of it or weren't sure if they'd heard of the Holocaust. That lack of knowledge was what prompted Schloss to share her story, she told the San Luis Obispo Tribune.
"We've heard so much about so many people who don't know anything about the Holocaust," Schloss said. "They don't believe 6 million people lost their lives. They don't know enough.
Born in Vienna in 1929, Schloss and her family immigrated to Belgium and then to the Netherlands in 1938 after German Chancellor Adolf Hitler annexed Austria. In 1942, when Germany invaded Holland, her family went into hiding, but they were discovered in 1944 and sent to Auschwitz-Birkenau. Her brother and father were killed, but she and her mother survived and were repatriated to Amsterdam.
In 1953, her mother married Frank Otto, the father of Anne Frank, who posthumously gained international fame with the publication of The Dairy of a Young Girl, which documented her family's time hiding in a covert attic in Amsterdam. The family, including Anne, her sister, Margot, and her mother, were arrested in 1944 and ultimately sent to Auschwitz and later Bergen-Belsen. Otto Frank was the only member of the family to survive.
This article has been updated to include the response from the Newport-Mesa Unified School District.