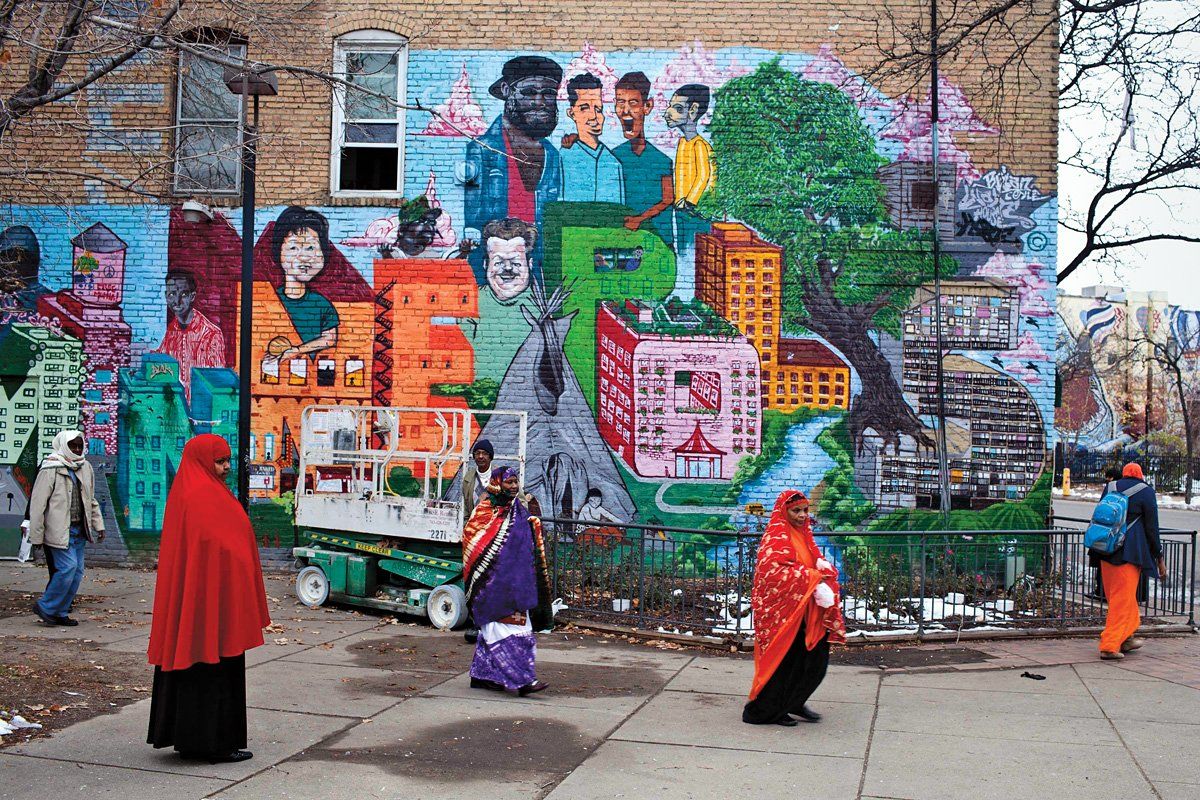 In 1984, when I left my corn-and-soybean hometown for college, the Minneapolis skyline glittered before me like an icy-blue crystalline mecca. The all-window IDS tower sparkled against the wide Midwestern sky; to its right, the squat white Metrodome sat staid and stalwart like a sad dumpling. I would eventually come to occupy what's called the "West Bank" area of the city, or Cedar-Riverside, a hippie-bohemian neighborhood near the University of Minnesota and the Mississippi River. It became my go-to place for buying woven Guatemalan bags, dusty yellow cones of incense, and pins that said things like "Out the Door in '84: Dump Reagan!" and "I Pity the Fool!"
In the 1960s and '70s, the Cedar-Riverside area was so counterculture it was coined "the Haight-Ashbury of the Midwest." When I arrived, it was still rippling with anti-nuclear student protesters and dreadlocked Amnesty International supporters trying to get innocents like me to climb aboard the ships of their causes. Coming from a tiny town where the biggest thing going was the annual Sibley County Fair, I was completely bedazzled by Minneapolis and the funky neighborhood I'd been plunked down into.
On a visit back recently, I found myself strolling the neighborhood again, reminiscing about all my old haunts like Global Village, a store where I used to buy Indian cotton tapestries (i.e., cheap curtains), and Blondie's Tavern, where I'd once stood on the bar and competed in a best tie-dye T-shirt contest. What I found, though, was a complete and utter transformation of the place. Minnesota is now home to America's largest population of Somalis, many of whom settled in this Minneapolis neighborhood because of the cheap, subsidized Riverside Plaza apartments. Though it was barely noon, the street bustled with burka-clad women toting market baskets and men in embroidered caps and flowing white tunics, since it was Friday, prayer day.
At one point, as I stopped to snap a photo of Wadajir Grocery, which is painted a brilliant green and pink and was advertising the "finest Halal meats," a man approached me to see what I was doing. "Oh, I used to live around here," I said. "I'm just back for a visit."
It turned out that he was the owner, a young Somali man who'd moved to the neighborhood almost a decade earlier to start the business with his family. When I asked if he lived around here, he laughed uncomfortably and said he did not. "No, no," he said. "When the store did well, we moved to Golden Valley, and now we live in Plymouth." I made a mental note that these were among the most white-bread of the Minneapolis suburbs.
Inside his shop, I found not just a grocery but a small restaurant. Two of the menu items offered were, side by side, fried cheese curds and sambusas, Somali savory fried pastries, and I thought: this is the new Minneapolis. As I strolled back to my car, munching on my sambusa, I thought about the many strange dichotomies Minneapolis managed to straddle: a bag of Ethiopian injera bread for sale right next to a bag of peanuts-in-the-shell with a Minnesota Twins logo emblazoned on it; the colossal Mall of America and the old-school record shop called Electric Fetus; Japanese tourists eating Swedish meatballs in Ikea and locals who call soda "pop" and casserole "hotdish" and bring both en masse to ubiquitous potlucks.
Minneapolis hums with paradox, which gives it energy and edge. But no matter how many hipsters you might see in their Buddy Holly glasses and rolled up jeans in the trendy Uptown neighborhood, it's a city without sarcasm. Everyone still says "hi" as you pass, and if you don't reply, you will be thought of as uppity. But fortunately (and somewhat surprisingly) this earnest Midwestern welcome is extended to everyone, including Somalis, Hmong, and anyone else who comes ashore. Having lived in New York for the past 16 years, I occasionally have to check my impatience with my home state's relentless good cheer, and give over to its warm and welcoming embrace.