Tributes Paid To Anne Rice, 'The Vampire Chronicles' Author, Dead at 80
Tributes have poured in for 'The Vampire Chronicles' author Anne Rice, who has died at the age of 80.
Rice was best known for her bestselling 1976 novel 'Interview With The Vampire,' which was later adapted into the Oscar-nominated 1994 film starring Tom Cruise and Brad Pitt.
Her death was confirmed in a social media statement shared over the weekend by her son, Christopher Rice.
In a December 12 Facebook post, he said his mother died due to complications from a stroke.
"She left us almost nineteen years to the day my father, her husband Stan, died," he wrote in a message to his mother's official Facebook page. "The immensity of our family's grief cannot be overstated. As my mother, her support for me was unconditional — she taught me to embrace my dreams, reject conformity and challenge the dark voices of fear and self-doubt.
"As a writer, she taught me to defy genre boundaries and surrender to my obsessive passions. In her final hours, I sat beside her hospital bed in awe of her accomplishments and her courage, awash in memories of a life that took us from the fog laced hills of the San Francisco Bay Area to the magical streets of New Orleans to the twinkling vistas of Southern California."
The statement continued "As she kissed Anne goodbye, her younger sister Karen said, "What a ride you took us on, kid." I think we can all agree. Let us take comfort in the shared hope that Anne is now experiencing firsthand the glorious answers to many great spiritual and cosmic questions, the quest for which defined her life and career."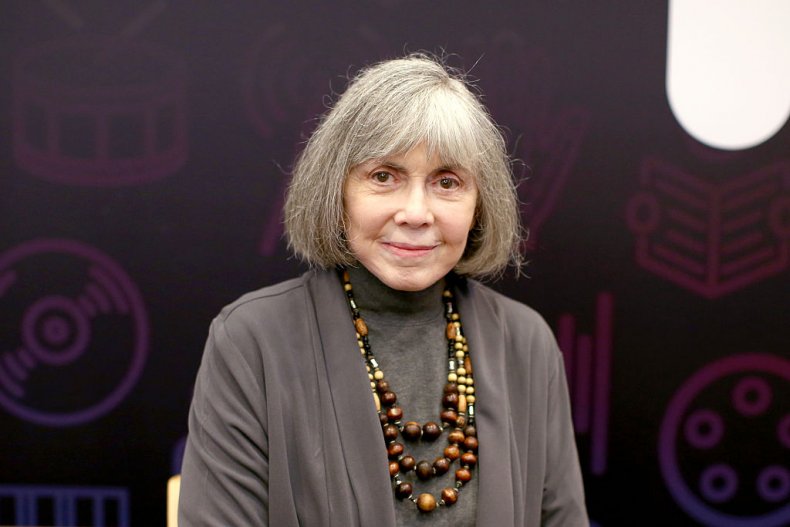 Christopher added Rice would be interred at the family mausoleum at the Metairie Cemetery in New Orleans and that a "celebration of her life" would take place in the city next year.
Following news of Rice's death, many took to social media to share tributes and praised her books, particularly in The Vampire Chronicles series.
Galaxy Brains podcast host Dave Schilling said in a tweet: "RIP Anne Rice, who taught an entire generation how to be horny."
Comic book writer Dave Scheidt said in a Twitter post that Rice's story was inspirational and that budding authors should believe in their stories, even when rejected by publishers.
He said: "Anne Rice's 'Interview With The Vampire' was rejected by a bunch of publishers. She kept going and a year later got it in front of the right people and the rest is history. Believe in your stories. Rejection happens to everyone."
Musician Darren Hayes said: "So sad to learn of the passing of the incredible author Anne Rice. I named our band Savage Garden after a passage from her novel 'The Vampire Lestat.' I adored escaping into the rich, vivid worlds she created. My deepest sympathy and love to her son and author @chrisricewriter."
Rice was a prolific writer who published 36 novels, including some under her pen name A.N. Roquelaure.
Her last book, 'Blood Communion: A Tale of Prince Lestat' was published in 2018 and continued the saga of 'The Vampire Chronicles,' which made her famous.