'Annette' on Amazon: Are Adam Driver and Marion Cotillard Really Singing Live?
Annette is the latest film by French director Leos Carax, starring Marion Cotillard as an opera superstar Ann, and Adam Driver as her comedian husband, Henry. The film follows their lives and romance before the birth of their daughter Annette, whose arrival changes everything. The film features several musical numbers including big songs "So May We Start" and "We Love Each Other So Much." But are Driver and Cotillard really singing live? Newsweek has everything you need to know.
Warning: This article contains spoilers about Annette
Are Adam Driver and Marion Cotillard really singing live in Annette?
You may be surprised to learn that yes, Driver and Cotillard are really singing live in Annette.
The two Hollywood stars play Henry and Ann, parents to their daughter Annette, a mysterious little girl (who weirdly resembles a puppet) with an exceptional destiny.
The film's soundtrack was written by British art-rock legends Sparks, who also perform alongside the cast of Annette in segments of the film.
In a scene that will be sure to stun viewers, Driver is also really signing "We Love Each Other So Much" whilst simulating oral sex on Cotillard's character.
In the movie's official Cannes Press Pack interview ahead of the film's release at the Cannes Film Festival on July 6, Cotillard revealed Carax deliberately intended to have the actors sing their songs live to make the performance realistic, instead of pre-recording their songs.
Cotillard explained: "On most classic musicals, you record your songs in advance and then you do playback on the set. But there, Leos wanted everything to be completely live.
"It added to the complexity of the set: we found ourselves singing in very complicated positions, doing back-crawling or mimicking cunnilingus; acrobatic positions that technically modify your song."
She continued: "But that was the effect Leos was looking for: he wanted the voices modified, thwarted, by the real [situation]."
Annette marks director Leos Carax's first English-language film. His other works include Holy Motors, Boy Meets Girl, and Les Amants du Pont-Neuf.
In a statement alongside the release of "So May We Start," Carax said: "Their [Saprks] tracks are among the most joyous songs I know (although they're poignant too, in places). For me, Sparks' music is like a childhood home, but one free of ghosts. Without them, I don't think I'd ever have done something I'd dreamt of doing ever since I first started out in cinema: making a 'film in music.'"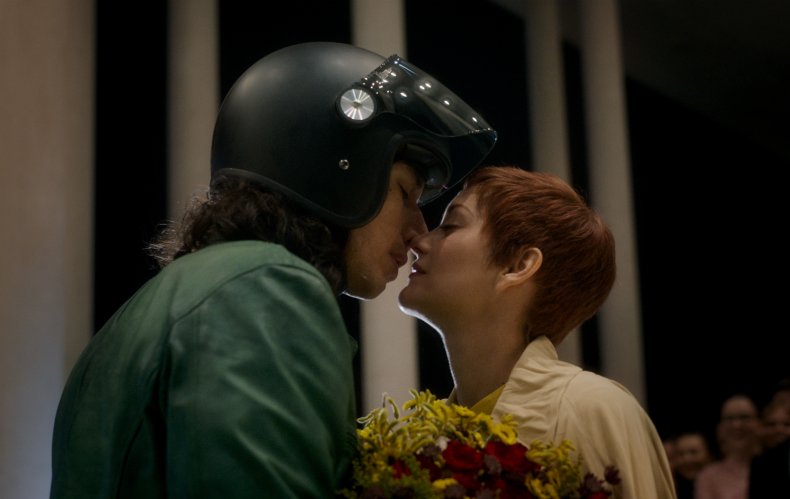 Originally, the songs from Annette were intended to be another Sparks album, before Sparks presented the soundtrack to Leos at the Cannes Film Festival a few years ago.
The film stars Marriage Story's Adam Driver as Henry McHenry, also known as the Ape of God, a troubled comedian whose life takes a dark turn following the birth of Annette.
Inception's Marion Cotillard takes on the role of beautiful opera singer Ann Defrasnoux, who is quite frankly more successful than her partner Henry and there is a hint of jealously in their relationship, foreshadowing what is to come.
The Big Bang Theory's Simon Helberg portrays 'The Accompanist,' a close friend of Ann's who has dreams of becoming a conductor.
Also starring in Annette are Angèle, Kiko Mizuhara, Natalie Mendoza, Rila Fukushima, Laura Jansen, Wim Opbrouck, Nino Porzio and Kanji Furutachi.
Annette is streaming on Amazon Prime Video now.