Anniversary of Space Shuttle Challenger Tragedy: Who Was the NASA Crew? What Caused Challenger Explosion?
Thirty-three years ago, Americans across the country watched as the Challenger space shuttle exploded shortly after liftoff, sparking a day of mourning for the seven astronauts aboard.
The Challenger first launched in 1983 and made historic contributions to the space program. Among its accomplishments was the launching of the first American woman, Sally Ride, into space and the deployment of the first satellite in the Tracking and Data Relay System constellation.
However, the Challenger's service to NASA ended tragically on January 28, 1986.
What Caused the Challenger Explosion?
The launch was broadcast live from Kennedy Space Center in Cape Canaveral, Florida. Just 73 seconds into the STS 51-L mission, the Challenger exploded. The explosion was caused by a booster failure, according to NASA, and destroyed the vehicle.
The Presidential Commission on the Space Shuttle Challenger Accident determined the cause to be a failure in the joint between the two lower segments of the right Solid Rocket Motor. Ultimately, the joint failure was caused by the destruction of an "O-ring" seal intended to prevent hot gases from leaking through the joint during the rocket motor's propellant burn.
On the day of the launch, it was a relatively cold day, and the elastic O-ring didn't respond as people expected it would under the day's conditions, according to History.com.
Who Was in the Crew?
Seven astronauts were aboard the Challenger, and all died.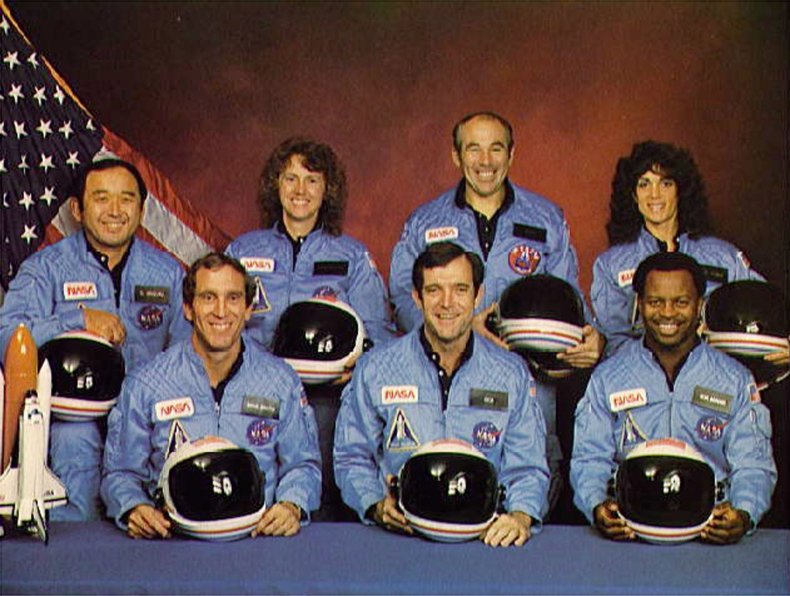 Commander Michael Smith, Pilot
Before joining NASA, Smith received his degree from the U.S. Naval Academy and completed Navy Test Pilot School in 1974, later completing a course to become an instructor. After logging 4,867 hours of flying time, he was selected as an astronaut candidate in 1980. He completed his training in August 1981 and was scheduled to pilot the Space Shuttle Mission 61-N in the fall of 1986. He was 40 when he died and was survived by his wife, Jane, and three children.
Commander Francis "Dick" Scobee
Like Smith, Scobee also served in the military, although his service was with the Air Force, beginning in 1957. He graduated from the University of Arizona with a degree in aerospace engineering and completed a combat tour in Vietnam as a pilot. Before joining NASA, he logged more than 6,500 hours of flying time. Selected as an astronaut candidate in 1978, he also served as an instructor pilot on the NASA Boeing 747 Shuttle carrier airplane.
In 1984, he flew as pilot of STS-41C and had 168 hours in space before the Challenger launched. Scobee, 46, was survived by his wife, June, and his two children, Kathie and Richard.
"I knew something was wrong immediately," Richard told CNN. "I looked at my mom, and she had figured that out too.… After all these years, it's still tough to recall—the sadness in her eyes."
Ronald McNair, Mission Specialist
McNair graduated from North Carolina A&T State University in 1971, where he was a Presidential Scholar. He later earned his doctorate in philosophy of physics from the Massachusetts Institute of Technology and wrote several papers on lasers and molecular spectroscopy.
After being selected as an astronaut candidate in 1978, he flew on his first mission as a specialist in 1984 with STS 41-B. At the time of the Challenger explosion, he had logged 191 hours in space. Only 35, he left behind a wife, Cheryl, and two children.
Ellison Onizuka, Mission Specialist
Before launching into space, Onizuka received a master's degree in aerospace engineering and joined the Air Force after being commissioned through the ROTC program. After graduating from the Air Force Test Pilot School in 1975, he logged over 1,700 hours of flying time.
NASA selected Onizuka as an astronaut candidate in 1978, and he first ventured to space on the STS 51-C, which launched in 1985, and logged 74 hours in space. He was 39 and was survived by his wife, Lorna, and two daughters. He was posthumously promoted to the rank of colonel.
S. Christa McAuliffe, Payload Specialist
One of the most well-known figures in the Challenger tragedy, McAuliffe was a teacher at Concord High School in Concord, New Hampshire, before joining NASA. In 1985, she was selected as a primary candidate for the NASA Teacher in Space Project, and she was the first private citizen set to go into space.
Along with chronicling her experience in a journal, while in space McAuliffe was scheduled to give two lessons, which would be broadcast back in the United States.
McAuliffe, 37, left behind a husband, Steven, and two children, Scott and Carolina.
Gregory Jarvis, Payload Specialist
Jarvis graduated from Northeastern University with a master's degree in electrical engineering and joined the Air Force in 1969. Assigned to the Space Division in El Segundo, California, he worked on advanced tactical communications satellites.
After being honorably discharged from the Air Force, Jarvis worked at Hughes Aircraft's Space and Communications group and also worked on the F-1, F-2 and F-3 spacecraft and cradle in 1983. He was selected as a payload specialist candidate in 1984.
The Challenger was his first launch into space. He was 41 and was survived by his wife, Marcia.
Judith Resnik, Mission Specialist
Resnik attended Carnegie-Melon University for her undergraduate degree and earned her doctorate in electrical engineering from the University of Maryland in 1977. While working at RCA, her projects included engineering support for NASA sounding rocket and telemetry systems programs. She also worked at Xerox in El Segundo, California, where she was a senior systems engineer in product development.
NASA selected her as an astronaut candidate in 1978, and she flew as a mission specialist on STS-41-D in 1984, earning the NASA Space Flight Medal. Before boarding the Challenger, Resnik had 144 hours and 57 minutes in space and was only 36 when she died.
Following the explosion of the Challenger, each of the astronauts were posthumously awarded the Congressional Space Medal of Honor. NASA redesigned a number of the shuttle's features, and it would be over two years before astronauts were once again launched into space.