When I walked across the stage in a cap and gown to receive my college diploma last month, the moment was almost surreal. My graduation day came just weeks before the 10-year anniversary of DACA (Deferred Action for Childhood Arrivals)—the program that granted me and over 700,000 other young people who came to the U.S. as children temporary protections from deportation. As I shook the hands of my professors, 10 years after I first applied to get some kind of stability in my life, I couldn't help but reflect on how far I've come in building my future here, and how far our country still has to go to make sure every person gets the chance to live with dignity and respect.
I always wanted to go to college, but it felt so far out of reach. I didn't have the funds, in-state tuition, or economic assistance provided to those with citizenship. Still, I visited local colleges with a positive mindset, hoping things would just work out. But it seemed like everywhere I turned, doors were closed shut. My local community college told me that I had to pay the "foreign" tuition rate—three times the standard tuition—even though I attended K-12 public schools in the city where I grew up. The recruitment counselor at another college told me to consider going back to Mexico, wait out the 10-year ban, and try coming to the U.S. the "right way."
When former President Barack Obama first announced DACA in 2012, it felt like a window opened. I applied for the program as soon as I could, and thought about all the years of hard work it had taken to win something for the immigrant community. My mother and I had attended dozens of protests together starting in 2001, when she first told me about the DREAM Act. We felt proud to be a part of making DACA a reality.
Once my application was granted, I felt a sense of freedom for the first time in a long time. DACA gave me the chance to explore opportunities and take risks without having the threat of deportation and family separation looming over my head for a little while. I quit my restaurant cook job because I was no longer tied down to one place that wouldn't check my papers, and in 2017 I took a job with Make the Road Pennsylvania, helping to organize Latinx communities in my home state to win dignity and justice for immigrants and working-class people. Around the same time, I applied for and won a community service scholarship to attend a local college. None of this would have been possible without DACA's temporary protections.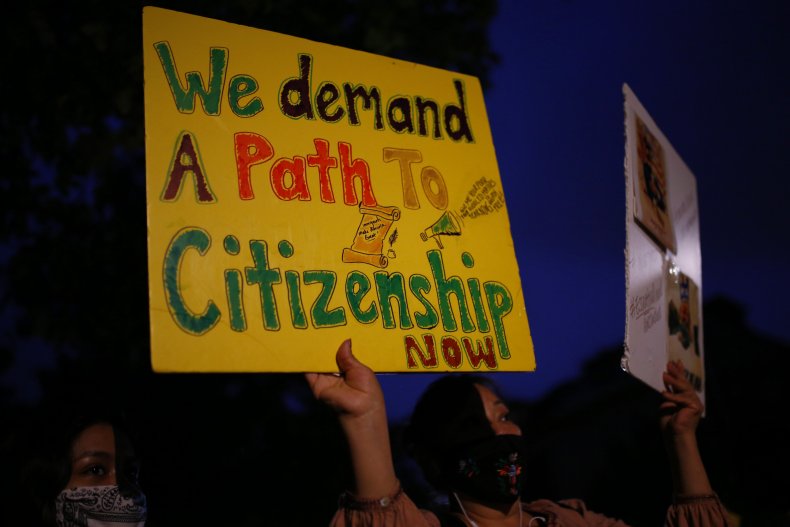 But temporary programs like DACA and Temporary Protected Status (TPS) are just that—temporary and unstable. As a DACA recipient, I've only been able to plan my life in the 2-year increments that go along with my renewal. Things like buying a home, continuing on to graduate school, or starting a family are always uncertain because I don't know what the future holds or if my renewal will be approved. It almost feels like I'm not fully grown up, because every 2 years I'm under someone's surveillance. DACA is also incredibly expensive—reapplication fees cost $495, which we're on the hook for every two years. Meanwhile, politicians use DACA and TPS as political footballs, arguing in court and on TV, revoking and reinstating these programs, while our lives and futures hang in the balance.
DACA also doesn't guarantee in-state tuition in states like Pennsylvania, where I live, and it doesn't allow us to travel freely to other countries, including our birth countries. This summer I had made all the arrangements to travel abroad for educational purposes but was denied by United States Citizenship and Immigration Services (USCIS) because the trip wasn't an "emergency." I was kept from an amazing academic and personal opportunity simply because of paperwork and red tape.
Along with the joy and happiness of walking across the graduation stage also came a sense of guilt. I was able to attend college, earn my degree, and get a job thanks to the stability that DACA offered me, but what's the difference between my mom, who came here as an adult, and me, who arrived as a child? Or my brother who was born here? She deserves to be able to work, live, and thrive just like I do, but the opportunities and safety we each get are so different because of how old we were when we got to the U.S.
The truth is that there are no good immigrants or bad immigrants, no people more deserving of opportunity and dignity or less deserving. We are all just people, doing our best to build and live a good life. Our parents, our tios and tias, our siblings, our friends, and the cooks at your local diner are all just trying to live a dignified life, but we are all under the shadow of the threat of deportation. It's time this country lives up to its promise of liberty and justice for all by establishing a pathway to citizenship for all immigrants, and ending immigrant incarceration and deportation.
Armando Jimenez-Carbarin is a DACA recipient and organizer with Make the Road Pennsylvania.
The views expressed in this article are the writer's own.