'Anno 1800' Open Beta Download: Preload, Start Time and More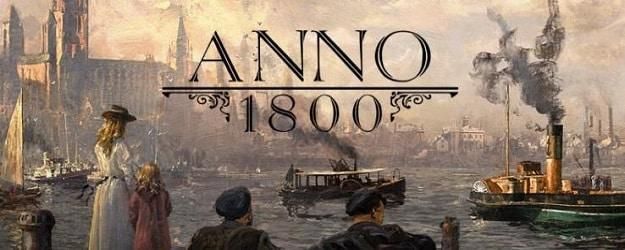 Ubisoft's upcoming city-building game, Anno 1800, launches its open beta on April 12. In order to help you get ahead of the action, we've put together a guide with everything you need to know about the open beta including when and where to download, preload start times and how long the open beta will last. We've also included details about the game's system requirements and how the open beta will differ from the full version of the game launching April 16.
When Does Anno 1800 Open Beta Start and End?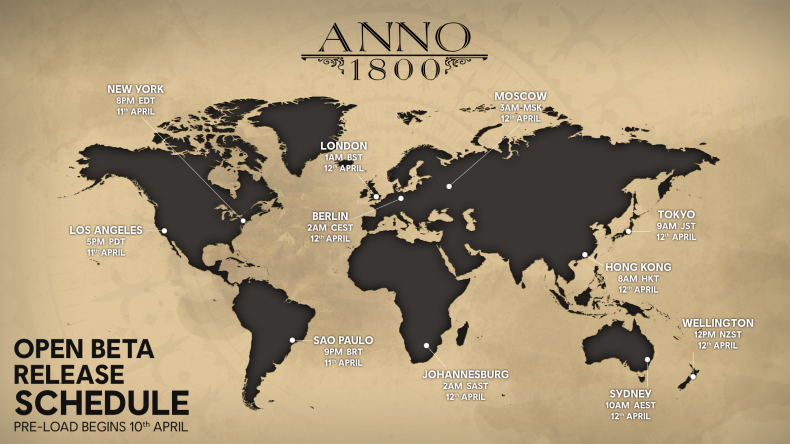 The Anno 1800 Open Beta kicks off Friday, April 12 and will run through April 14. Depending on their time zone, however, some players will gain access to the Open Beta as early as 5 p.m. on April 11. Here are the open beta start and end times based on your time zone:
New York

Start Time: April 11 at 8 p.m EDT
End Time: April 13 - TBA

Los Angeles

Start Time: April 11 at 5 p.m. PDT
End Time: April 13 - TBA

London

Start Time: April 12 at 1 a.m. BST
End Time: April 14 - TBA

Berlin

Start Time: April 12 at 1 a.m.
End Time: April 14 - TBA
When Can I Download Anno 1800? Preload Start Date and Time
UPDATE 04/10/19: Preloading is now available. You can preload via Epic Games Store or UPlay.
According to Ubisoft's information page, you can start pre-loading the Anno 1800 Open Beta on April 10. A specific time for when preloads can begins hasn't been listed but as soon as it becomes available, we'll be sure to update this post. To download the Open Beta either visit Uplay or the Epic Games Launcher and search Anno 1800. At the top of the game page, you'll see information for the Open Beta. You do not need to pre-register to participate.
Anno 1800 Specs: Minimum Requirements for Playing the Open Beta
Here are the system specifications for Anno 1800.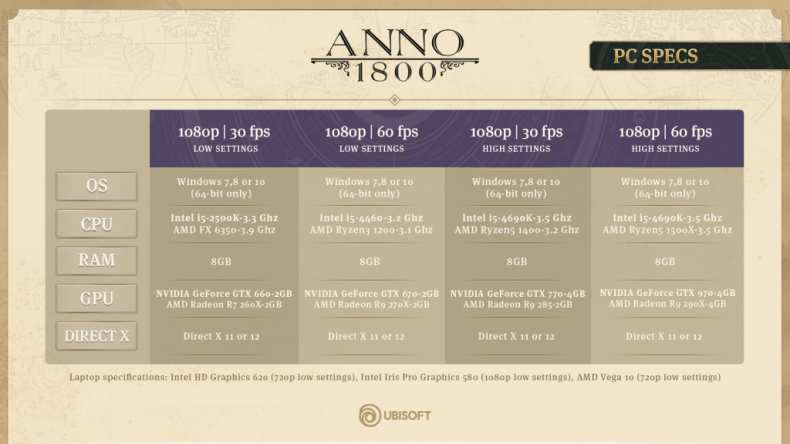 What's in the Anno 1800 Open Beta?
According to Ubisoft, players will be able to test a near-final version of the game that includes improvements since the Closed Beta, including access to the Multiplayer mode. The game's progression will be capped at tier 3, but players will have the opportunity to check out the first act of the Anno 1800 story-based campaign. This portion of the game was not available in earlier betas.
The Open Beta will be available in all supported languages including English, German, French and Russian for Text and Audio and Italian, Spanish, Japanese, Korean, Polish and Chinese for localized text.
Will my Open Beta Progress be saved?
Don't get too attached to anything you've built or achieved while participating in the Open Beta as none of your progress will carry over to the final version of the game releasing April 16.
Is the Open Beta online only?
Players will need to be connected to Wi-Fi while playing the Open Beta, though the full version of the game will include single-player offline modes that can be played without an internet connection.
Are there any Open Beta Rewards?
Ubisoft is giving Open Beta participants a special reward for their involvement. During the Open Beta, players will be able to earn the exclusive "Chess Table" decoration, which can be claimed from the Ubisoft Club after launch.
Will you participate in Anno 1800 Open Beta? Share your thoughts in the comments below!
​​